Muzzle Loading Antique Long Guns
All the guns on this page can be owned in the UK without a licence providing they kept as a curio ornament in the home, if they are to be used, the relevant licence is required.
As per Home Office guidelines section 58 (2)
James Purdey 12 bore.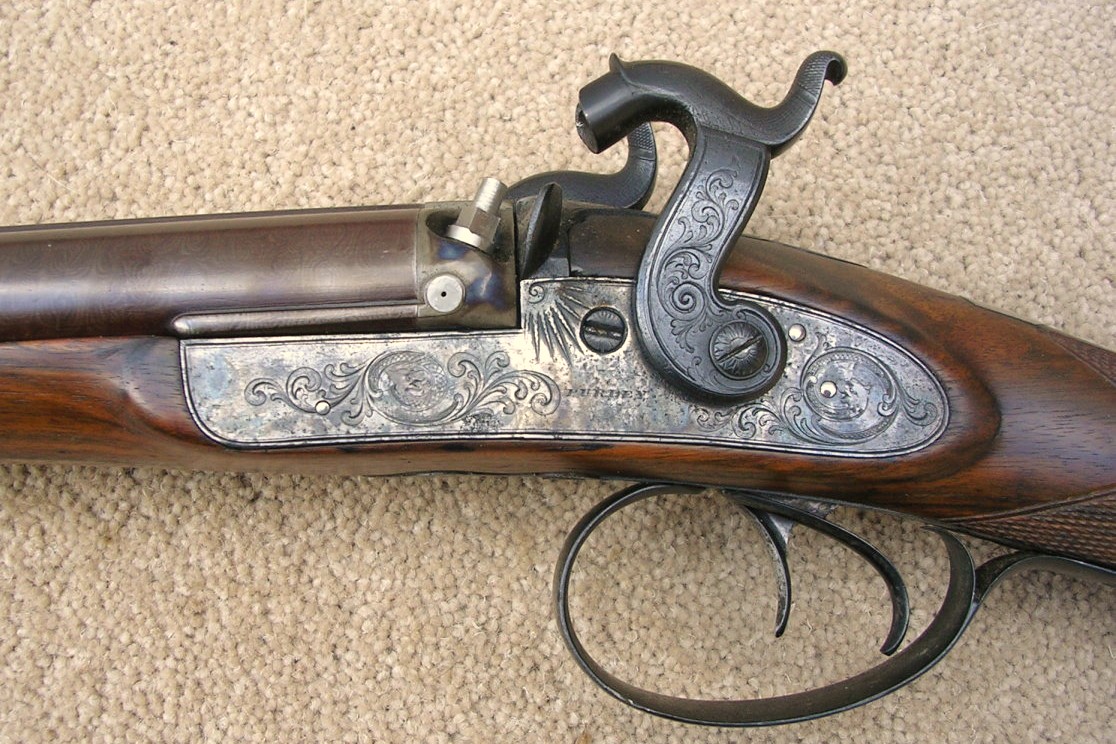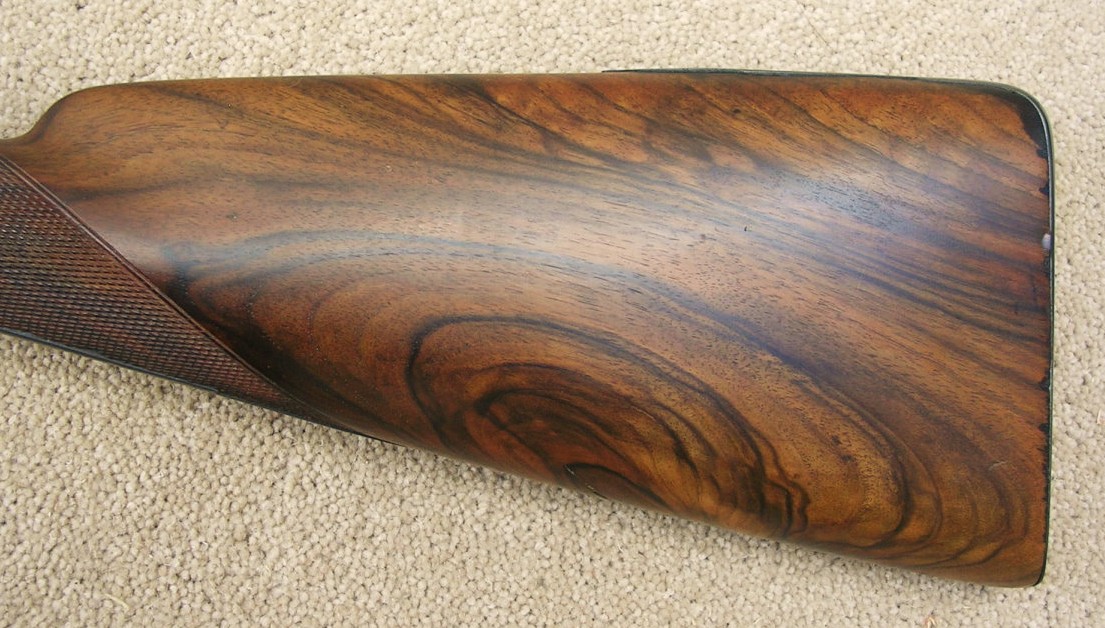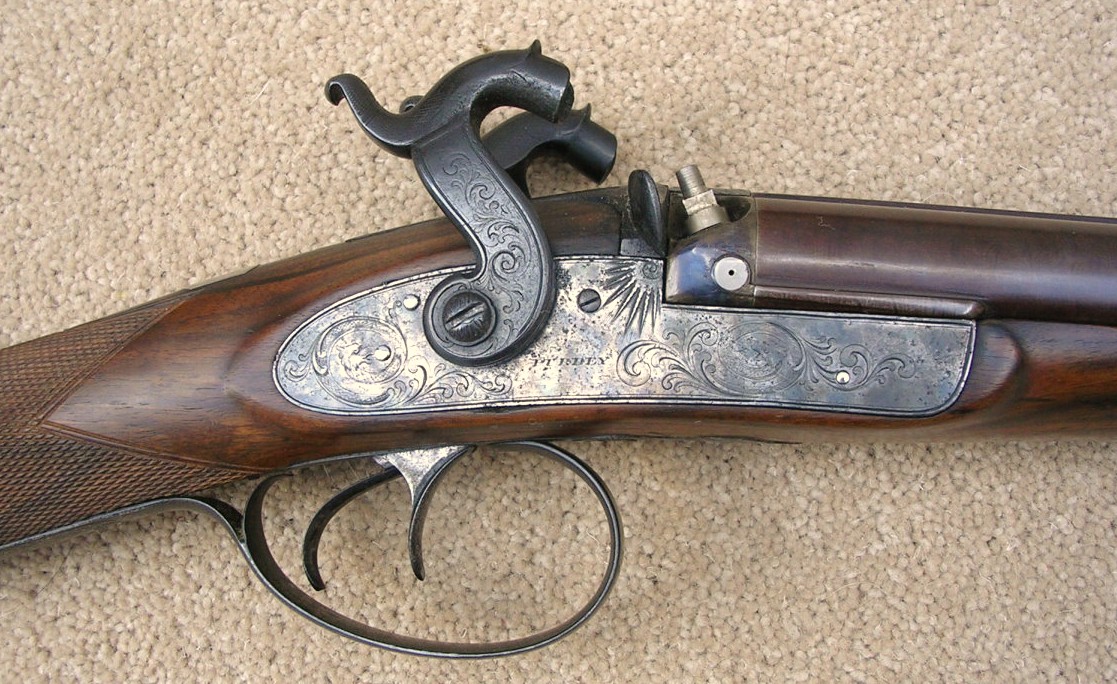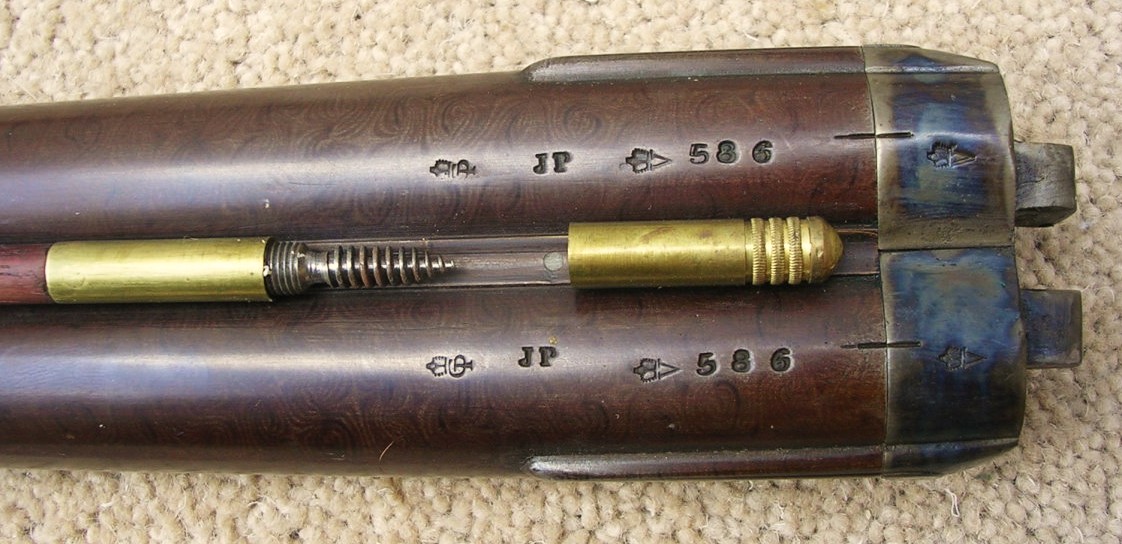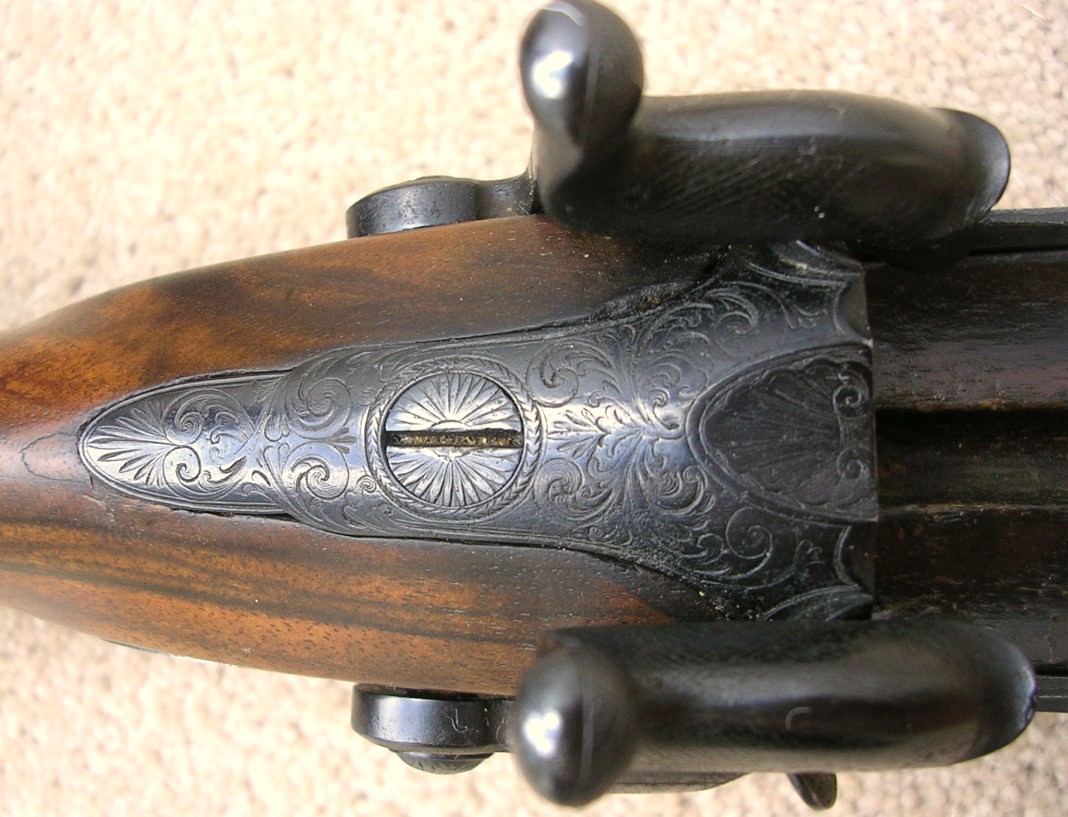 * A good scarce 12 bore double barrel percussion shotgun by the world famous and well respected gun maker "James Purdey" this gun has been professionally re-finished, it has 29 1/8″ browned Damascus barrels with "J Purdey, 514 1/4 Oxford street, London" engraved on the rib and a replacement ramrod fitted to it, the well figured stock has a pull of 14″ and chequered grip. Only £2,250 *
---
Percussion poachers shotgun.
* A VERY RARE 60 bore "Bentleys Patent? percussion sporting rifle, it has a sighted octagonal barrel marked "Liverpool" on top, the lock is engraved "Bentleys Patent" there is also a nice medallion marked the same with the added No 38, the nice walnut stock has a scroll trigger guard also with No 38 engraved on it and a German silver for end cap, the trigger is a single set which works beautifully, the rifle is in good working order and condition. Only £1,200 *
---
Flintlock Rampart gun by Brander of London.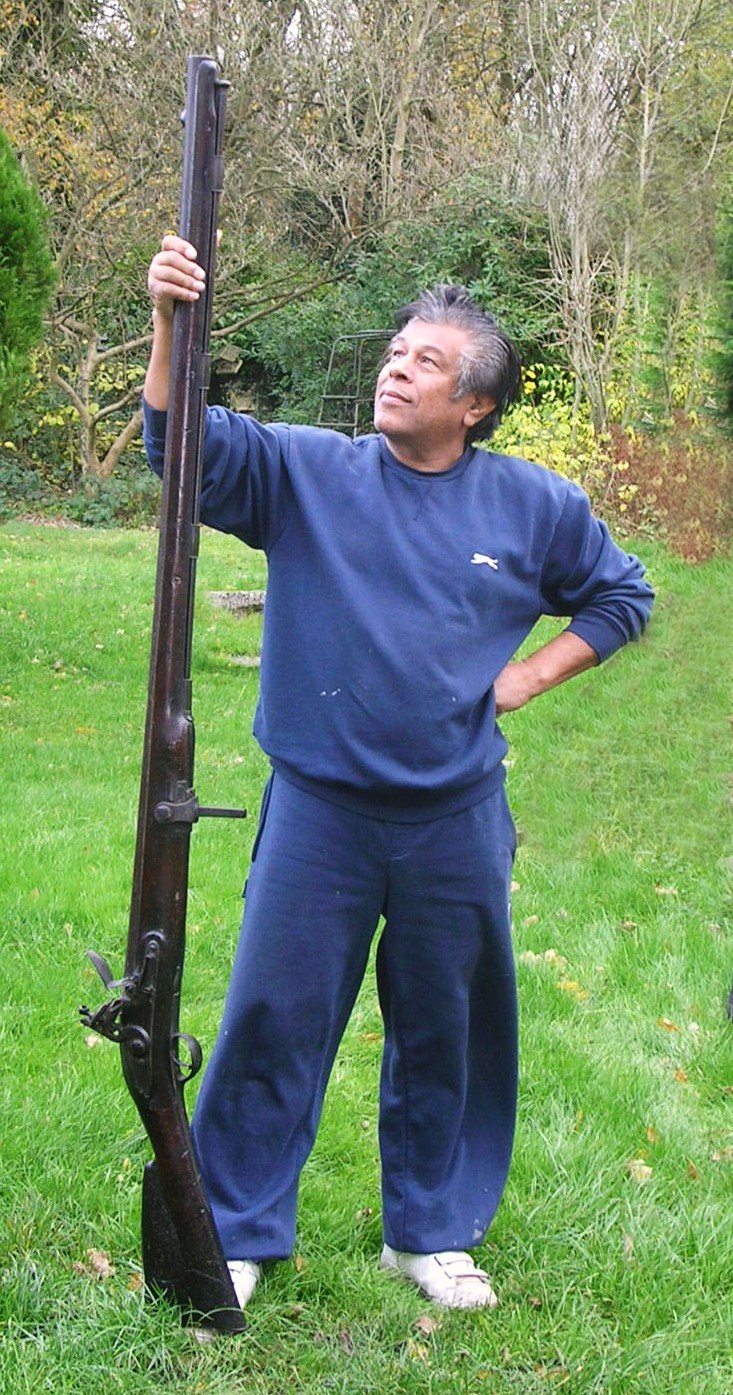 Mick needs a large stepladder, and tells me HE is 6 foot 4 tall ! … joking aside, here are the photos and details of this amazingly large gun.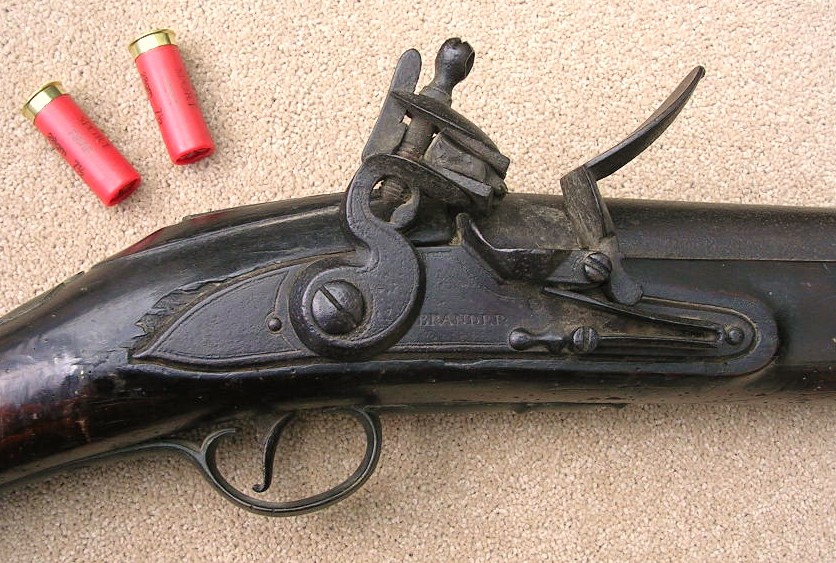 The 12 gauge shells are only in the photos to give some idea of the size of the gun.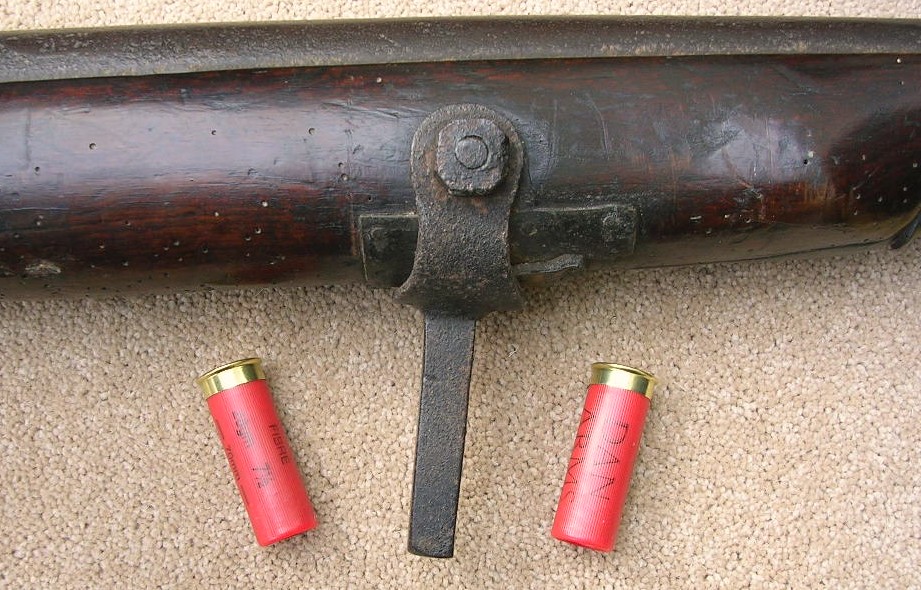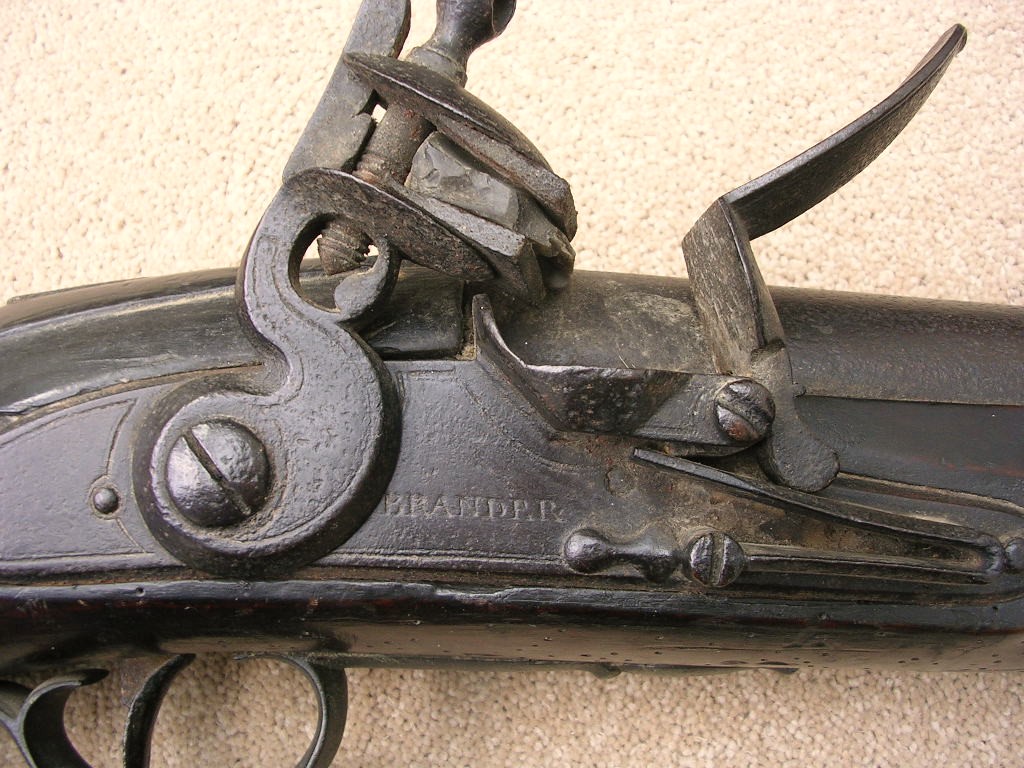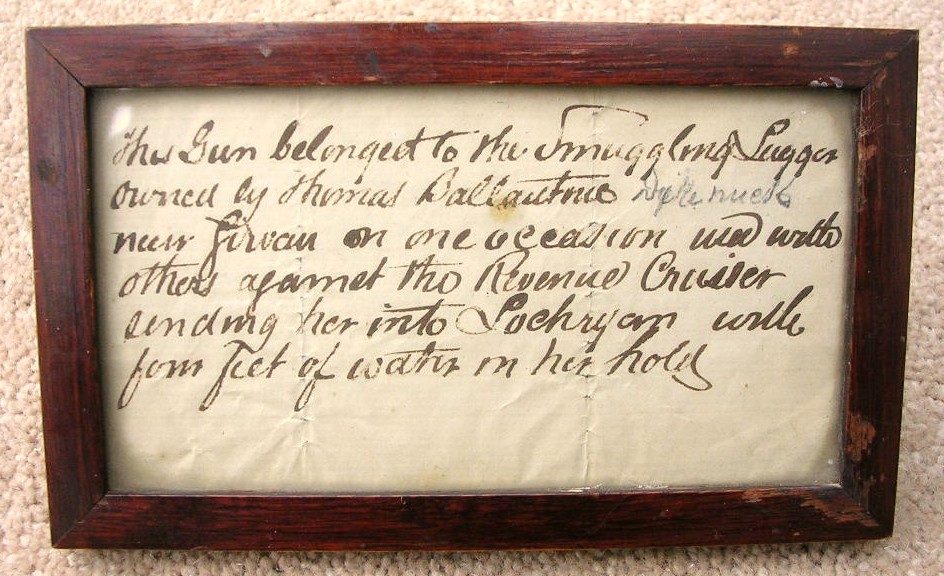 * An historic and massive flintlock rampart gun with smuggling connection by Brander of London, it is of late 18th century manufacture, the 57″ 6 bore swamped barrel has a prominent fore-sight and groove tang, the flintlock is signed and border engraved, it full stocked with it's original iron ramrod, the stock has some old woodworm holes to it. the gun comes with a framed note about this gun being used on a smuggling lugger owned by a "Thomas Ballantine" it reads—- "This gun belonged to the smuggling lugger owned by Thomas Ballantine near Givvan on one occasion with others against the Revenue cruiser sending her into Loch Ryan with four feet of water in her hold" Loch Ryan and Givvan are on the east coast of Scotland. Only £5,500 *
Note: Martin Brander, son of William was elected master of the gun makers company in 1792 and 1807, he joined the Honourable artillery company in 1781 and was contractor to ordnance from 1798 to 1820 and to the East India company between 1791 and 1826 he was also in partnership with Thomas Potts between 1802 till his death in 1827.
---
Le Page a Paris.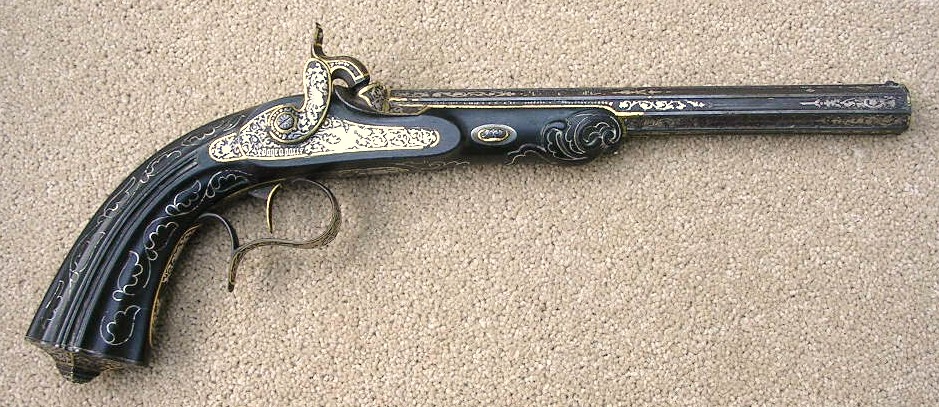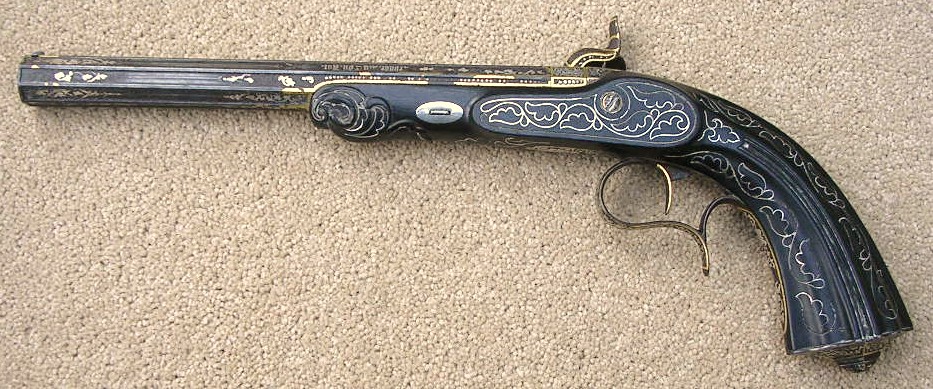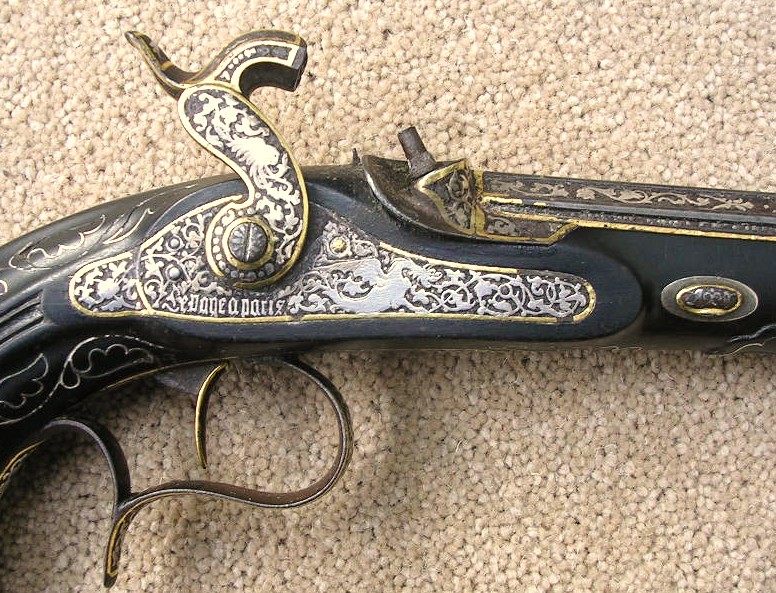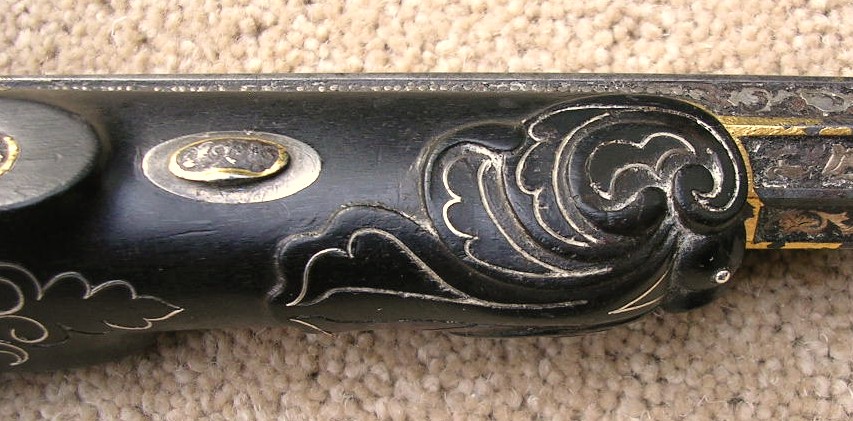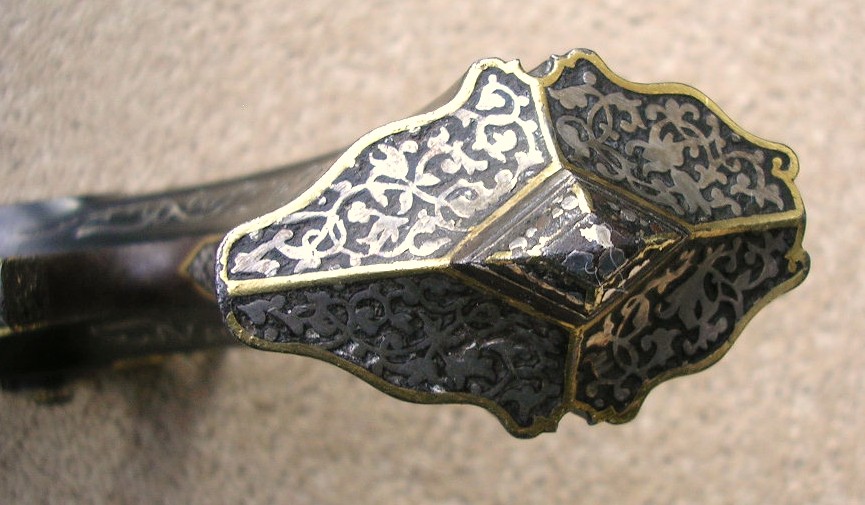 * An ornate relief engraved gold and silver embellished "Le Page" percussion target pistol with a silver wire inlaid stock, the 10″ fluted barrel with silver floral pattern, the fluted stock with silver wire inlay, the action is good and the pistol with minor loss of some decoration. Only £3,500 *
---
S. Booth muzzle loading rifle.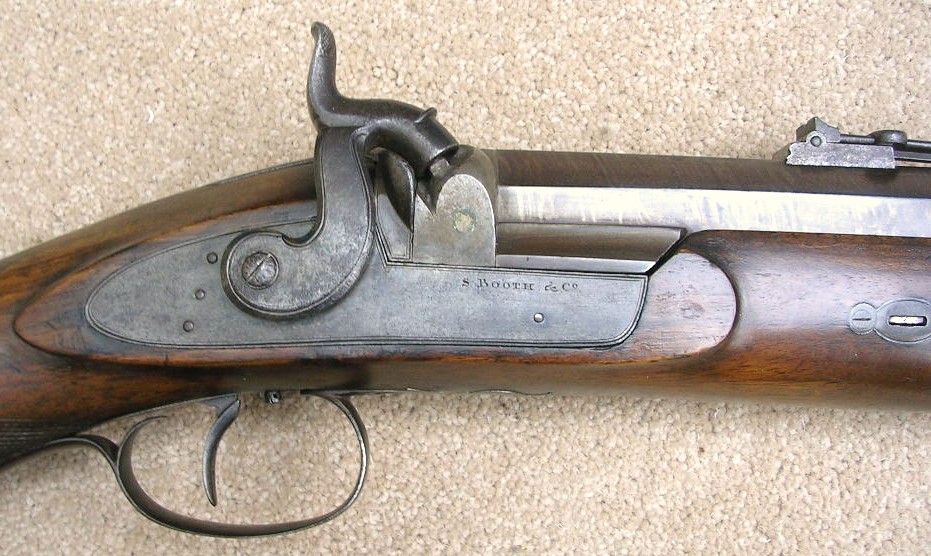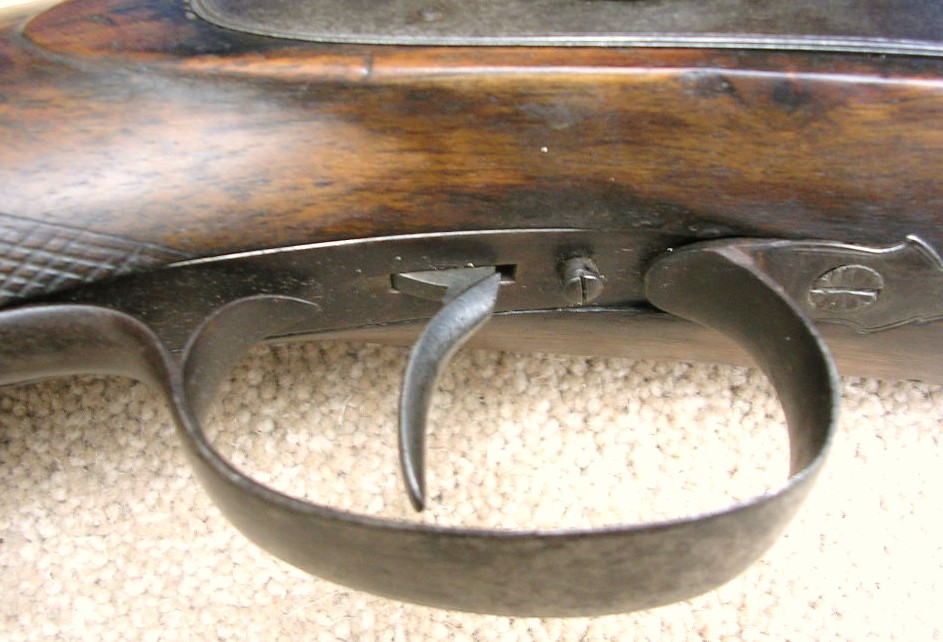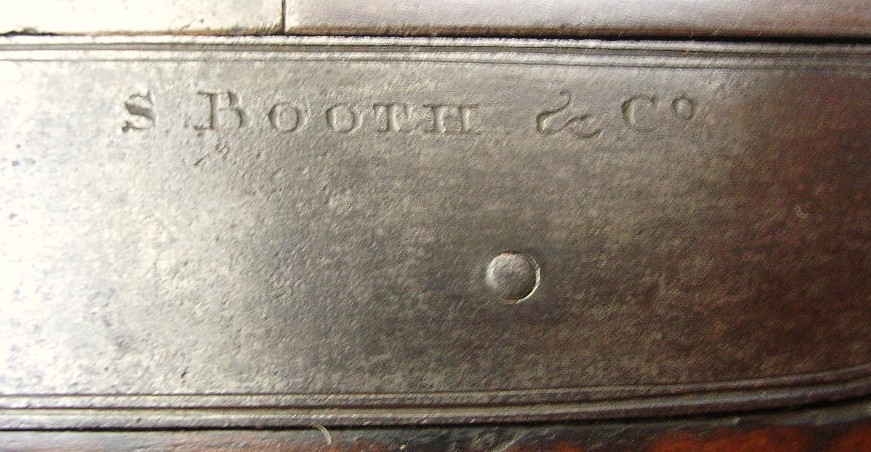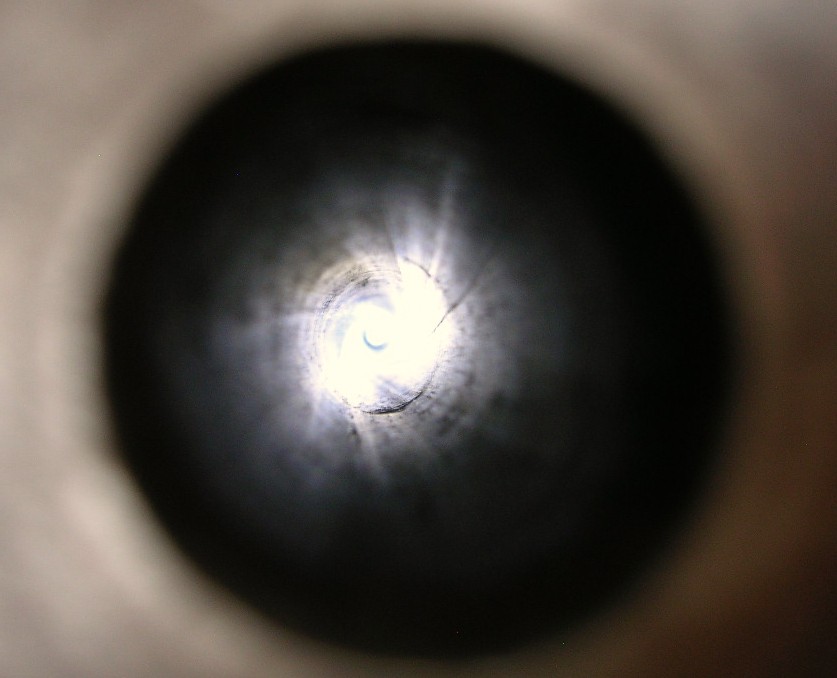 * A gun for the weightlifter as it weighs over 20lbs, it's a 20 bore muzzle loading percussion rifle by "S BOOTH" with a 42″ full octagonal barrel (5/8″ across the flats) and engraved "S Booth and Co, London" it has a military style ladder rear sight, a blade fore sight and a set trigger ! it measures 58 1/2″ overall and retains it's brass tipped loading rod, guns of this type and size are quite rare. Only £3,750 *
---
The Charge of the Light Cavalry Brigade.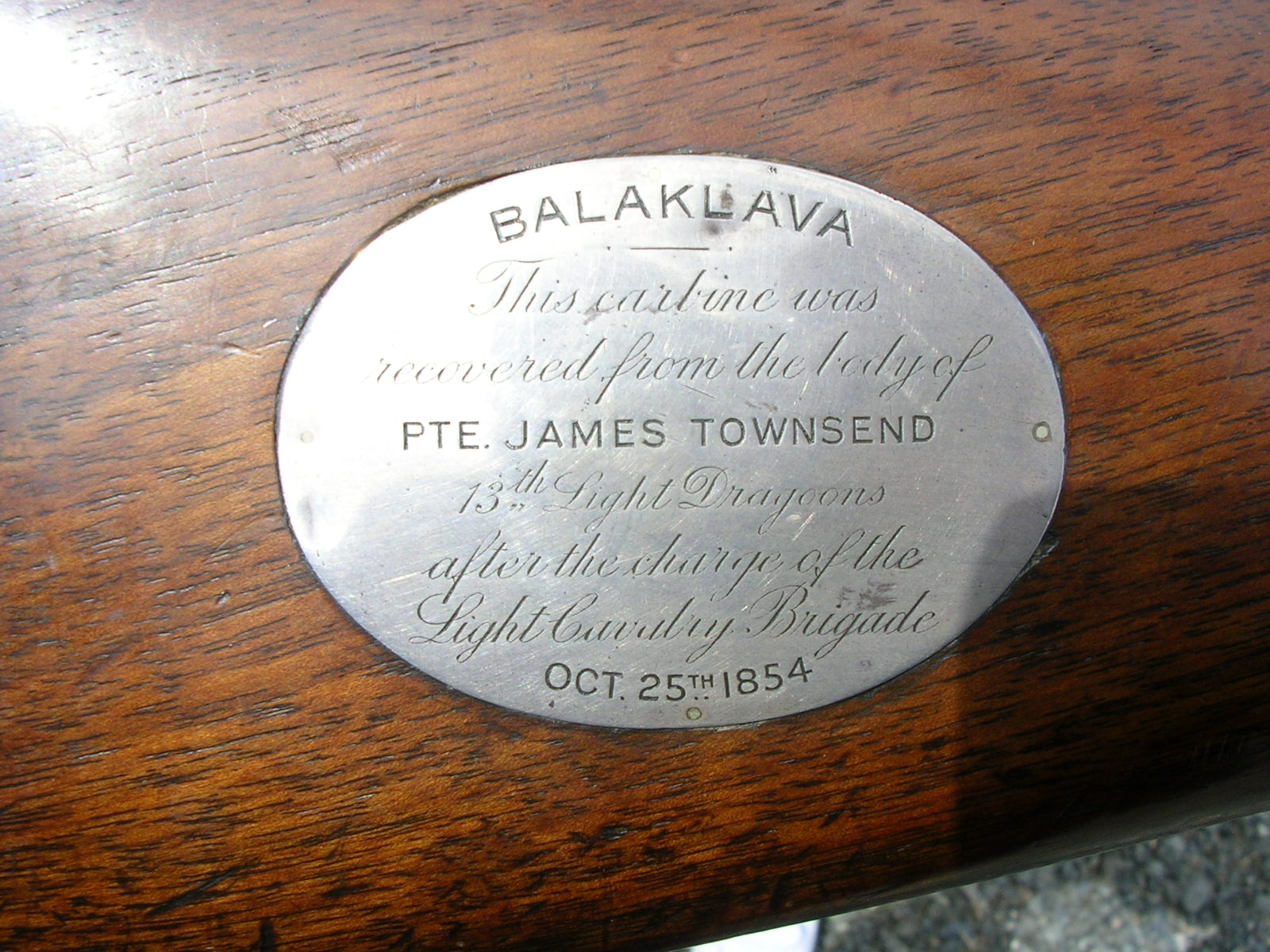 The Charge of the Light Brigade was a charge of British light cavalry led by Lord Cardigan against Russian forces during the Battle of Balaklava on 25 October 1854 in the Crimean War. Lord Raglan, overall commander, had intended to send the Light Brigade to pursue and harry a retreating Russian artillery battery near the front line, a task well suited to light cavalry. Due to miscommunication at some level in the chain of command, the sabre-armed Light Brigade was instead sent on a frontal assault into a different artillery battery, one well-prepared with excellent fields of defensive fire. Although reaching the battery under withering direct fire and scattering some of the gunners, the badly mauled brigade was forced to retreat immediately, producing no decisive gains and very high British casualties.
Mick's Guns shoots this historical gun at Dartford Clay Shooting Club.
Dartford Clay Shooting Club, by far the best place to shoot in England.
" A very rare opportunity to buy and own a very historic piece of history, this 16 bore Yeomanry carbine was used in one of the most famous battles in history which has had a poem written about it and many movies made of it "THE CHARGE OF THE LIGHT BRIGADE". The gun has a silver plaque mounted on the stock engraved "BALAKLAVA" this carbine was recovered from the body of Pte James Townsend 13th light dragoons after the charge of the light brigade Oct 25th 1854, the gun is in great condition and working order as can be seen in the video, a historic one for the collector, Only £4,500 *
More guns and videos to follow now summer seems to be on its way
---
Isaac Hollis and Sons.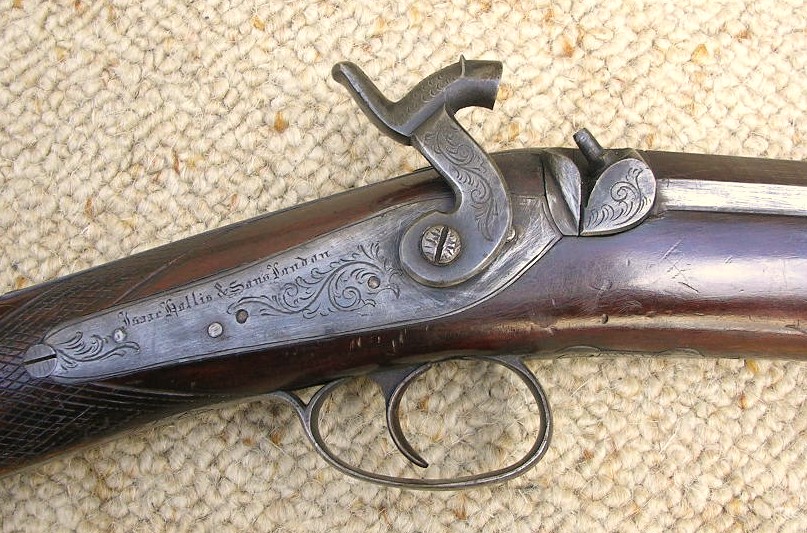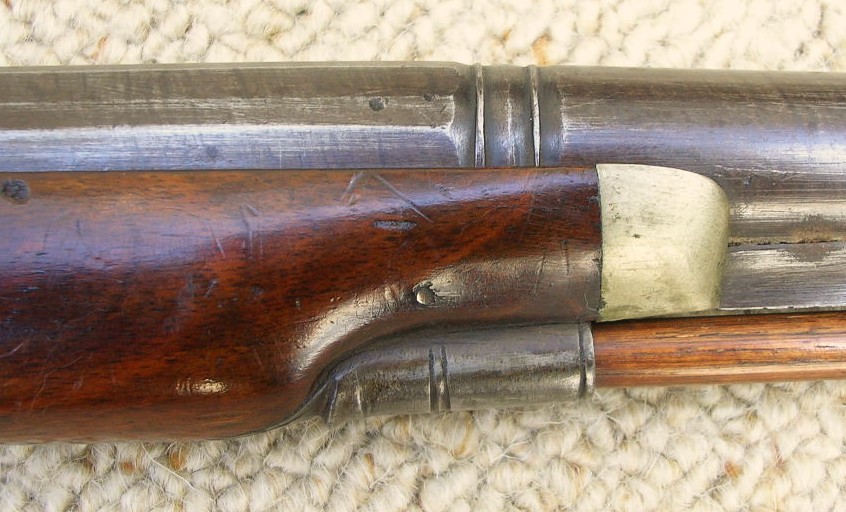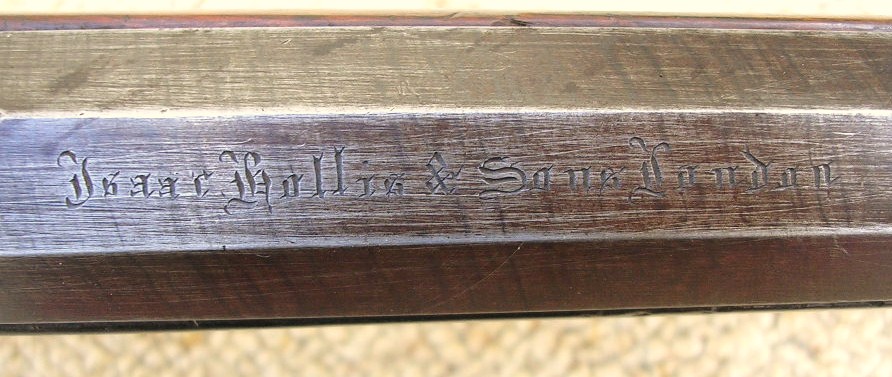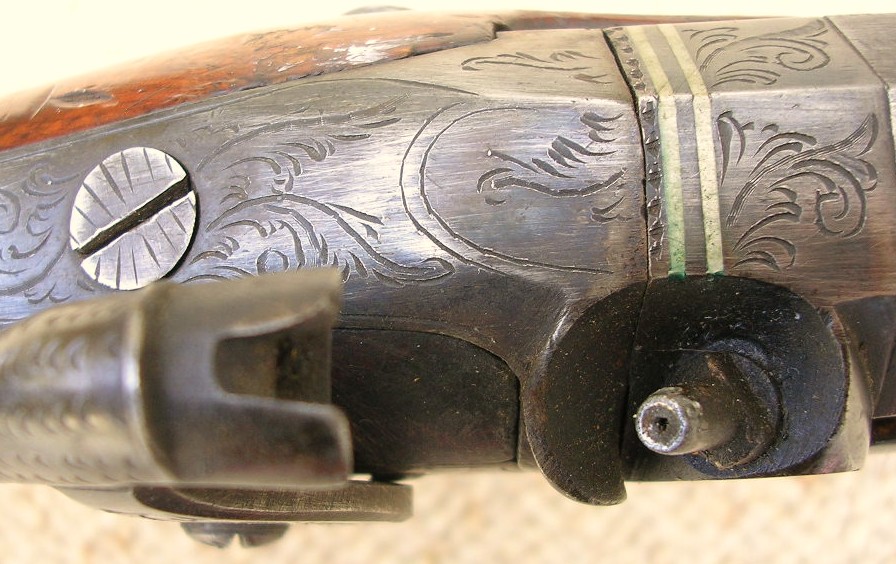 * A good 13 bore single barrel percussion sporting gun by the famous gun maker "Isaac Hollis and Sons" it has a 28 1/2″ barrel and a nice walnut stock and 45 1/2″ o/a the gun is in great working order and only £750 *
---
---
Fowler of Dublin.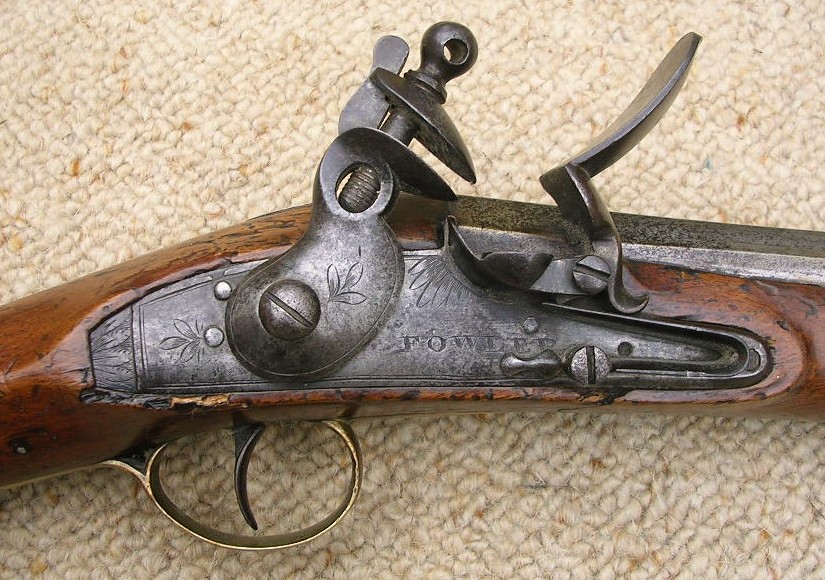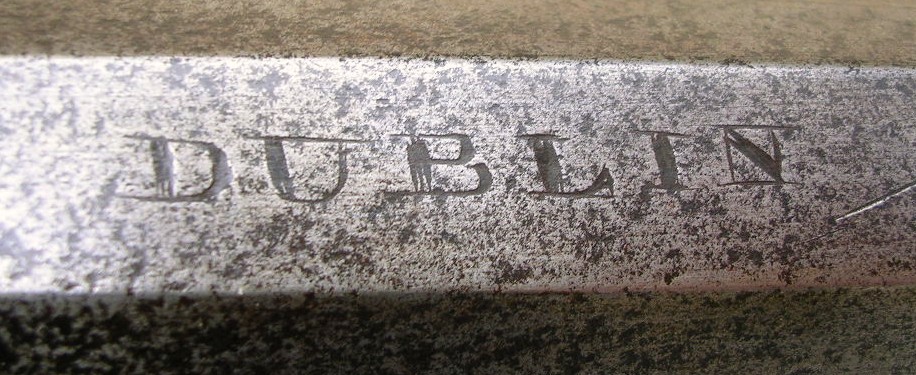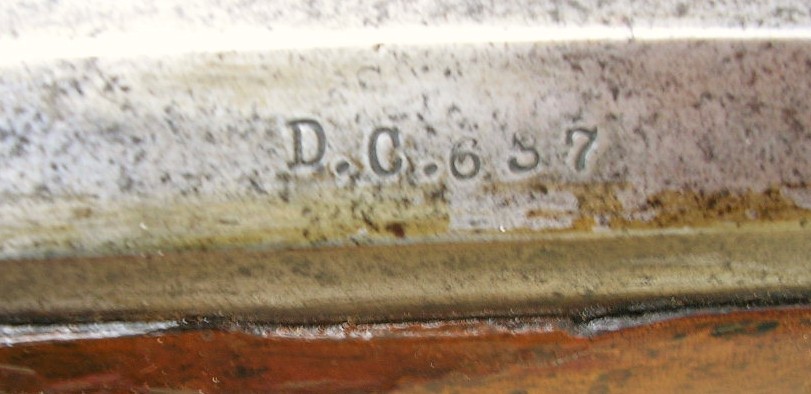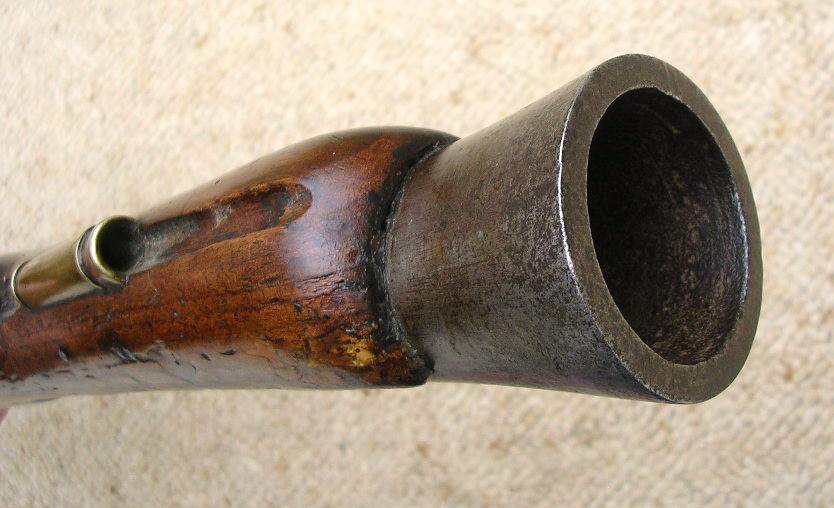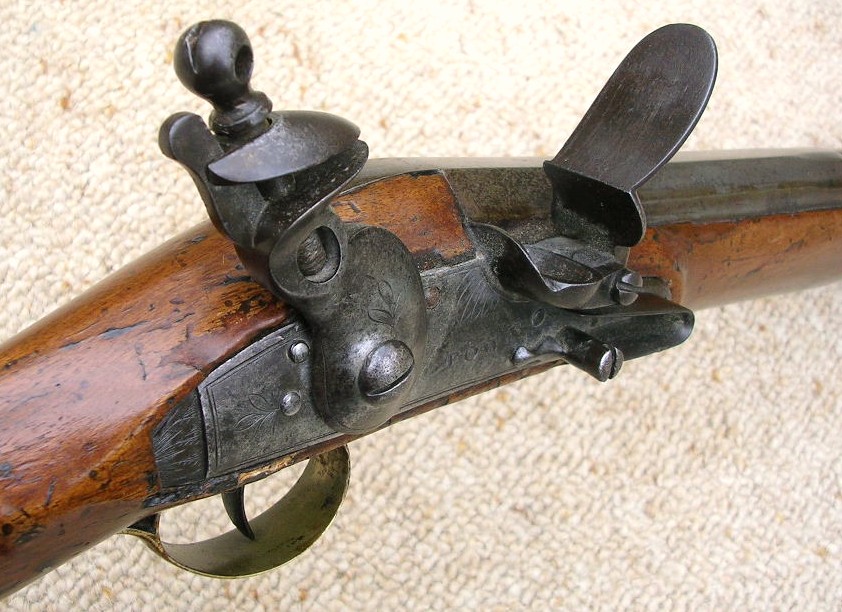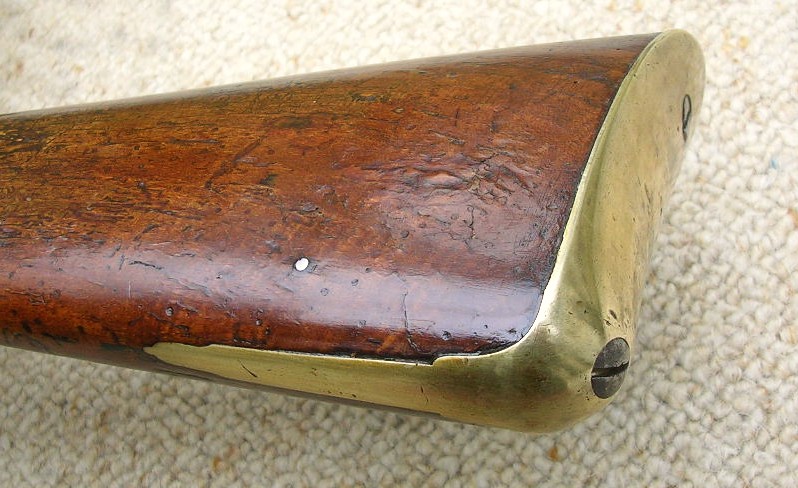 * A much sought after Irish made flintlock blunderbuss by a great maker "Fowler of Dublin", it has a 16 1/2″ steel barrel and 32″ overall length. The breech is engraved "DUBLIN" and stamped with the Dublin castle registration mark, the gun is in good working order and condition, a cheep classic flintlock blunderbuss for a bargain price of only £1,800 *
---
Twigg 10 bore flintlock.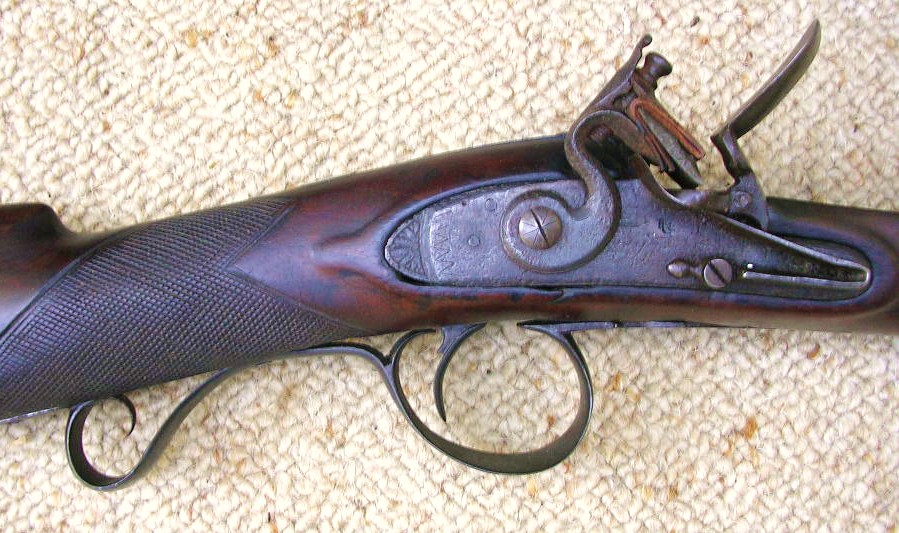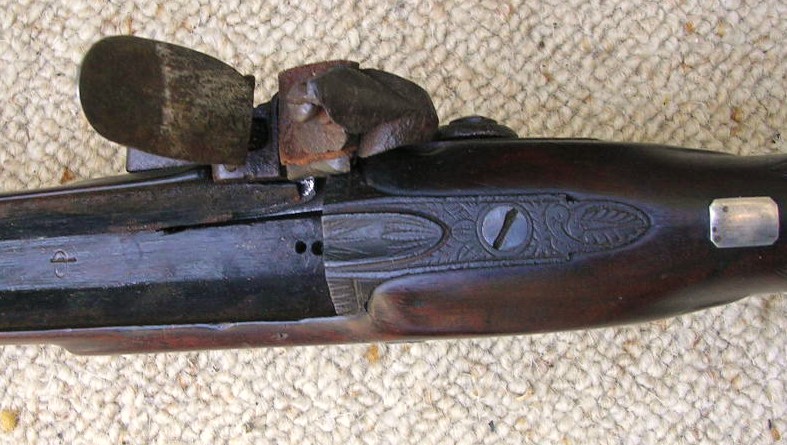 * This 10 bore flintlock wild fowling gun by "Twigg" is very scarce due to it still retaining it's original 60″ barrel and ramrod, as most were cut down over the years, the stock has had a repair to the bottom and has a nice scroll trigger guard with a pineapple finial, the hammer spring is a bit weak, only £1,250 *
---
John Squires of London.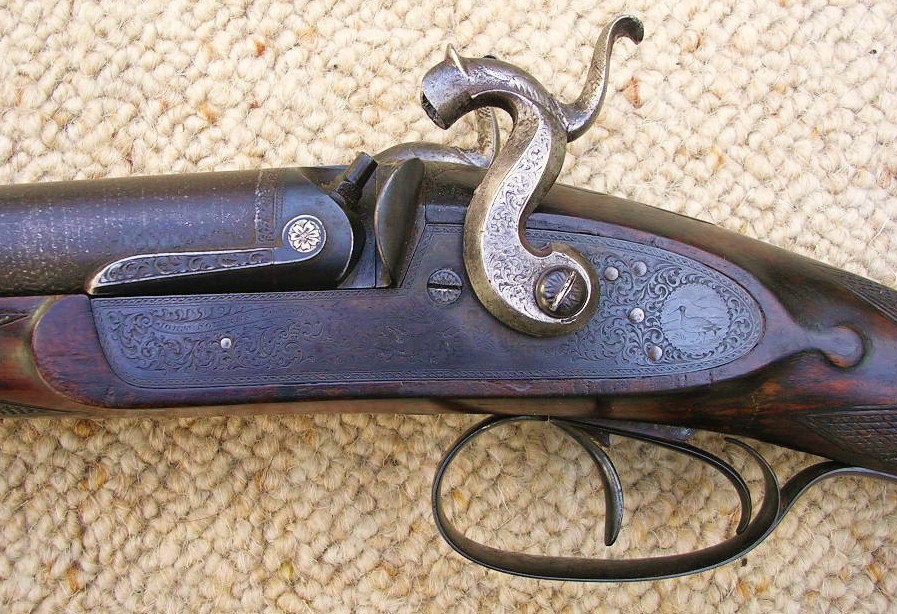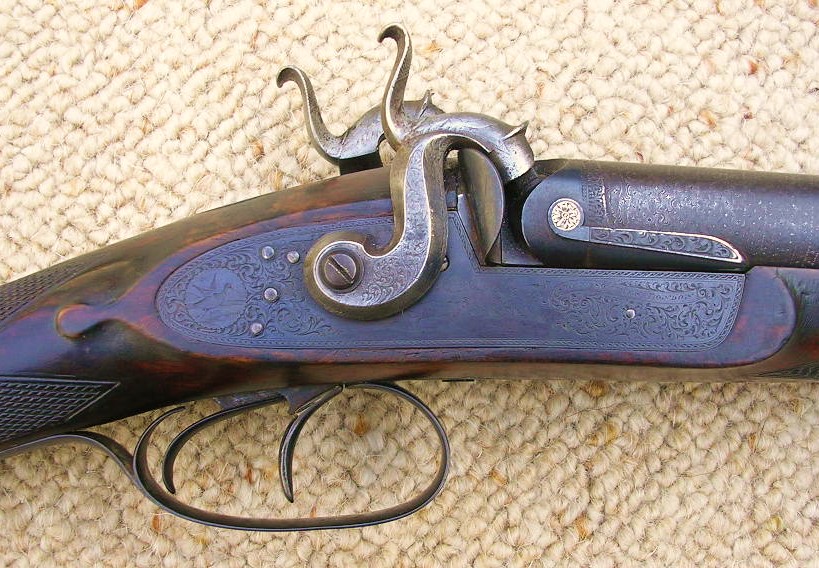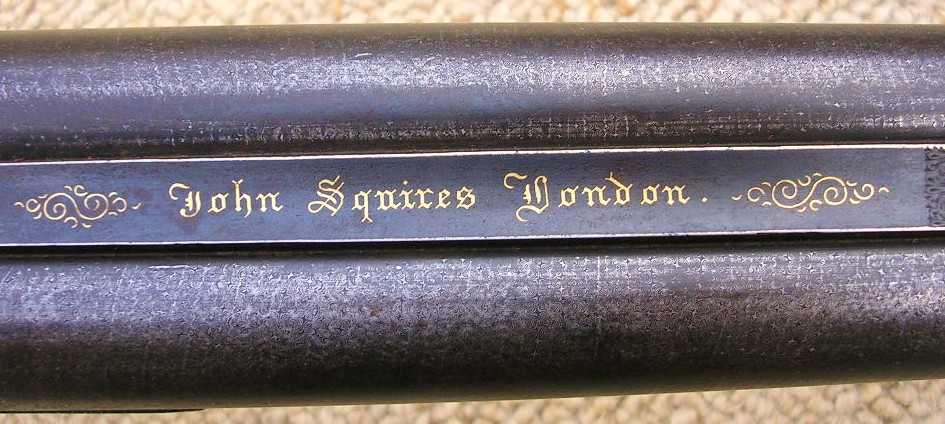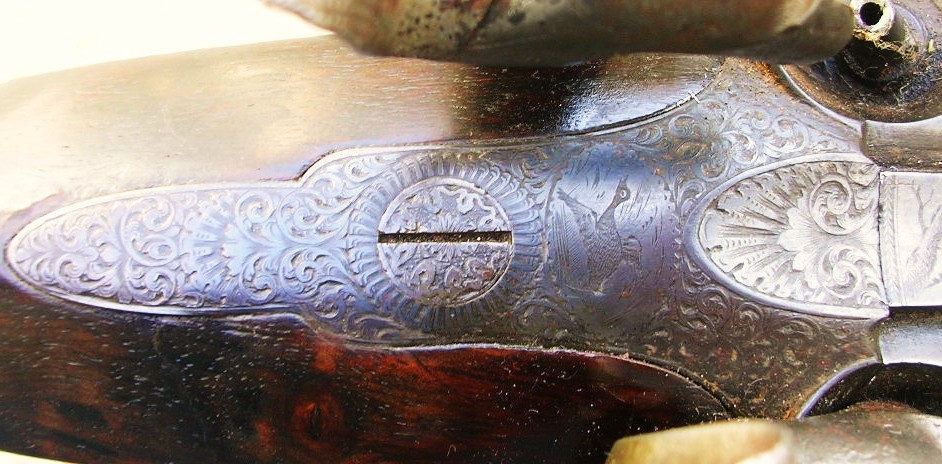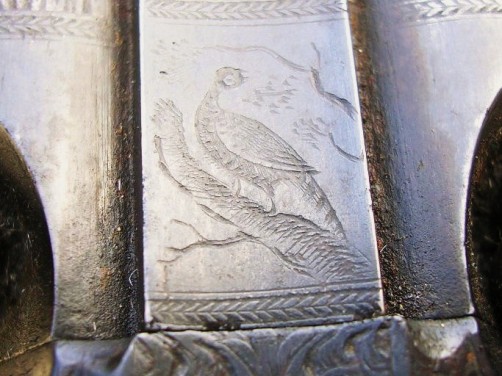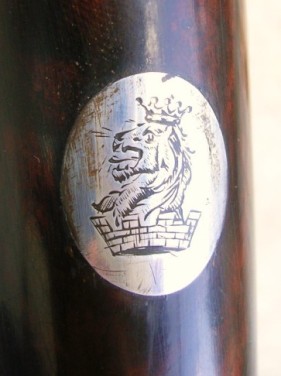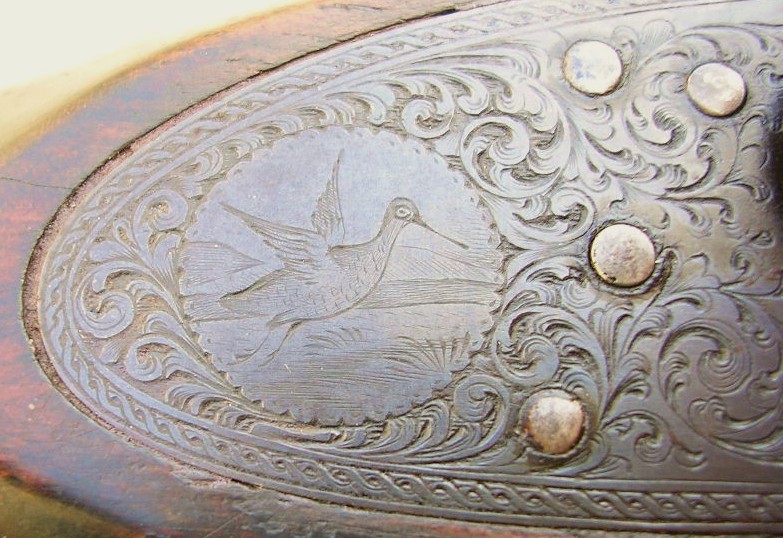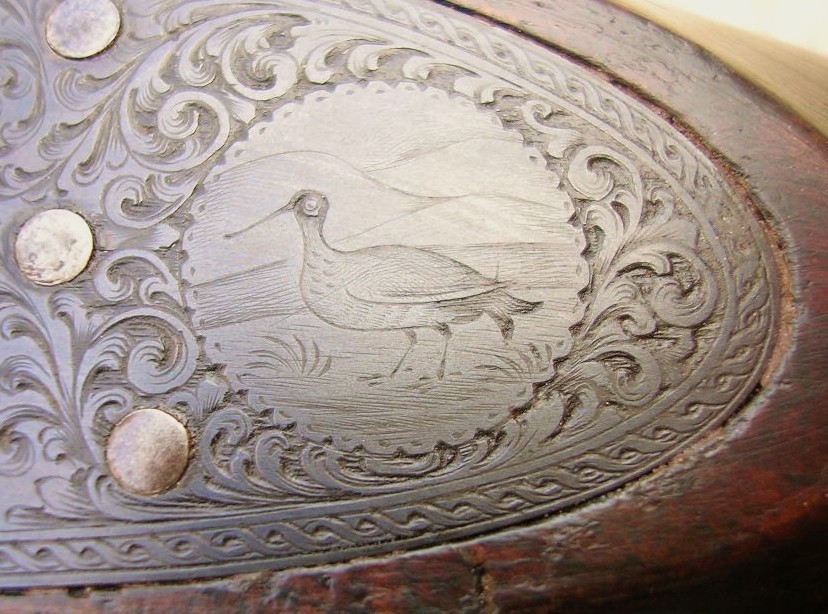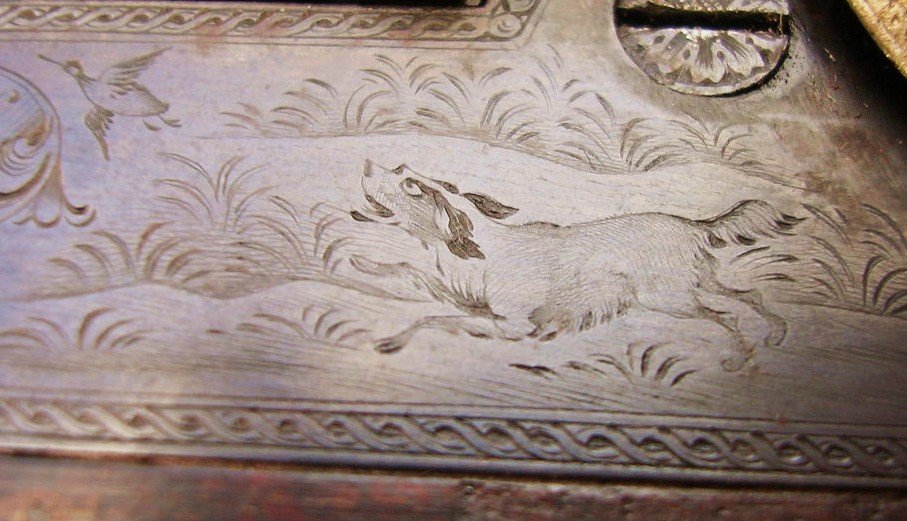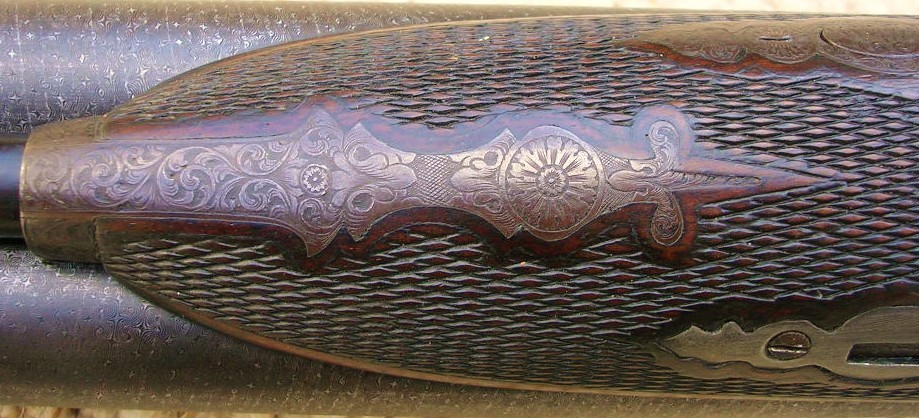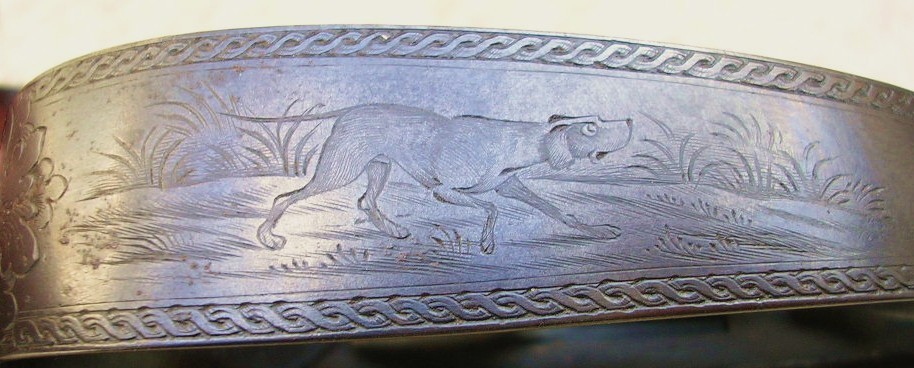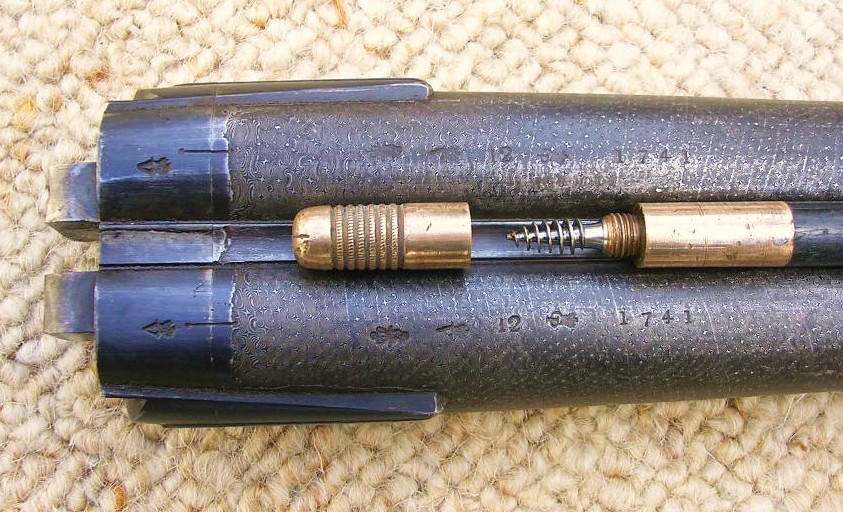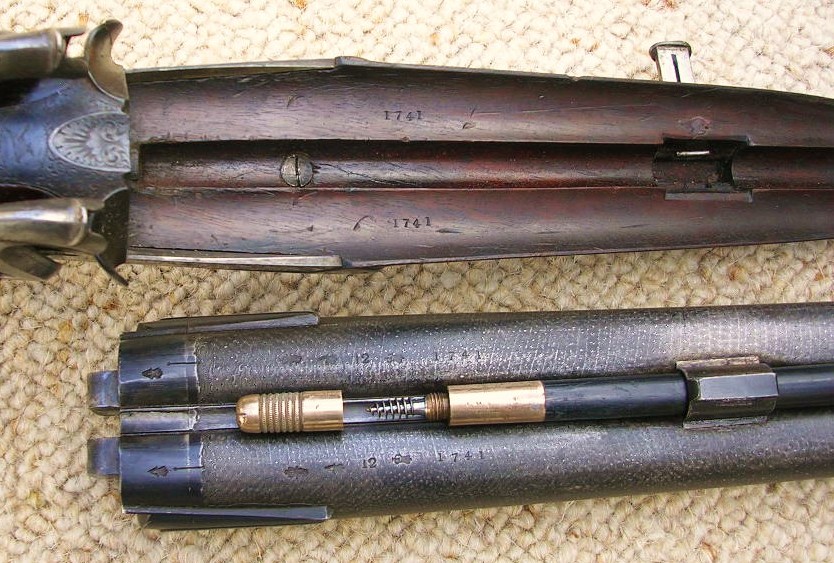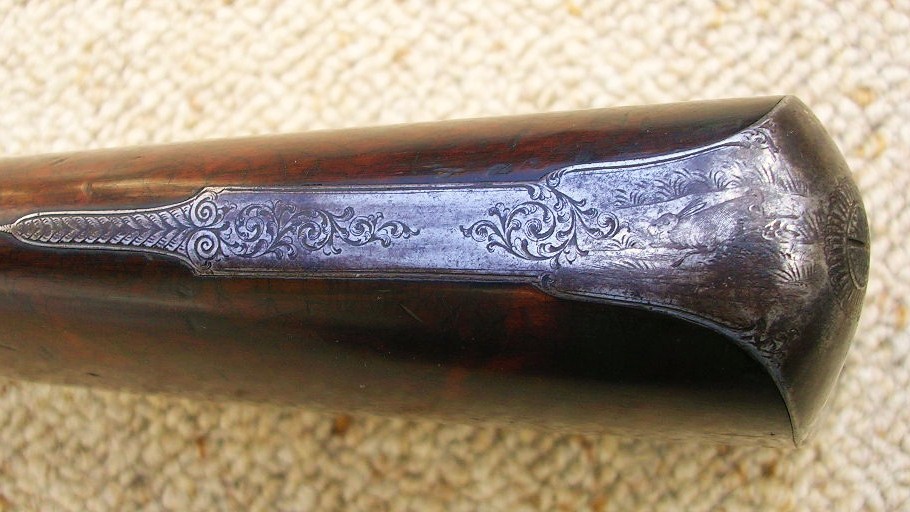 * A super 12 Bore proofed muzzle loading shotgun by "John Squires of London" 32″ barrels with "John Squires of London" in gold on the rib. it has fantastic fine pattern and is unusually blacked with 80% remaining. The signed lock finely engraved with dogs and game, the escutcheon has a Duke/Baron's coronet engraved on it which would be worth of further research, the whole gun is of fantastic quality and enhanced by the fantastic bores, only £2,250 *
---
---
Hollis Brothers.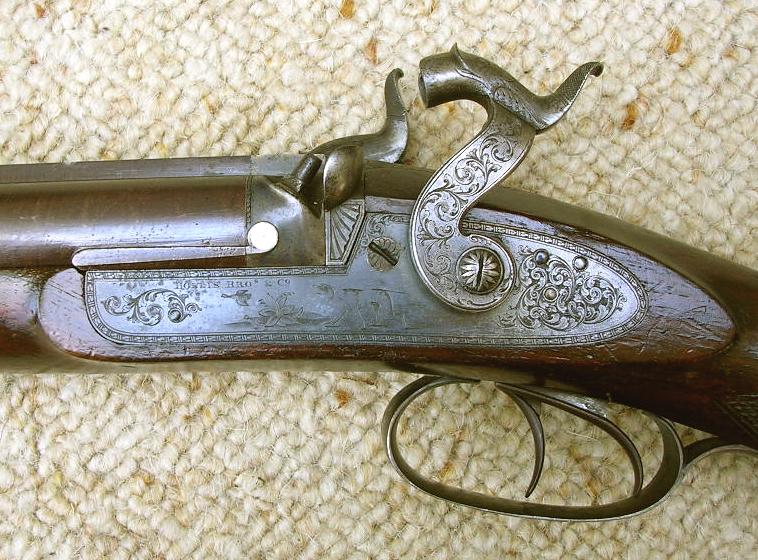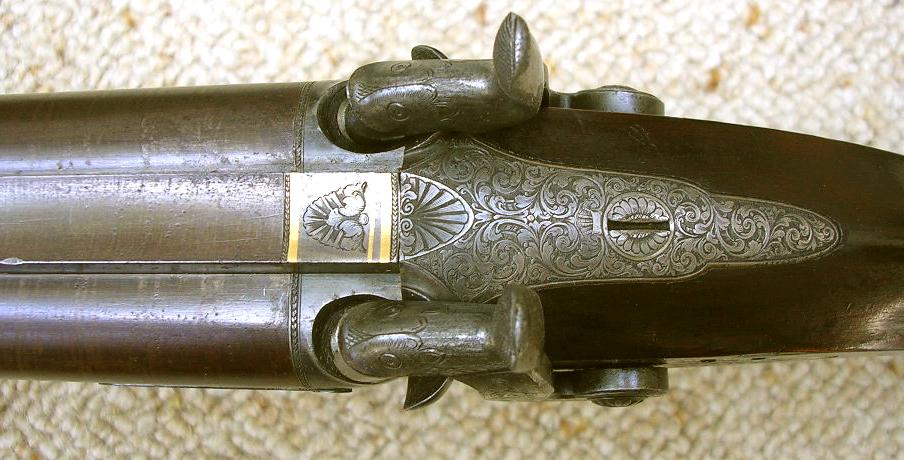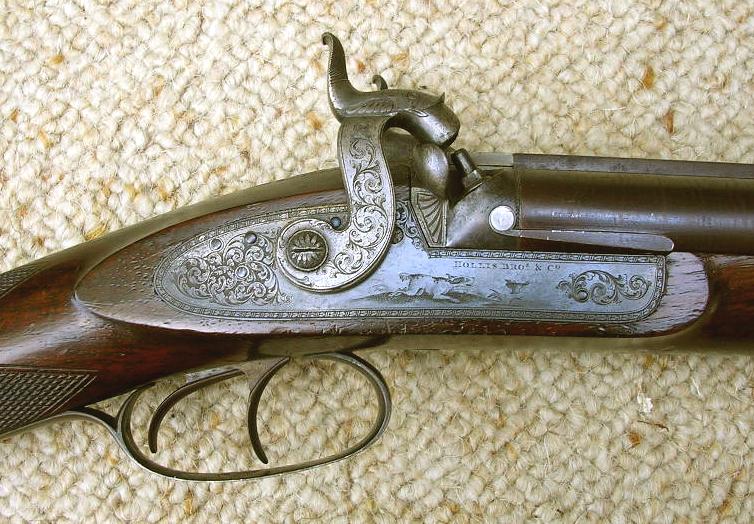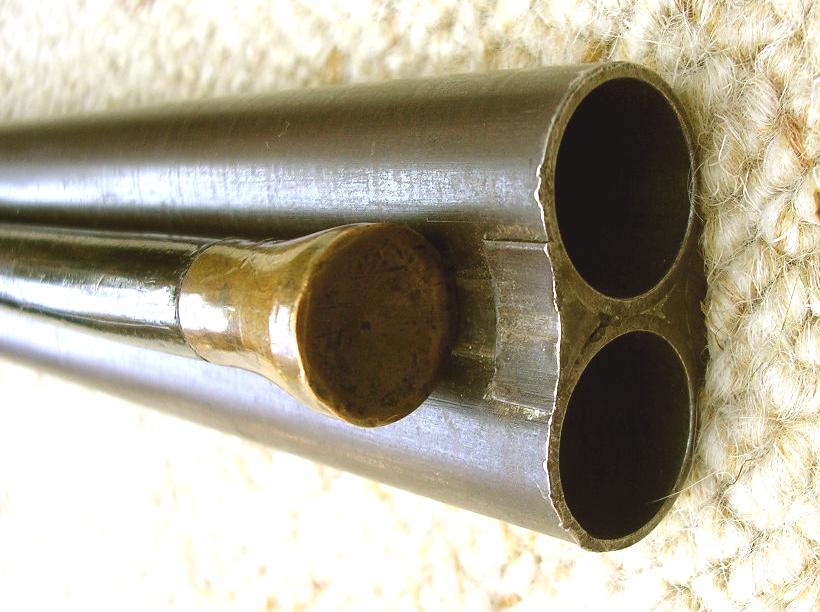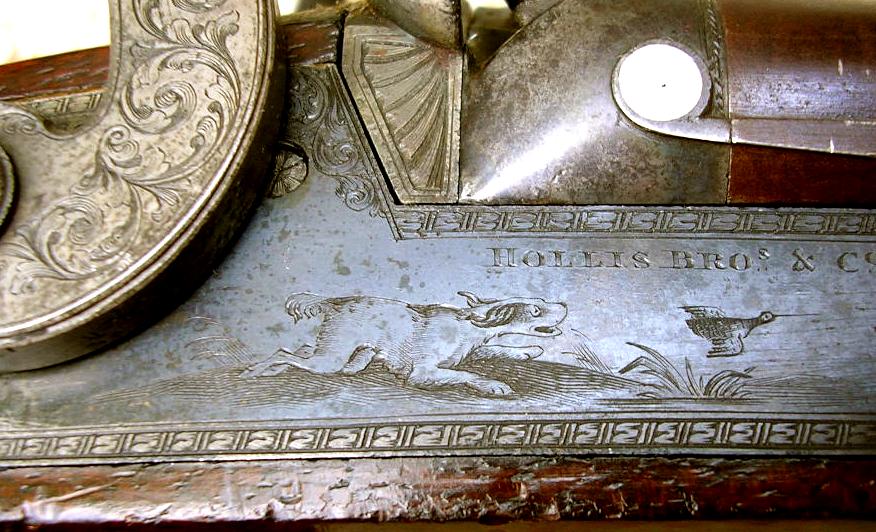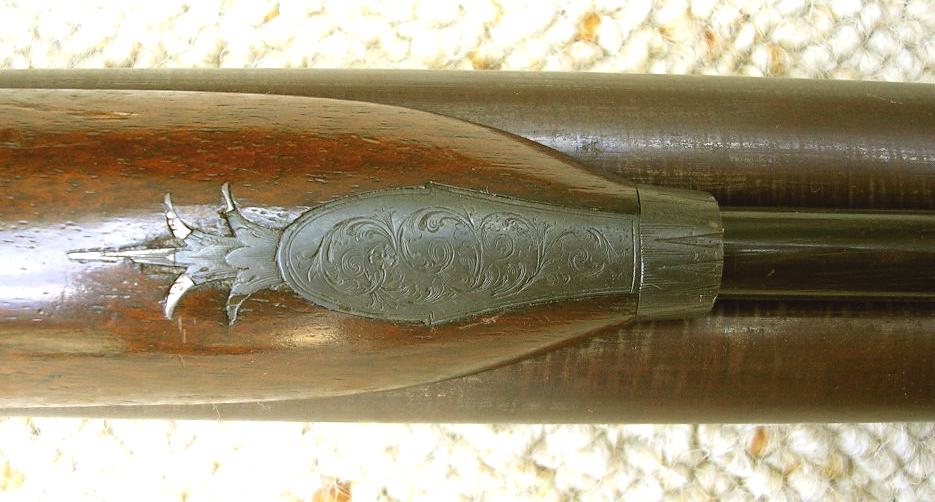 * A 16 Bore side by side percussion fowler by the prestigious gun maker Hollis Bros & Co, with beautiful 30″ Damascus barrels having a fantastic bore with platinum blow out
Note: The Hollis Brothers were active in Birmingham from 1840 to 1848 and used the Hollis Brothers name from 1845 to 1848. This gun typifies the 1st class quality of workmanship they produced, all in all, a fine quality gun that will appreciate in value, only £2,500 *
---
Chard of London.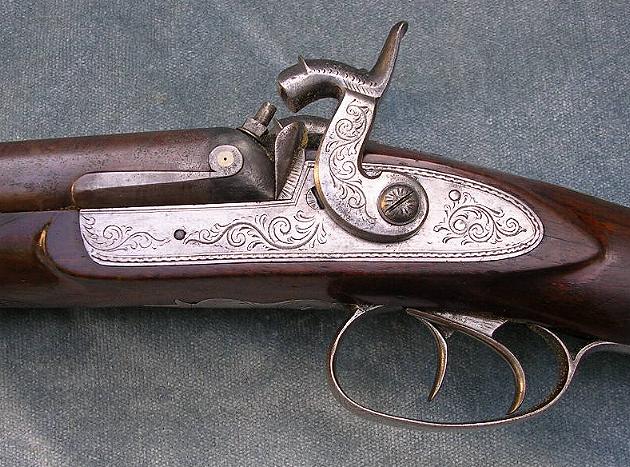 * 14 bore double barrel percussion sporting gun by Chard of London, made during the 3rd quarter of the the 19th century, 30″ Damascus barrels, only £850 *
---
---
W. Harrison.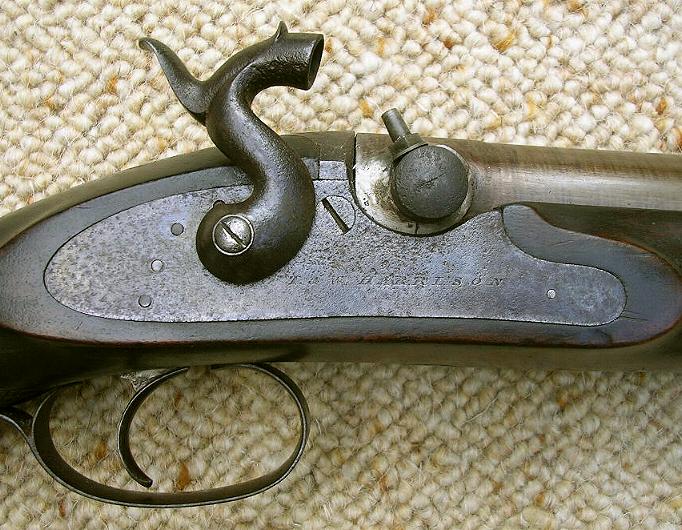 * 11 Bore single barrel percussion wild fowling gun converted from flinklock, made by W. Harrison, 39″ Damascus barrel, 55 3/4″ overall length, pistol grip stock, one ramrod pipe missing, only £1,200 *
---
J. Bemister of Christchurch.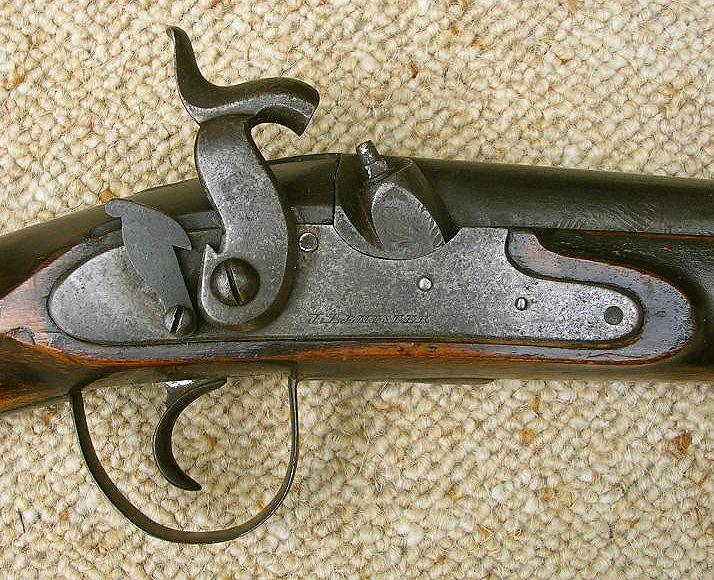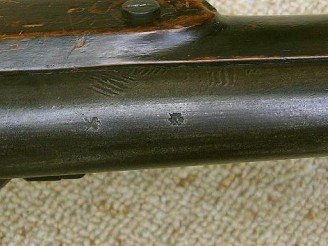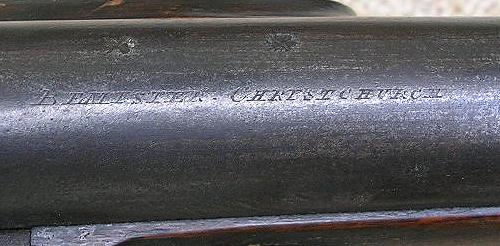 * 8 Bore muzzle loading wild fowling gun of large proportion !
Flintlock conversion, dog lock,, made by J. Bemister of Christchurch, 2 barrel bands missing but they may turn up, full stock, 53 1/2″ barrel, 15″ pull, overall length is an incredible 72″…. Only £1,200 *
---
10 Bore percussion wild fowling gun by Clemson.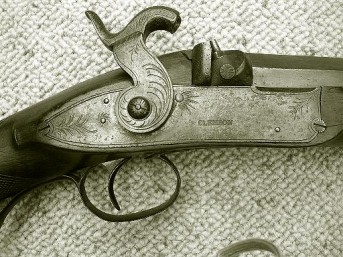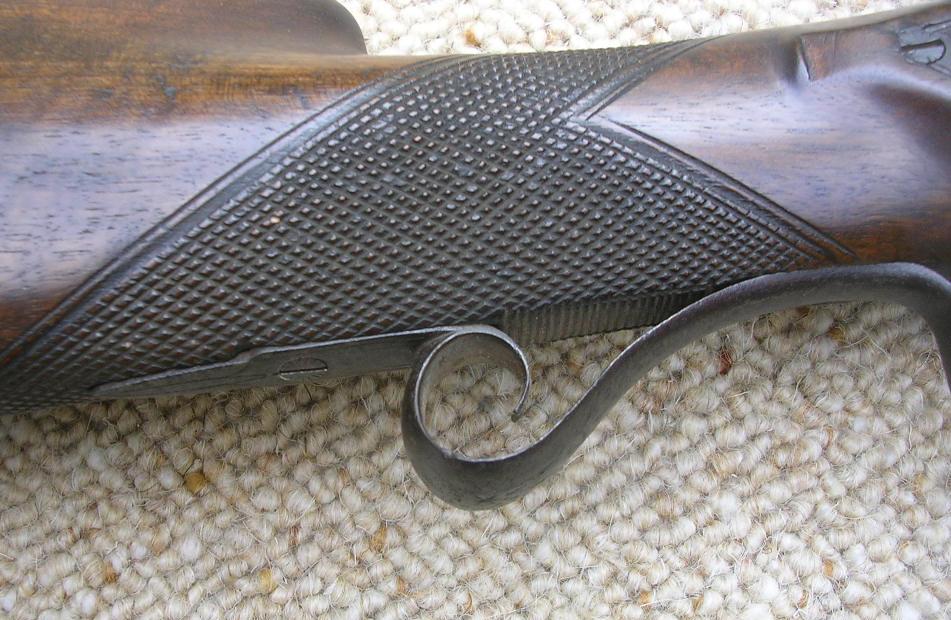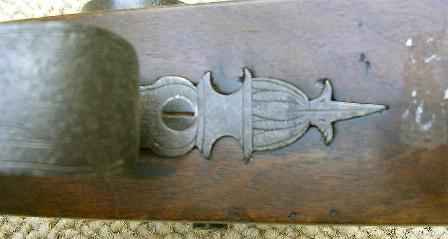 ** 10 Bore percussion wild fowling gun by Clemson, 50 1/2″ barrel, 69″ overall length , 15″ pull, scroll trigger guard, only £1,300 *
---
Springfield Musket by L.G & Y US Windsor-VT.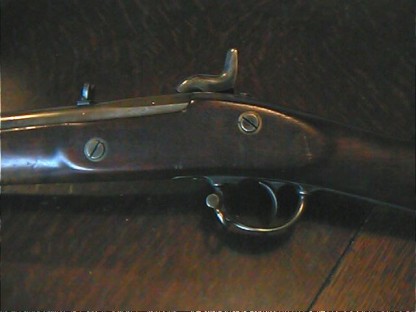 * Springfield Musket by L.G & Y US Windsor-VT , 40 " Barrel, Very Good Bore, with three bands, overall length is "56, only £1,250 *