---
Coloubus monkey skin.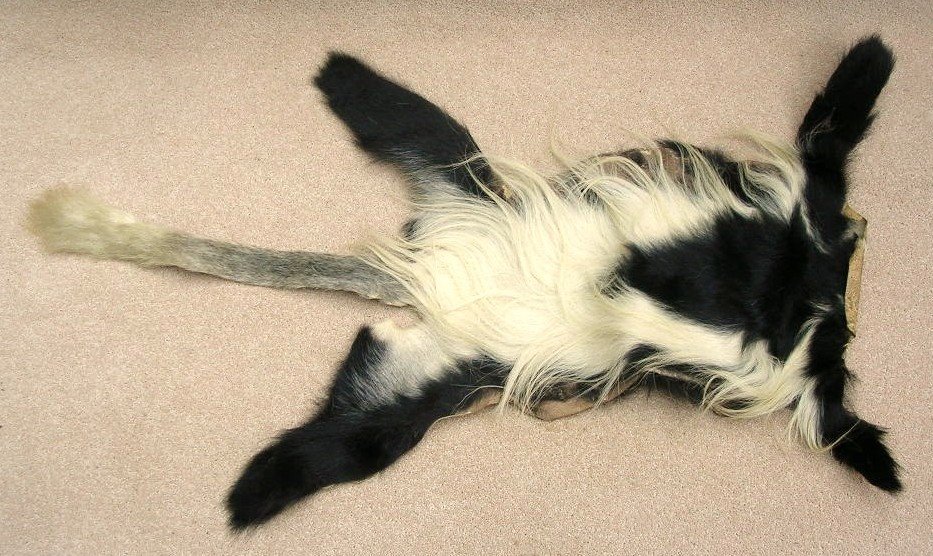 * Coloubus monkey skin, measures 42″ from tip to tip, and is 26″ wide, only £80 *
---
---
Deer skin.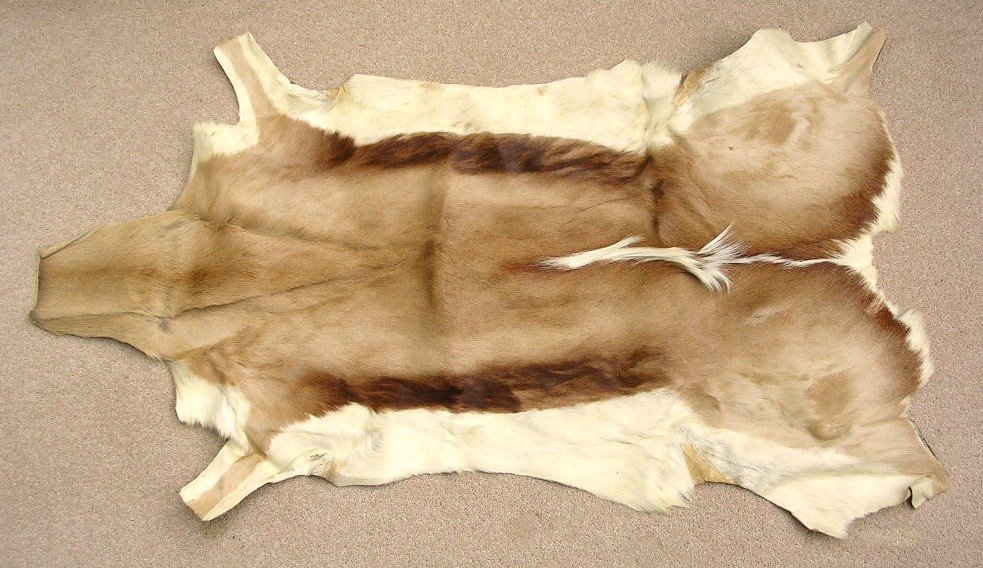 * Dear skin, measures 42″ x 26″, only £40 *
---
---
Rug made from skins.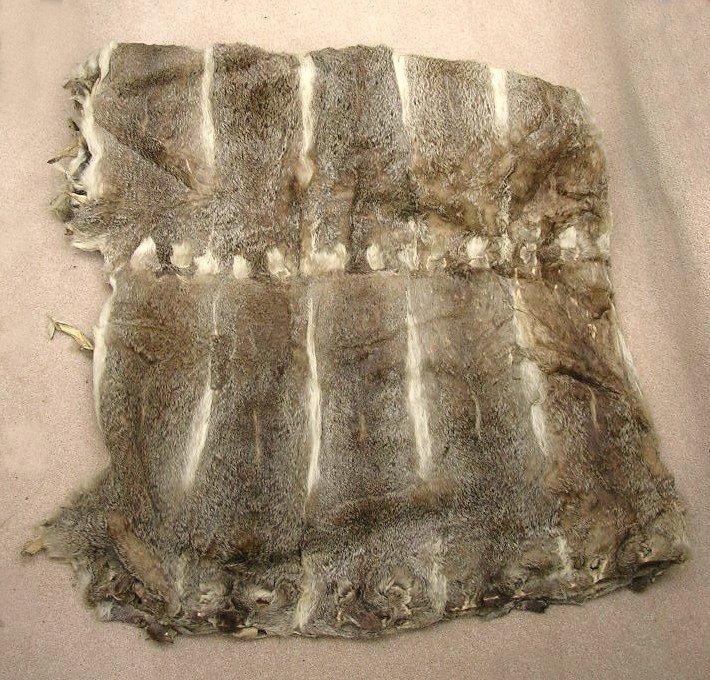 * The rug is made of up to 40 skins and is very large, too large for our background, so the photo shows it folded and rolled up. Unfolded and rolled out it measures 5′-0″ x 6′-6″, only £80 *
---
---
Inuit.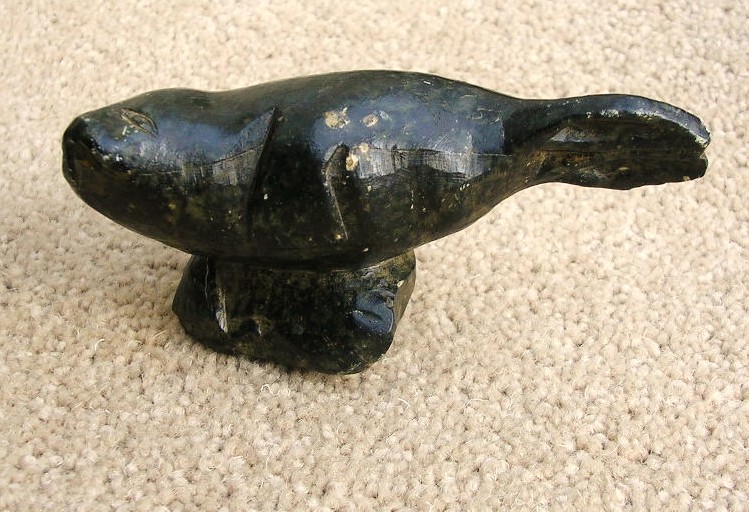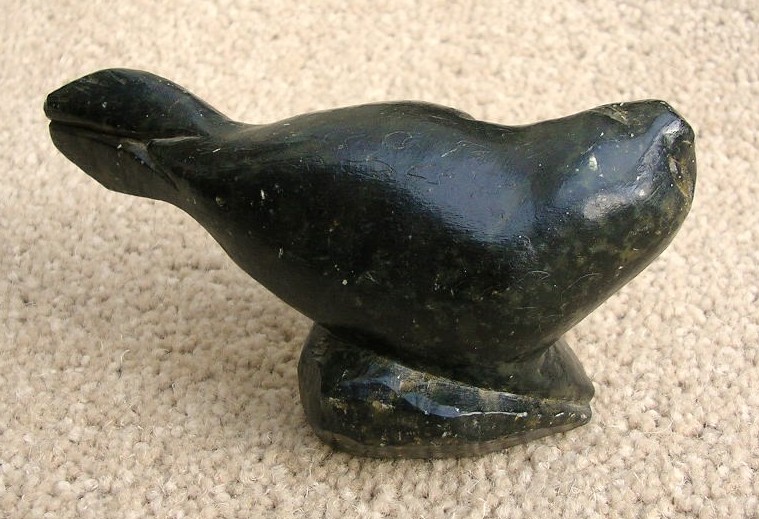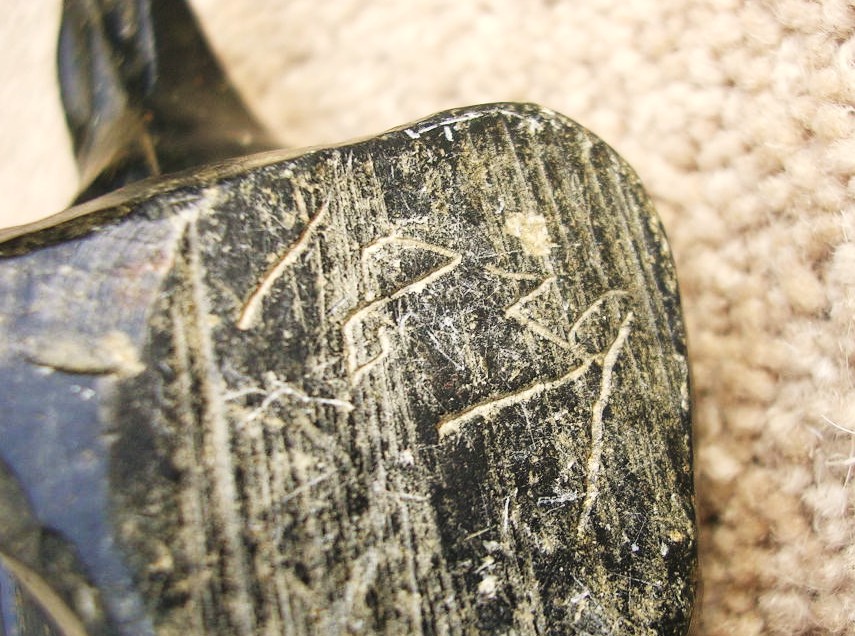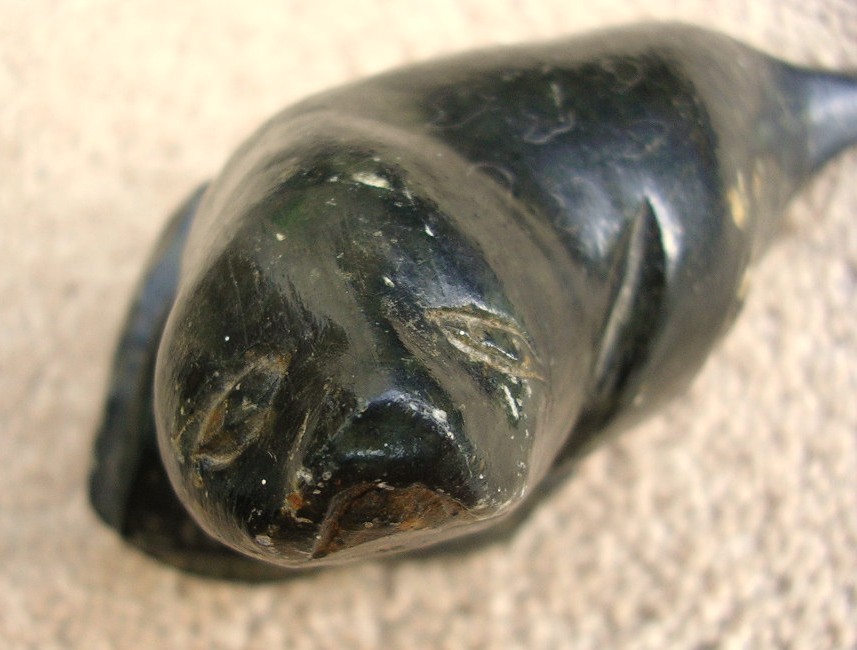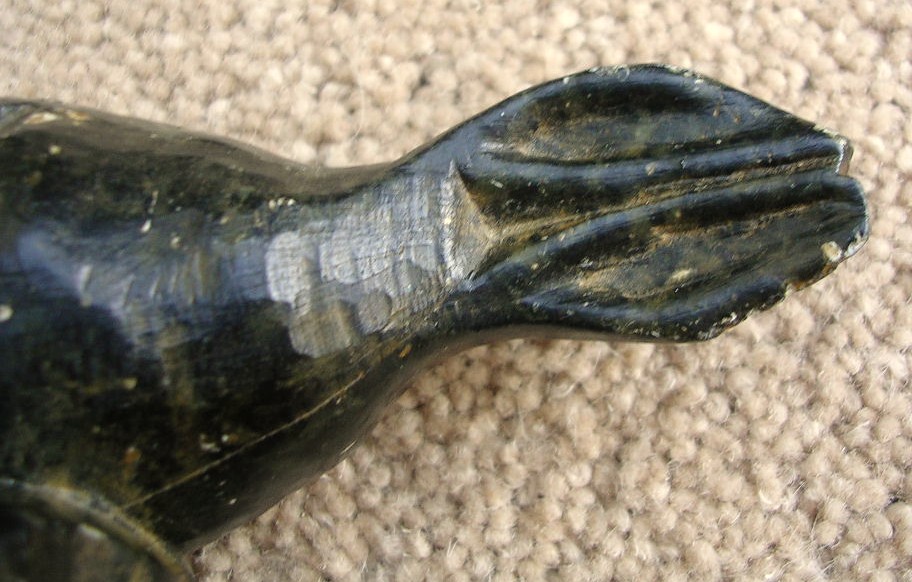 * Inuit art, only £250 *
---
* Inuit art, only £250 *
---
French alarm gun.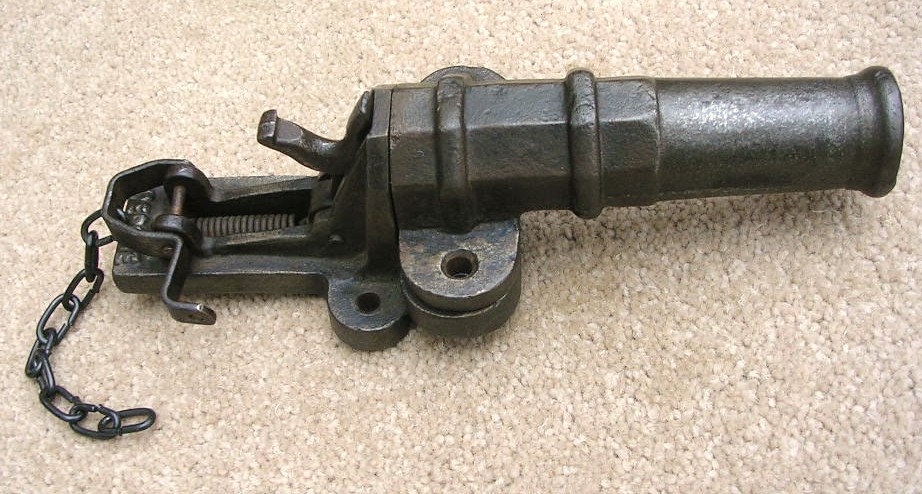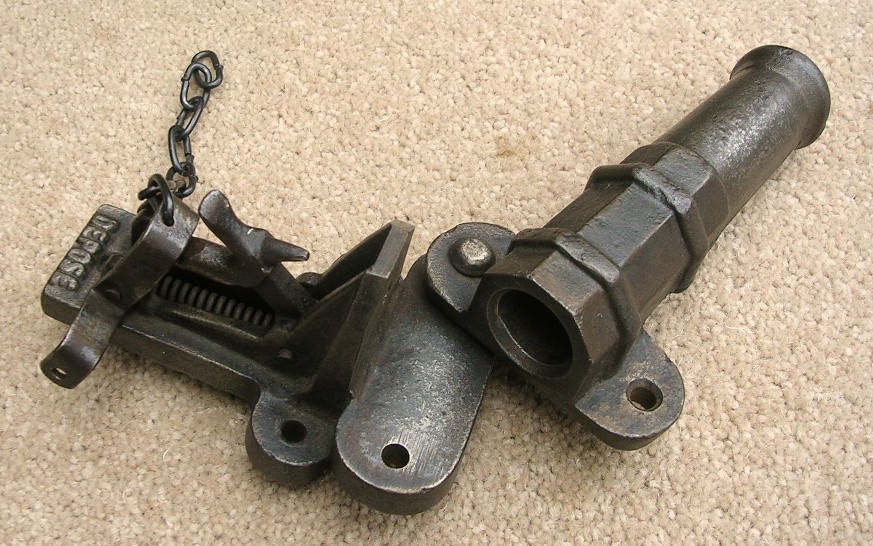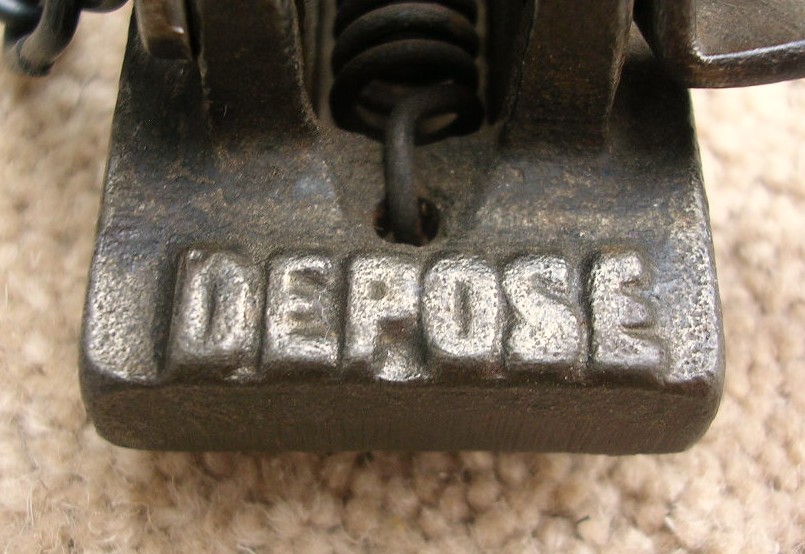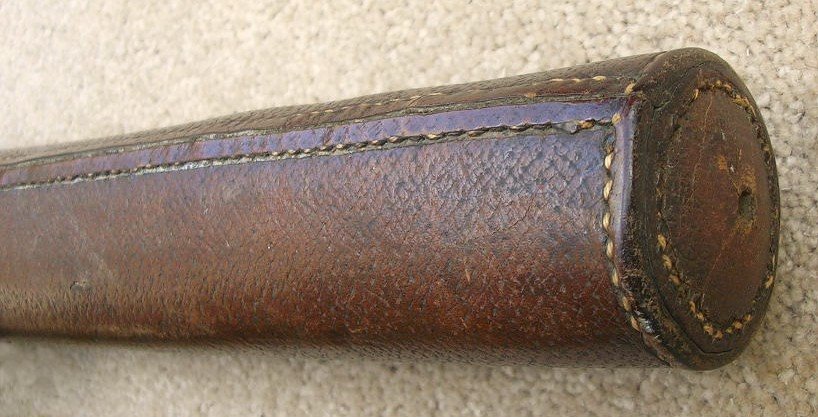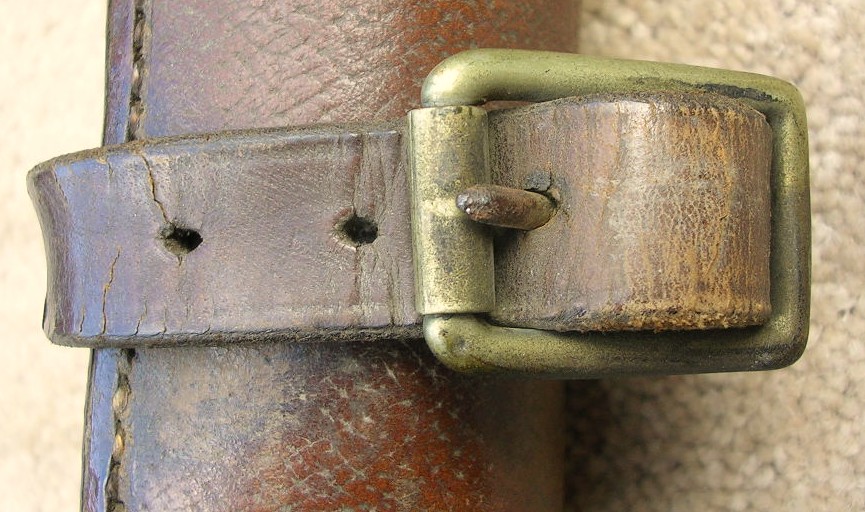 * Details to follow *
---
Victorian mounted police truncheon.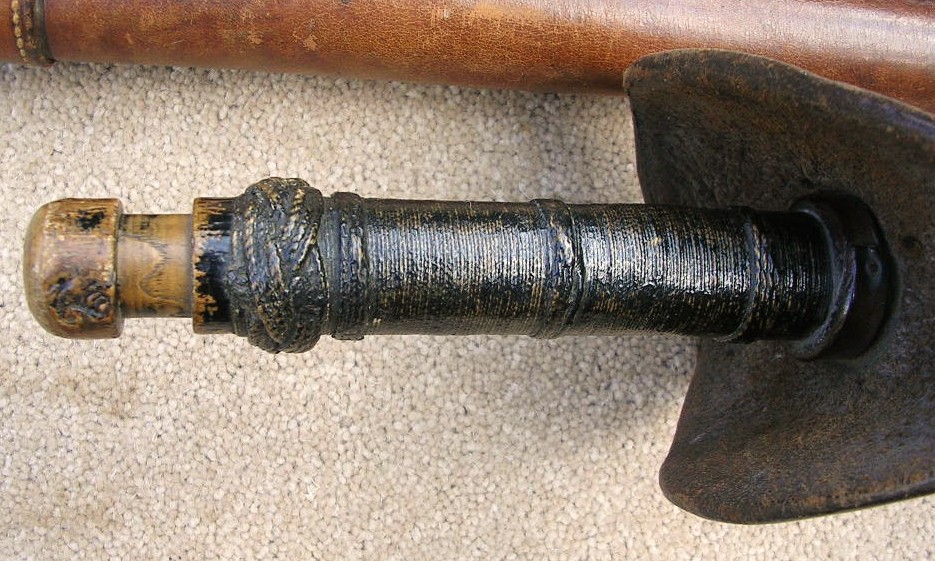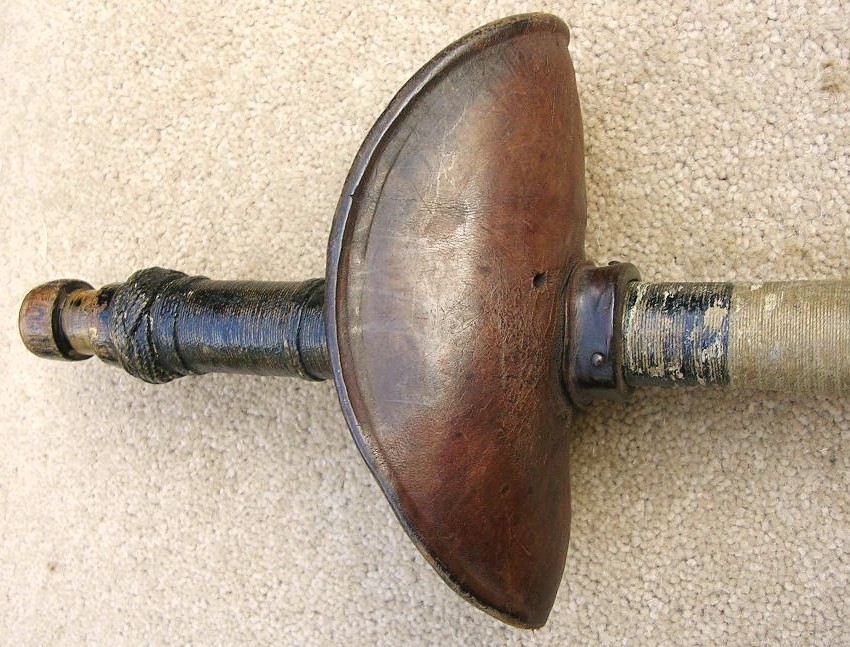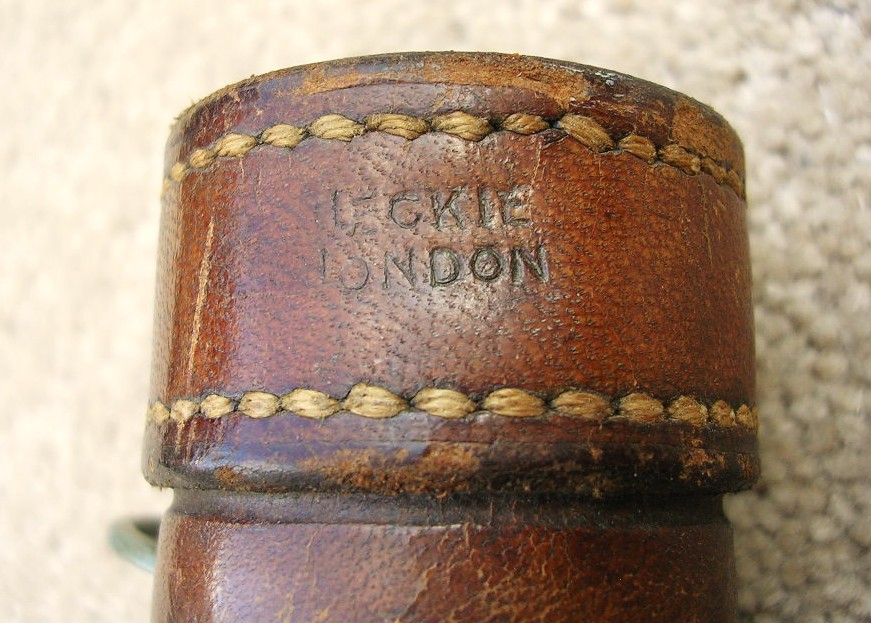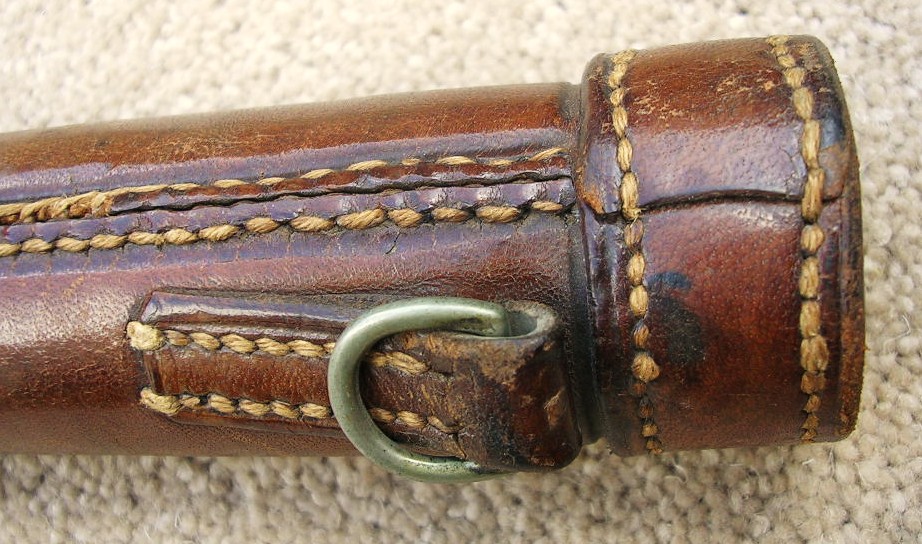 * Details to follow *
---
Hand Cuffs and Leg Irons.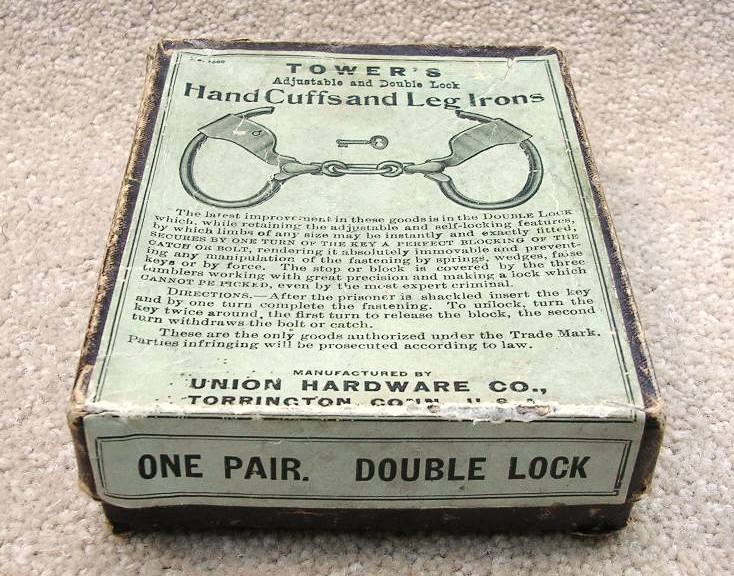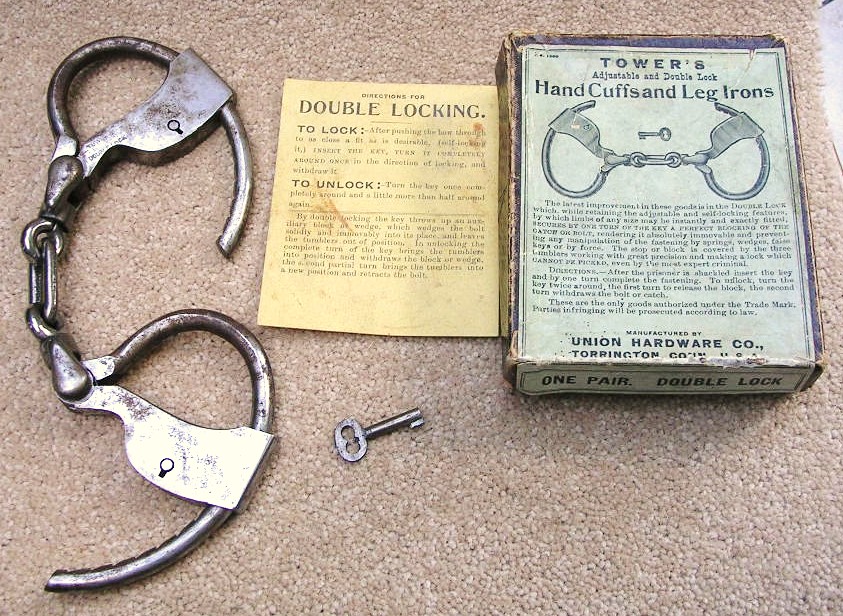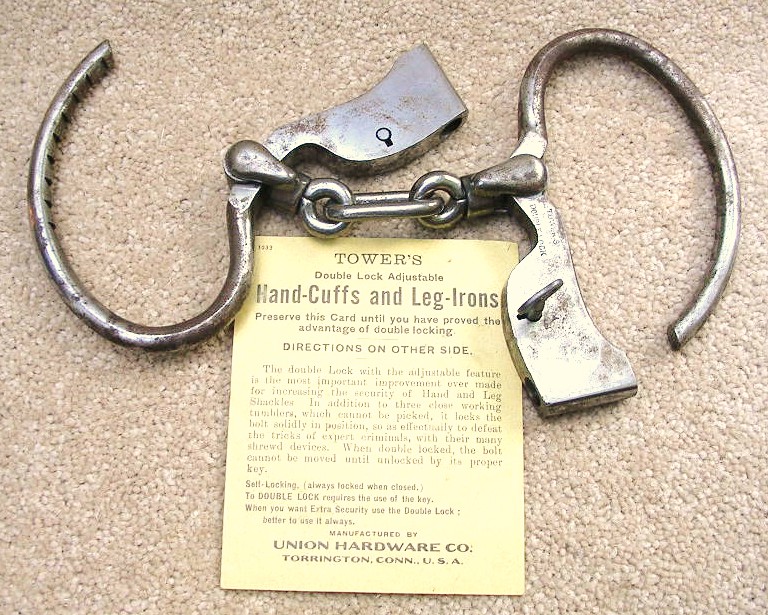 * A very scarce set of Tower hand cuffs, made rarer with the original box and instructions, and complete with the original key, only £250 *
---
Hyatt Hand Cuffs.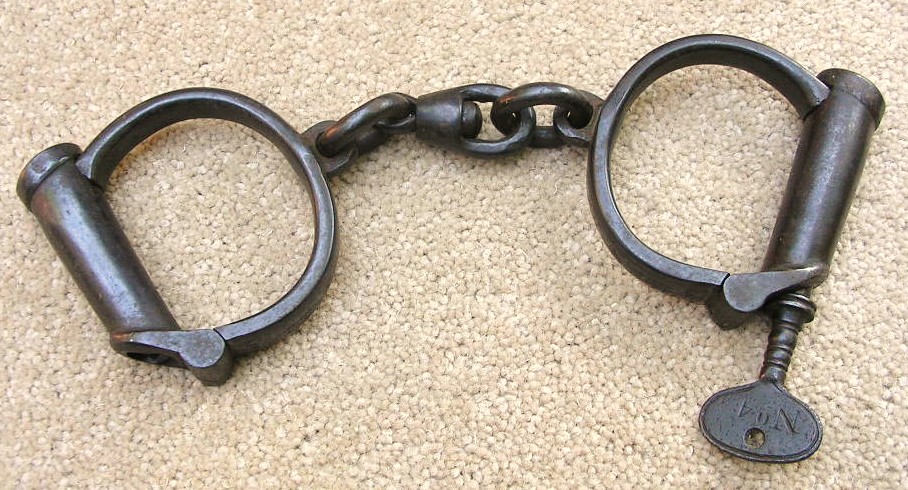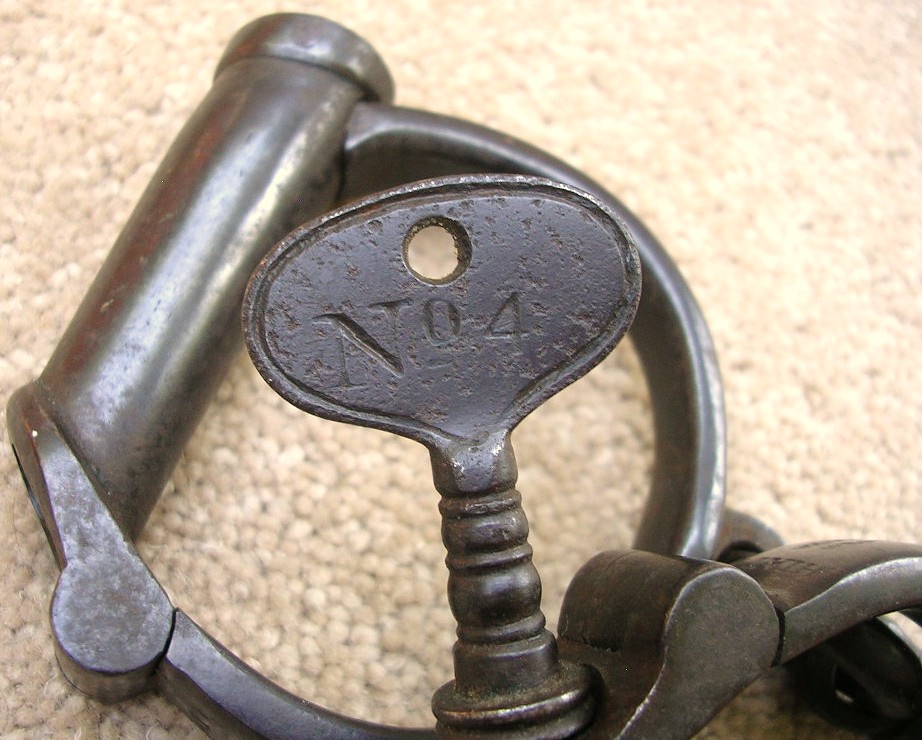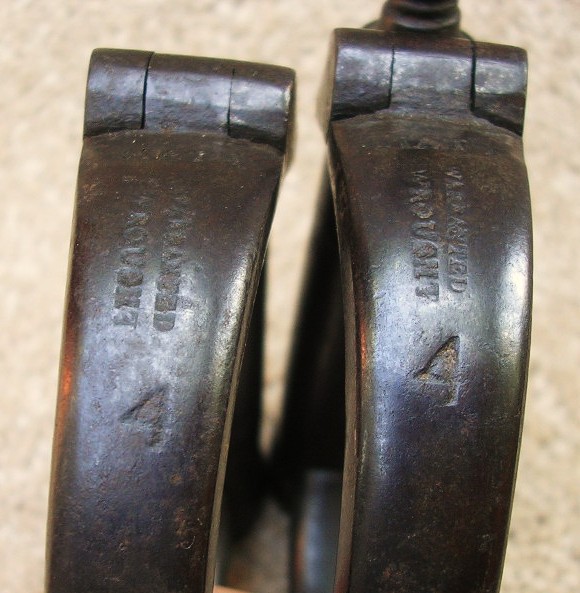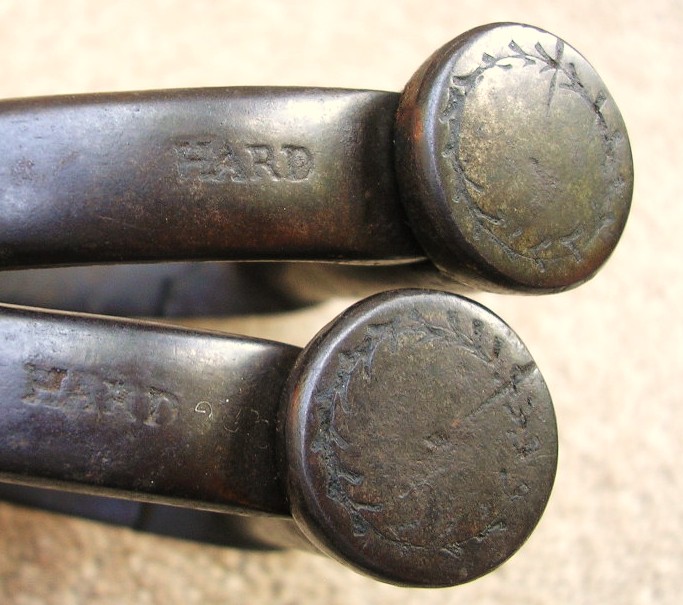 * A good pair of vintage hand cuffs made by Hyatt for the collector /re-enactor, complete with the correct numbered key, only £150 *
---
---
Lead Weighted Cosh.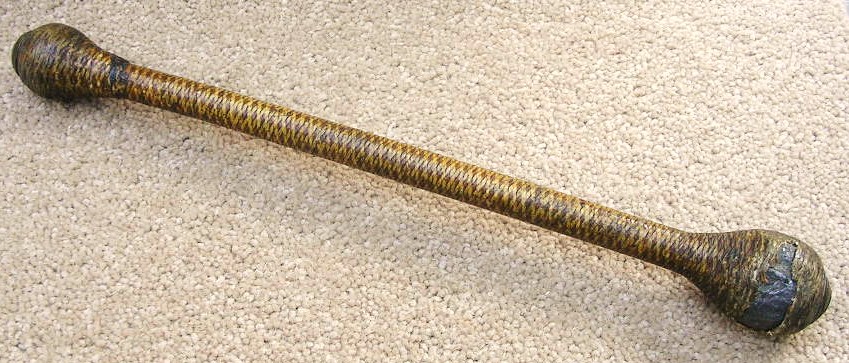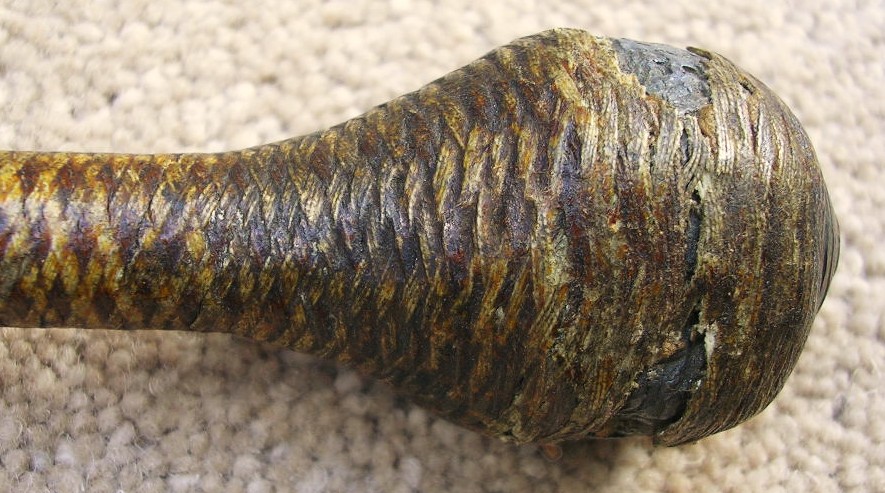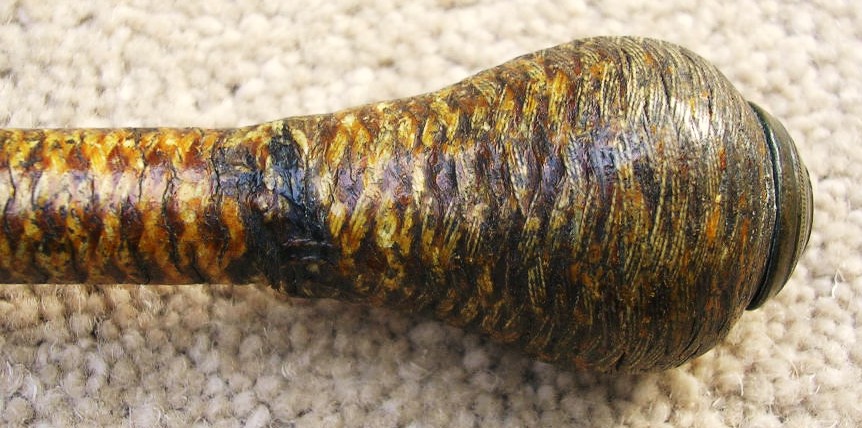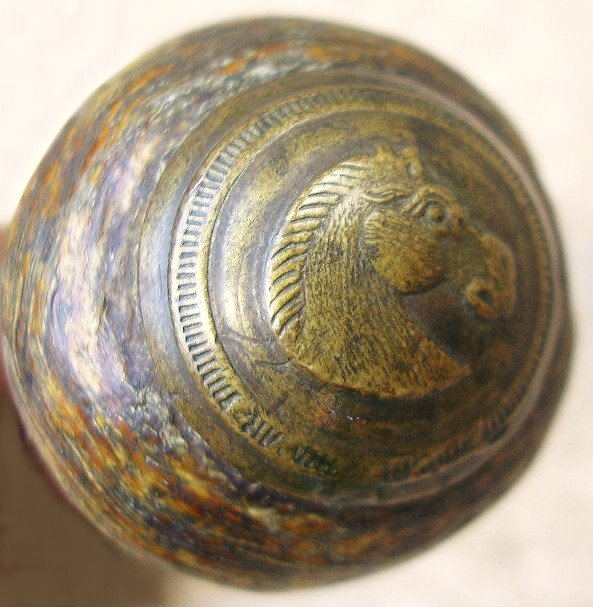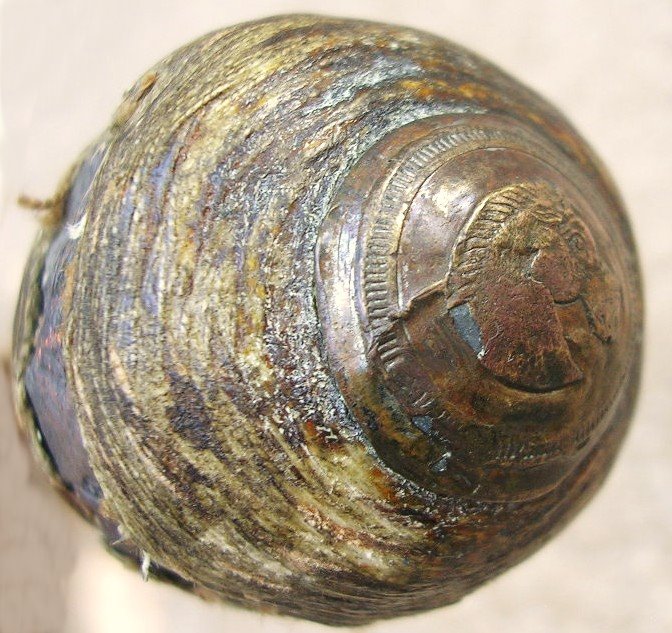 * A double ended lead weighted cosh covered with fine wicker work and incorporating two nice brass horse head figure caps, one on each end, overall length is 11 1/2″ only £75 *
---
The Strong Cannon !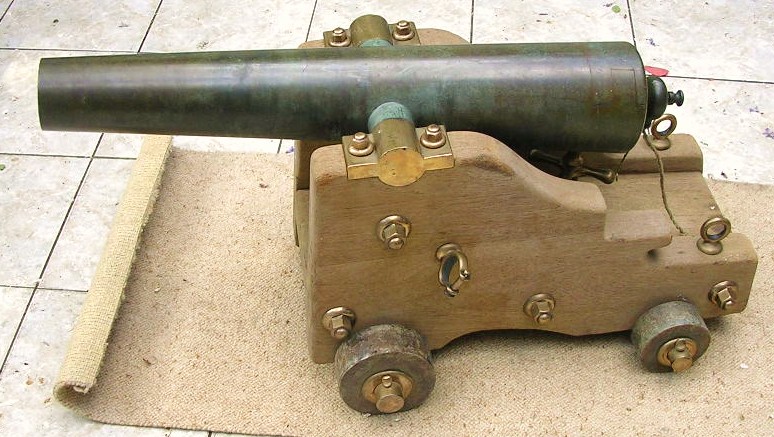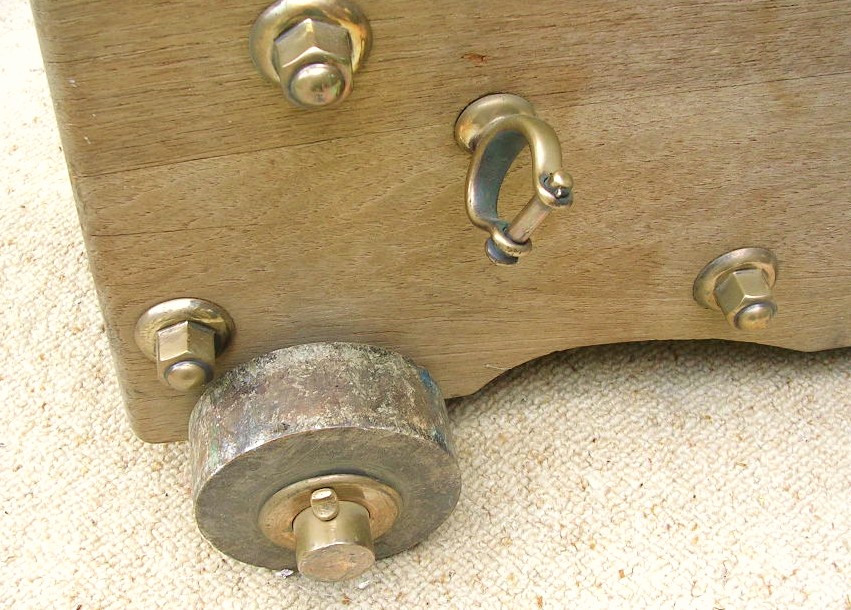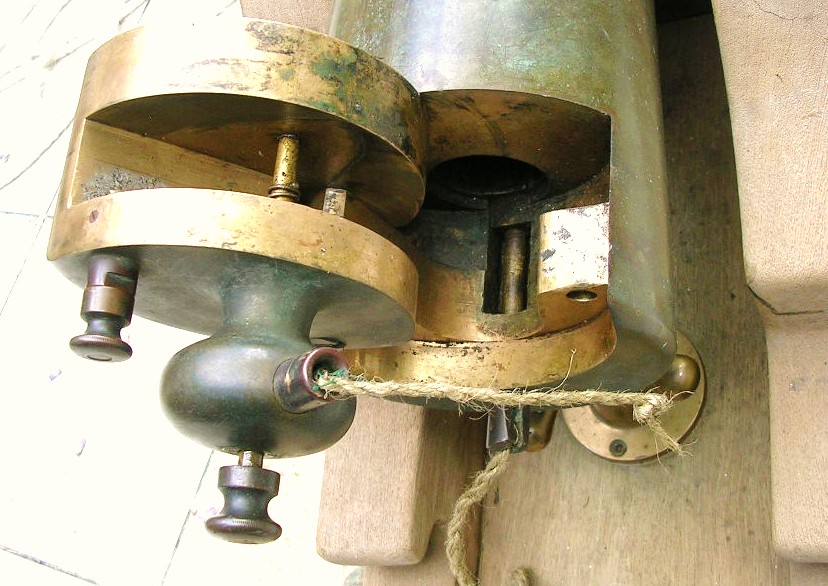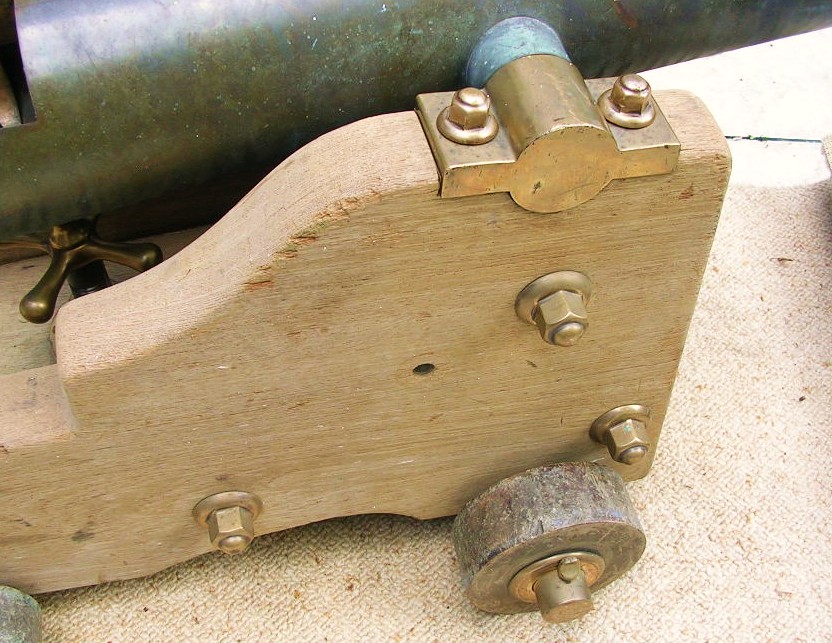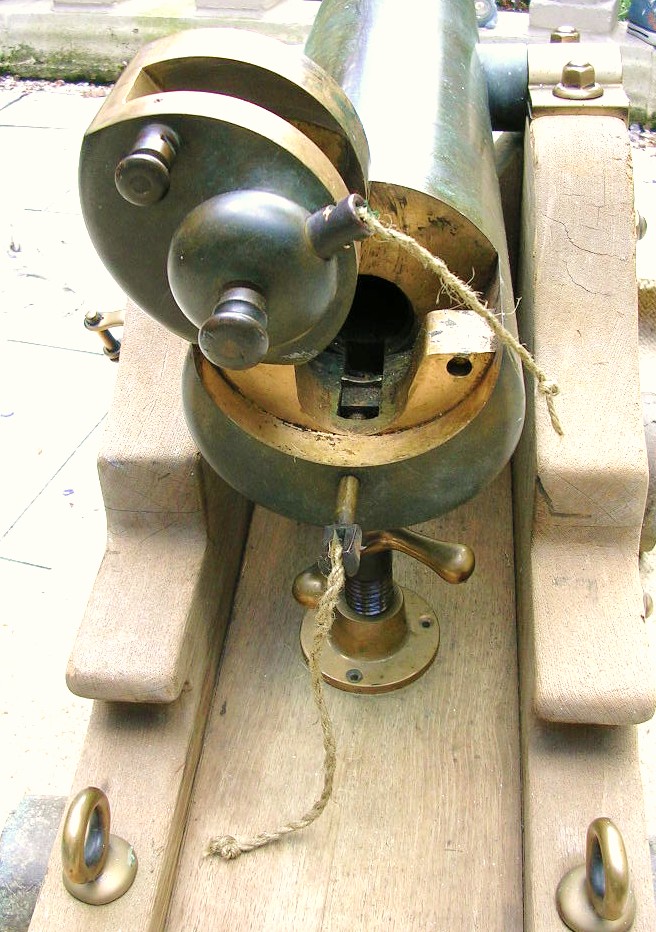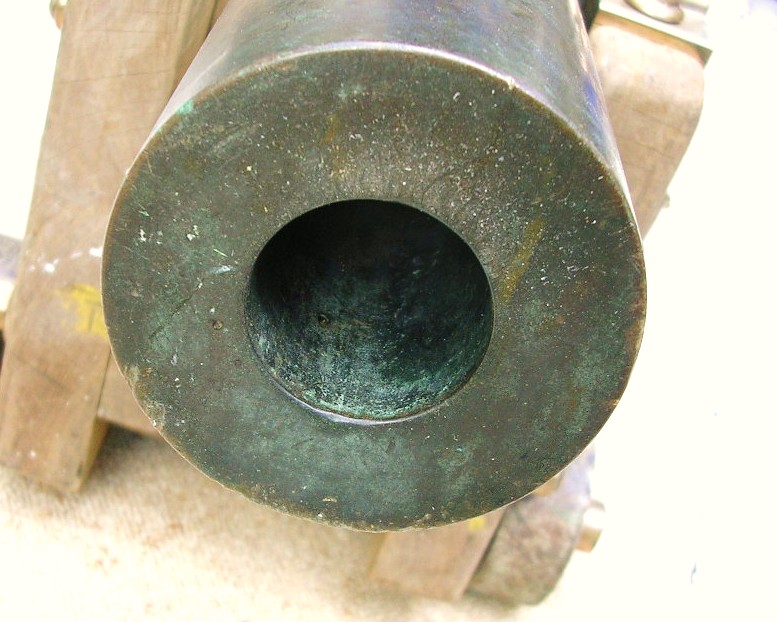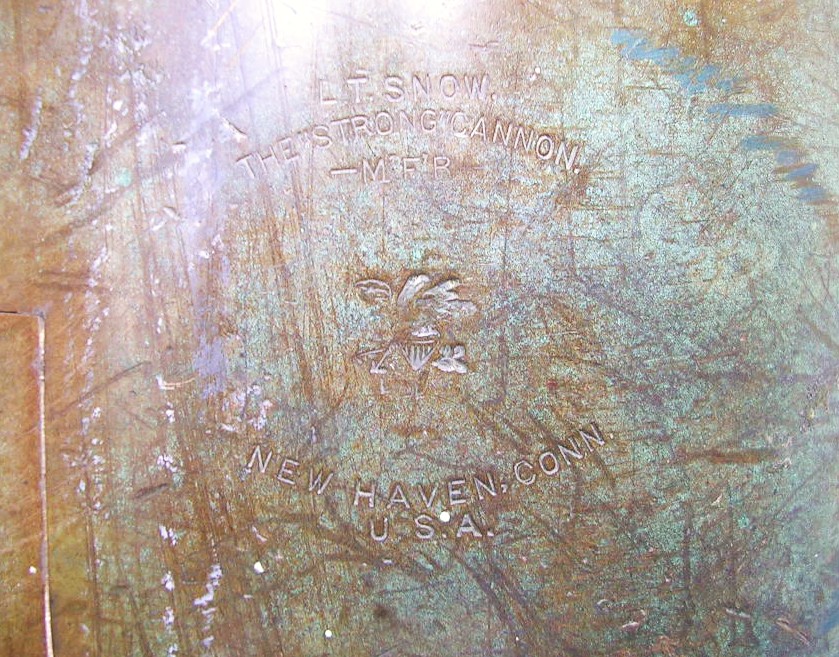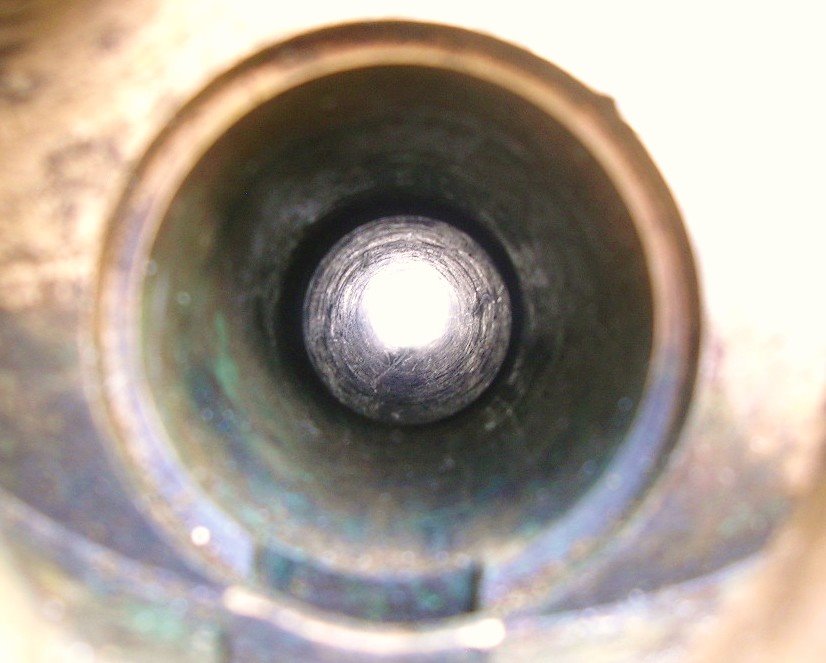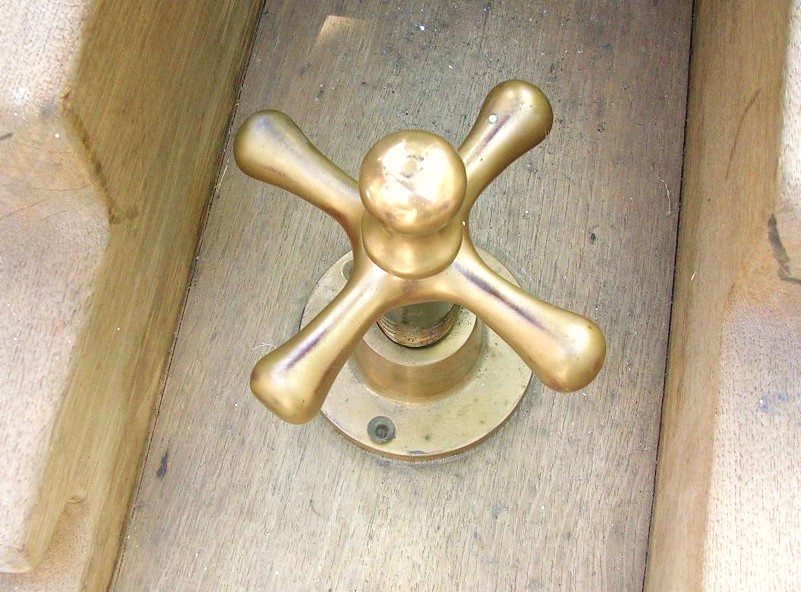 * A very scarce bronze breech loading cannon with 1 1/2″ bore by L T Snow. Tapered 27 3/8″ barrel and the overall length is 34″ including the pivoted breech block. The top of the chamber is marked "L T Snow, The Strong Cannon, MFR, New Haven,Conn,USA" with an American eagle motif in the centre, this is mounted on it's original stepped Oak carriage with brass mounts and elevating screw, the whole in very good condition and working order, these have been seen selling far in excess of £10,000 but can be your's for only £9,750 *
Note: The lock is marked on the inside "W Scott" who was the maker and "William Partridge" who was the inspector.
---
W.W. Greener C.K.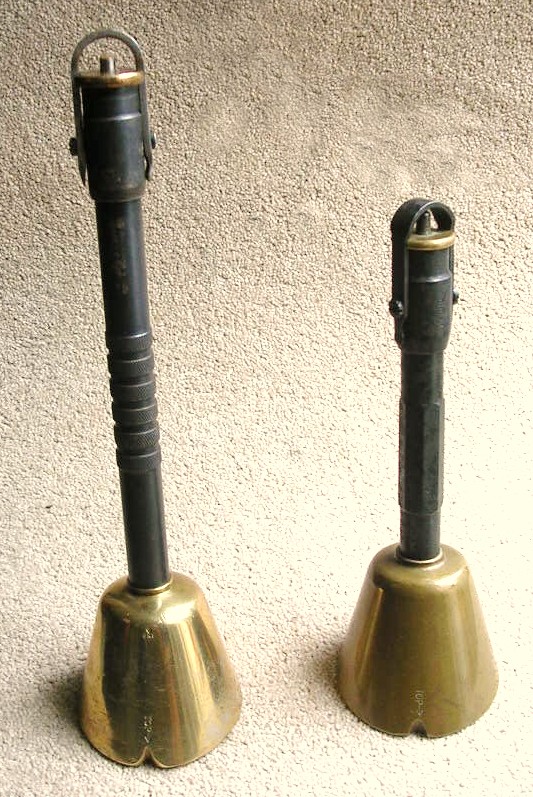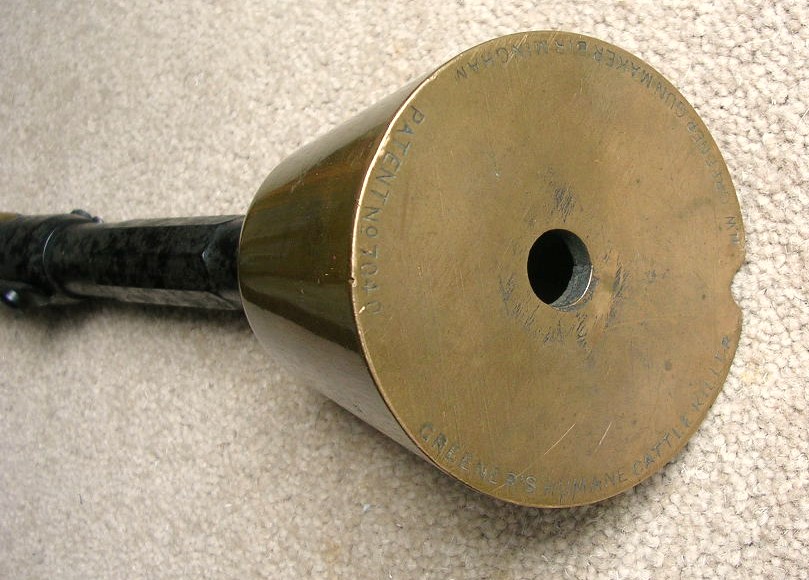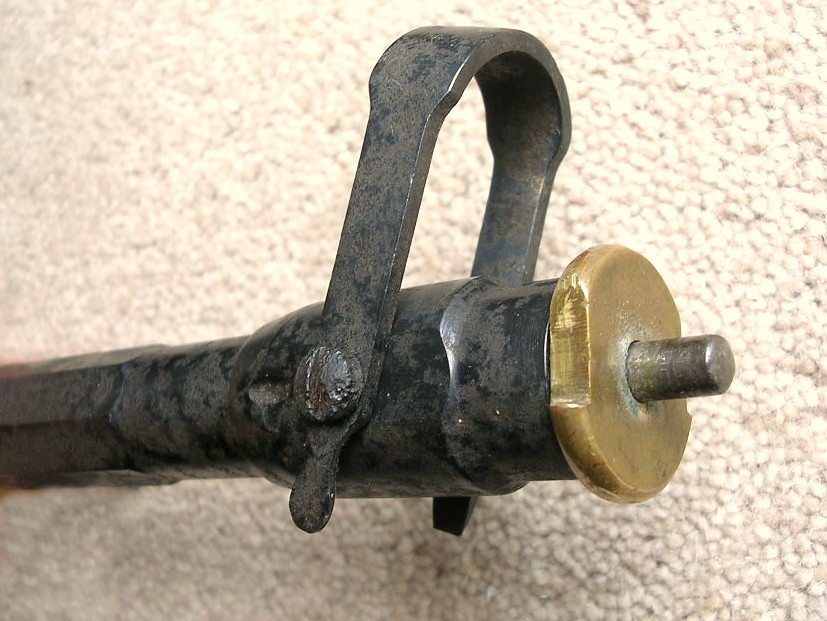 * Very rare C.K. that differs from the widely available versions …… *
---
"Never Fail" gopher trap.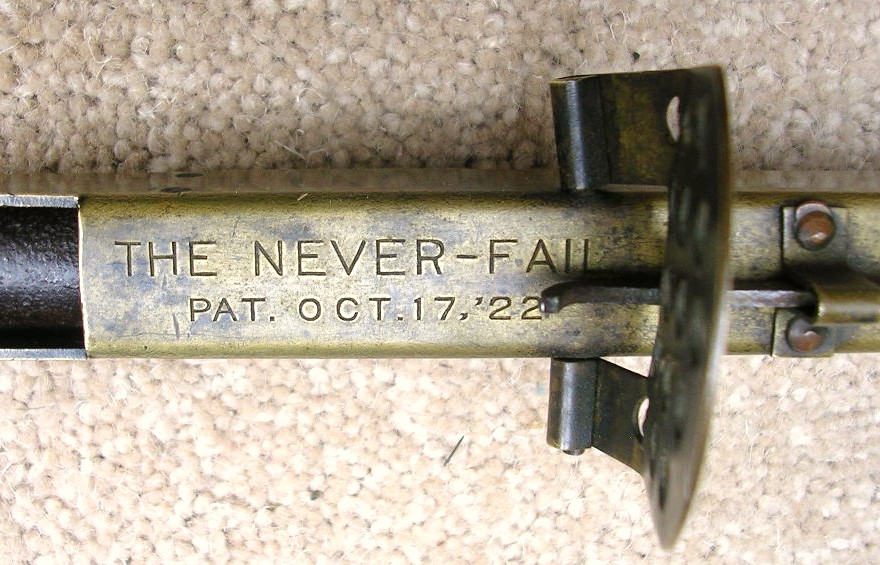 * An unusual "Never Fail" Gopher killer trap, only £325 *
---
Japanese arrow Head.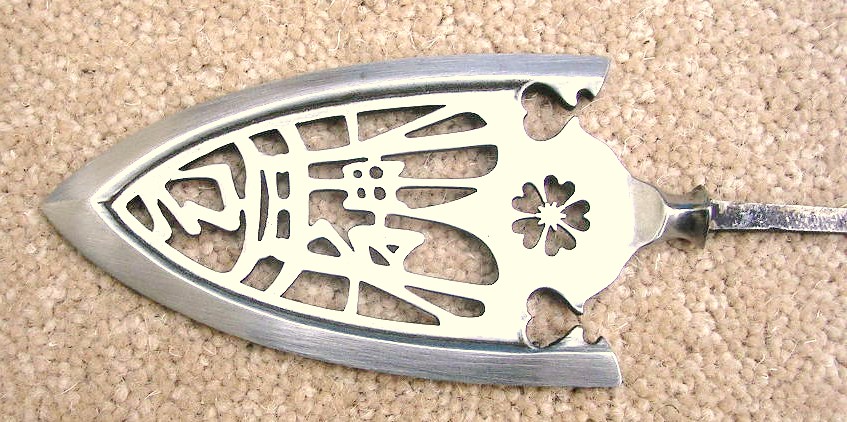 * Details to follow ….. *
---
Skylark Lure.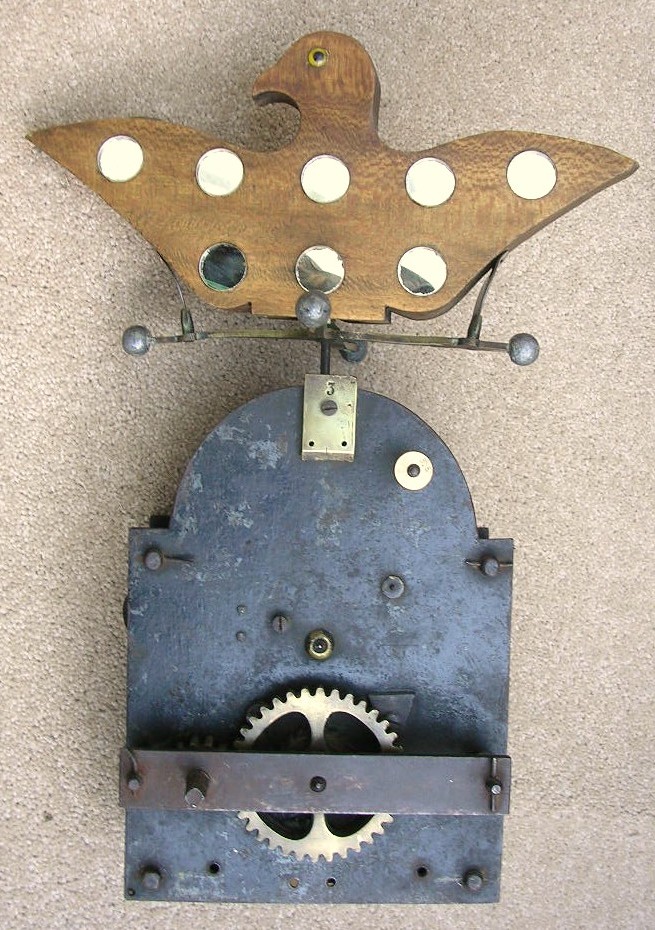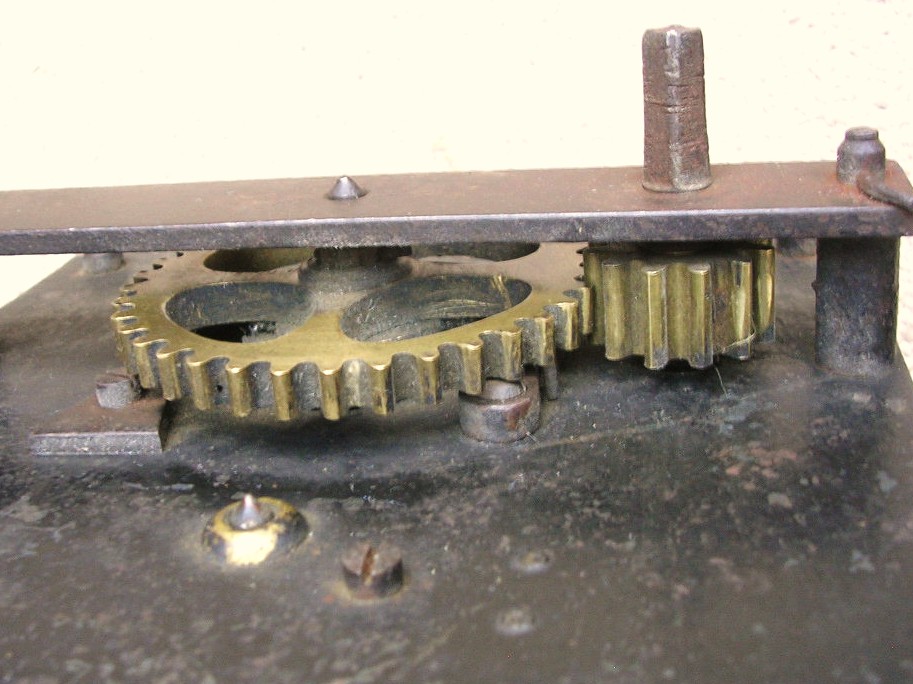 * Very rare Skylark Lure, clockwork mechanism, in very good condition for age, a good conversation piece, I guess you could say it was the forerunner to the pigeon magnet, only £750 *
---
Hand Giros.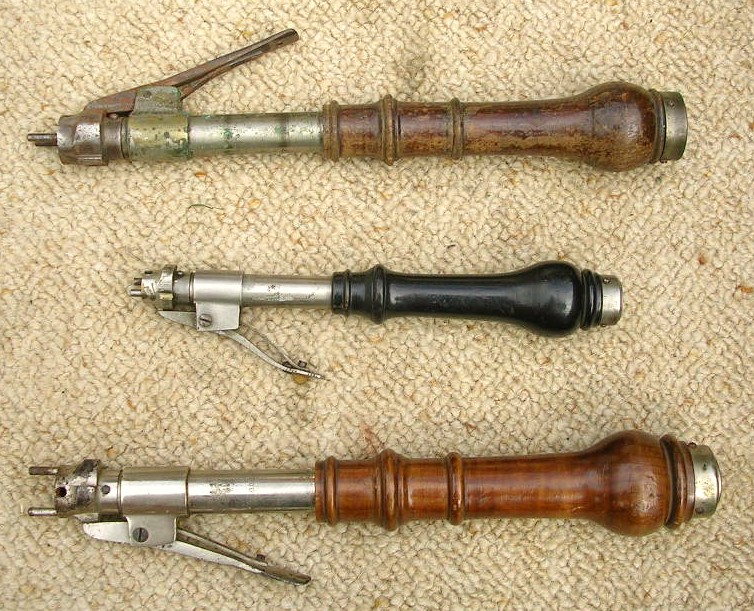 * Hand held giros, sold as a set, or individually, more details to follow *
---
Thomas Bland and Son, Harpoon Gun.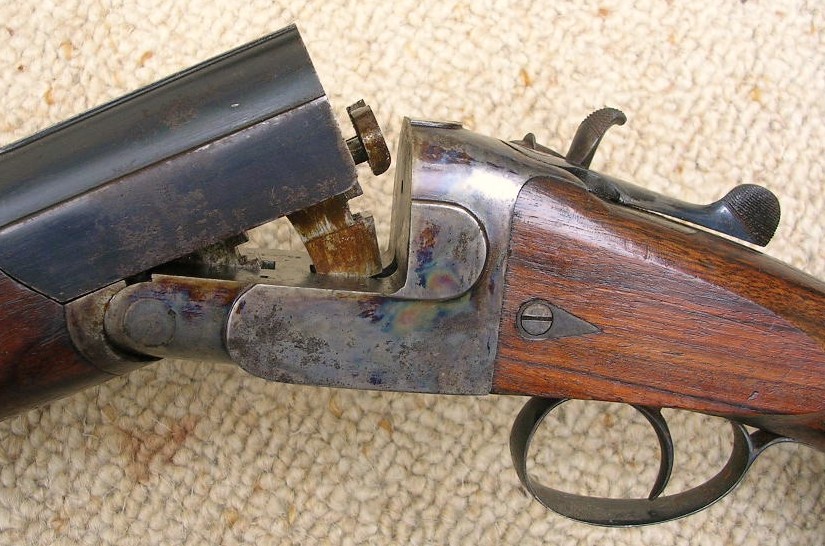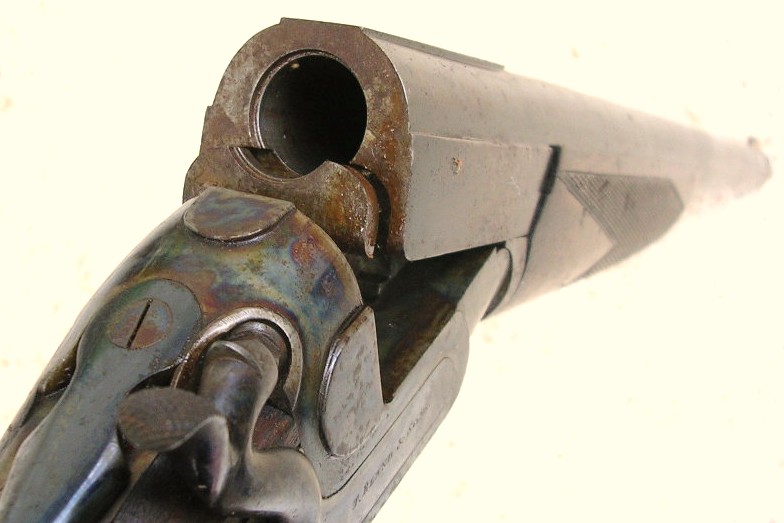 * A scarce opportunity to own a very rare harpoon gun by the famous London gunmaker "Thomas Bland and Son" it has a 21″ heavy 16 bore barrel and a lined breeching hole in it's Walnut stock. It also comes with it's ultra rare harpoon (when I find it, photo's will follow) this very rare hard to find gun is only £3,500. Please Note: If it went to auction you would need to add 30% commission to the price ! so as you can see it is a great saving *
---
Victorian Alarm Gun.

* Victorian 12 bore Alarm Gun, late 19th Century, 75% paint work left to body, overall length 23 1/2″ only £100-00 *
---
Dunhill Tinder Lighter.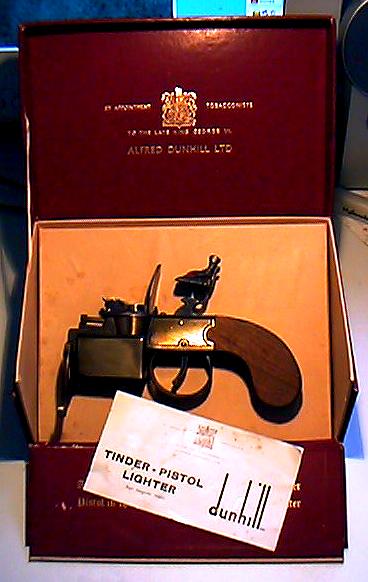 Circa 1920 Dunhill Tinder Lighter, unused in original box with instructions, £250-00
---
~ Mick's Guns brings you something quite exceptional ~
This beautiful and extremely rare pocket knife pistol.
Very rare, unrecorded, combination pocket knife pistol by Johnson Weston Works, Sheffield, strong sturdy blade, overall length with knife extended is 8 1/2″, and with the pistol barrel extended 8″. Percussion single shot pistol with drop down trigger, approximately 0•32 calibre, good stag horn scales, copper suspension loop, only one we have ever seen and can't be found in any of our research books, this is your one chance in a lifetime to acquire this for your collection, only £1500-00.
---
Chain Mail.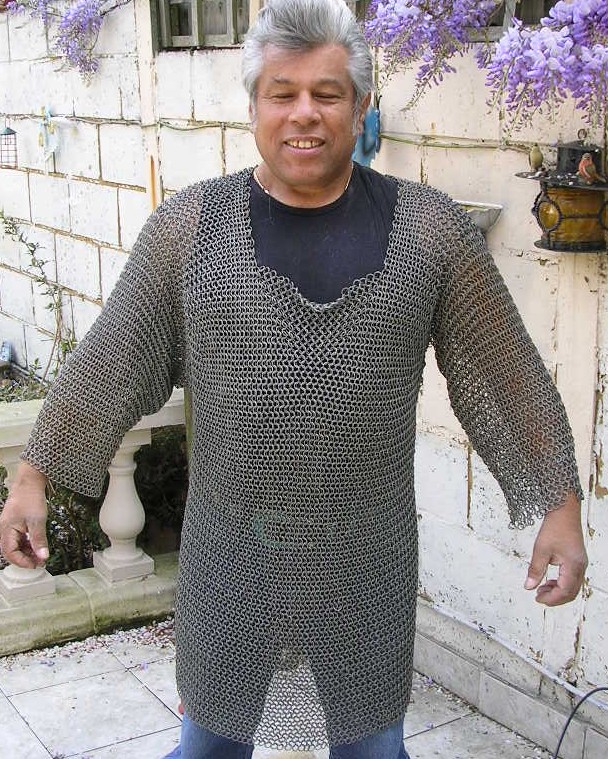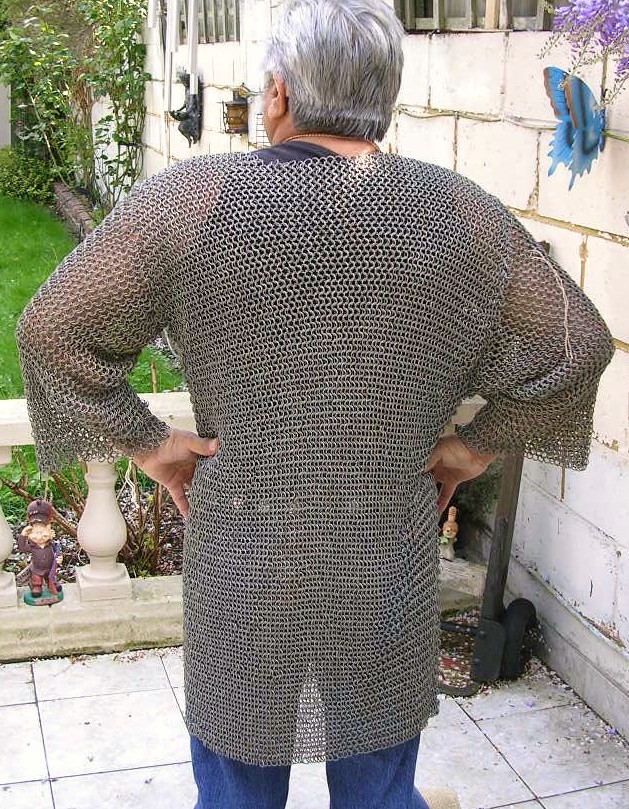 * The ultimate in personal protection (no not condoms) this chain mail shirt for the re-enactor, perhaps shooting in unsafe company or just for a night out in London, would fit up to XXL, only £125 *
---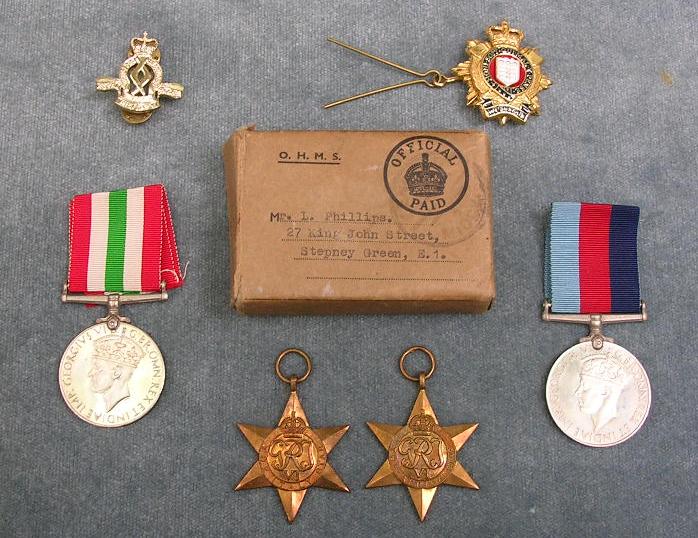 Various medals from WWII. rare O.H.M.S. box the medals were posted in, £POA
---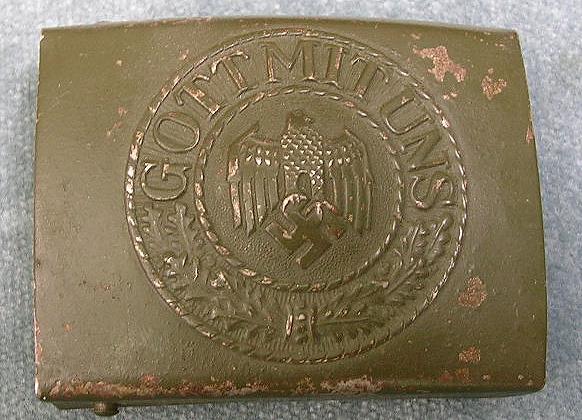 Belt buckle with Nazi eagle crest, only £35-00
---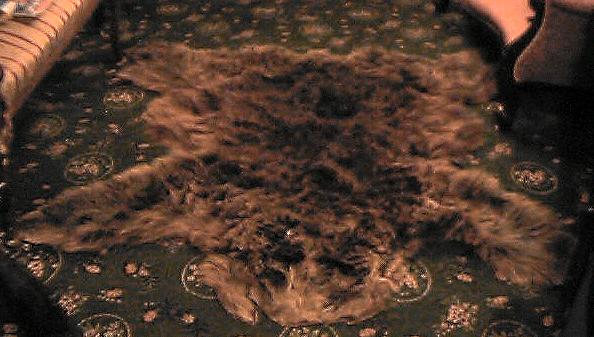 Bear skin rug, absolutely fantastic ! only £250-00
---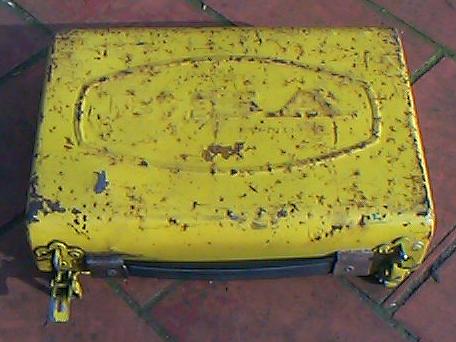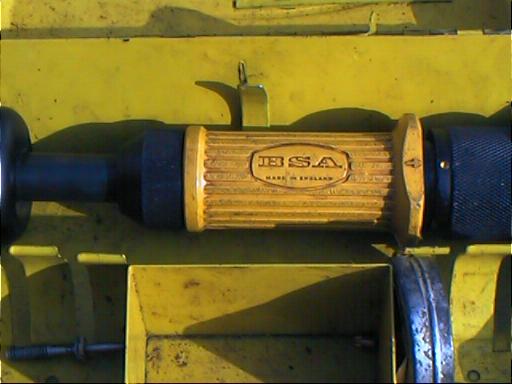 * •310 cadet "Greeners humane horse killer" this is the nice pocket model which screws together to make a compact piece that would fit in the pocket, it's in very nice condition and comes with it's ultra rare leather carry case and shoulder strap, a nice curio for any collection, only £350 *
---
---
Cattle Killer Cartridges.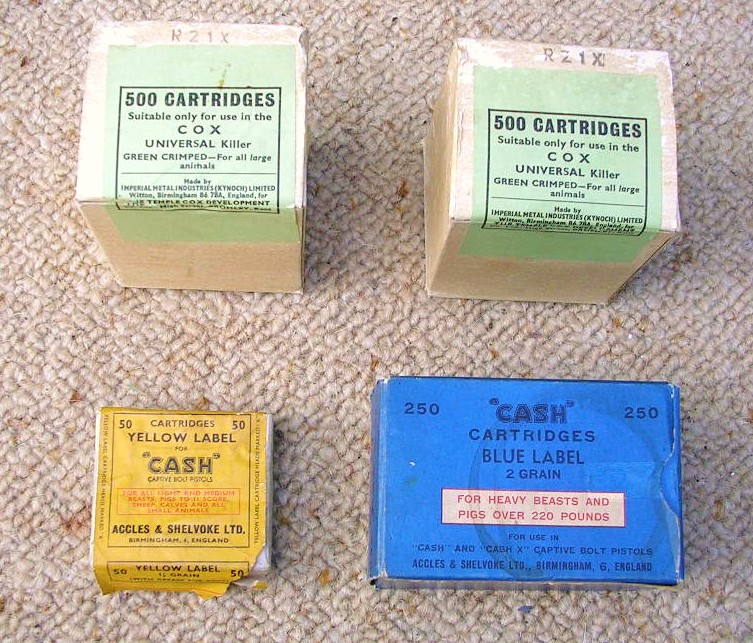 * A collection of cartridges to fit the catle killers, £POA *
---
Tin Chest.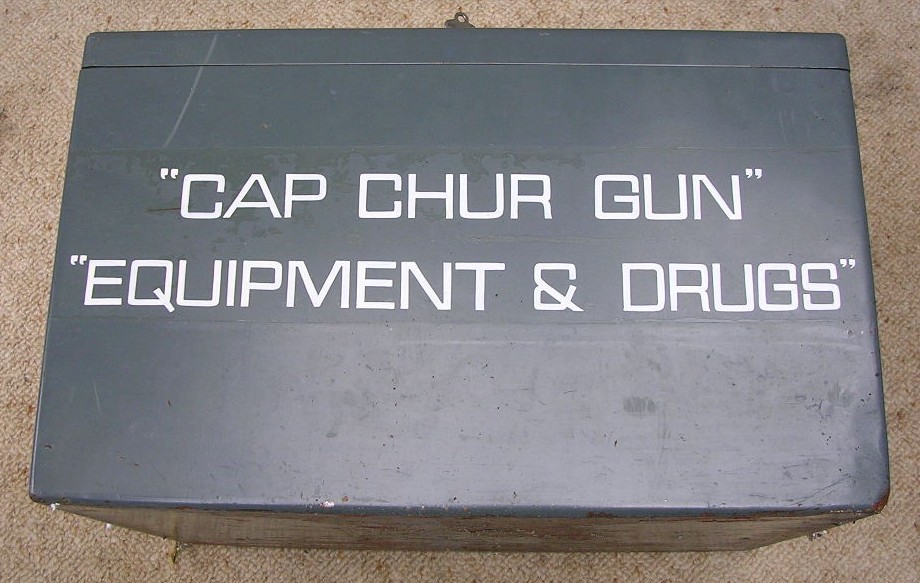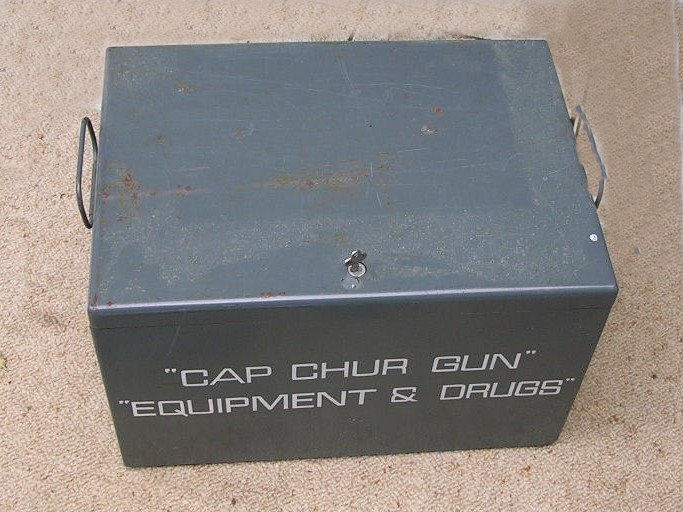 * A great tin chest for the storage of drugs and cattle killer equipment etc, this is in fantastic condition, only £50 *
---
Very rare tea towel.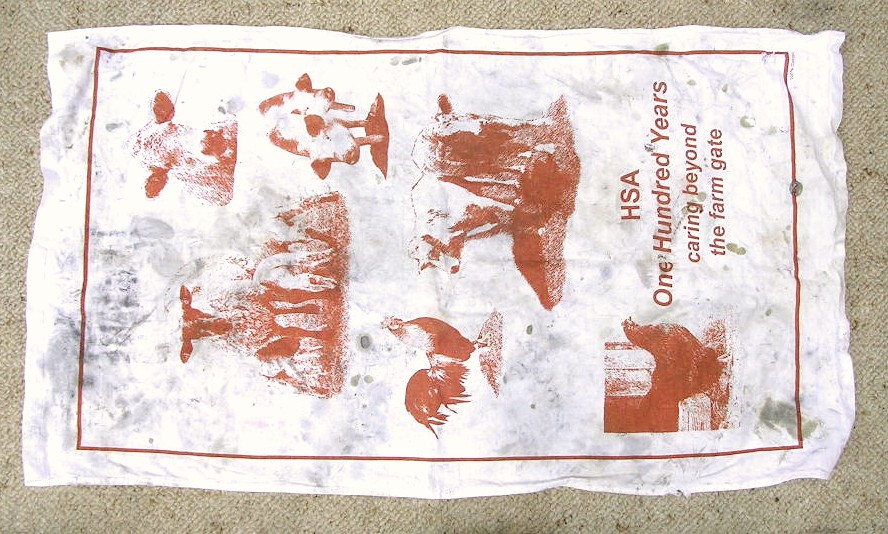 * A nice and very rare tea towel, only £25 *
---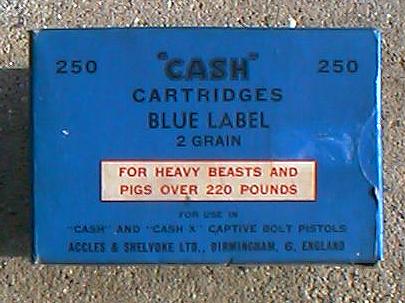 Complete box of 250 "CASH" cartridges by Accles & Shelvoke LTD, Birmingham, England. As the label reads, "For heavy beasts and pigs over 220 pounds" only £100-00
---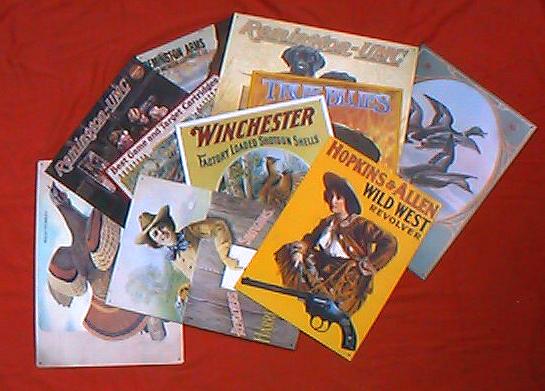 ~ A good selection of tin plates, Remington, Winchester etc, only £15 each ~
---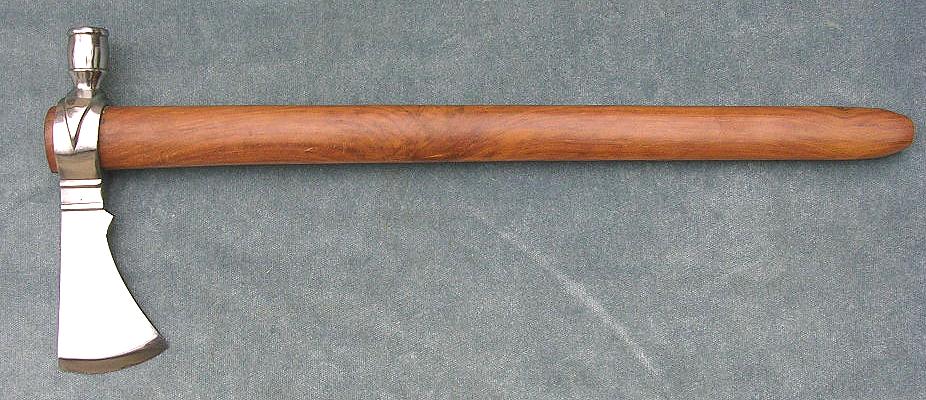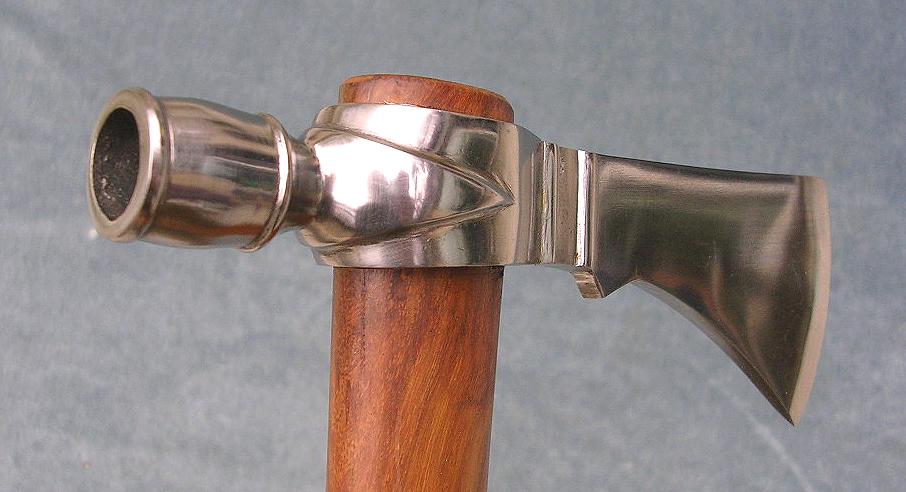 Tomahawk peace pipe, 19″ x 7 1/2″ , only £25-00
---
Line Thrower.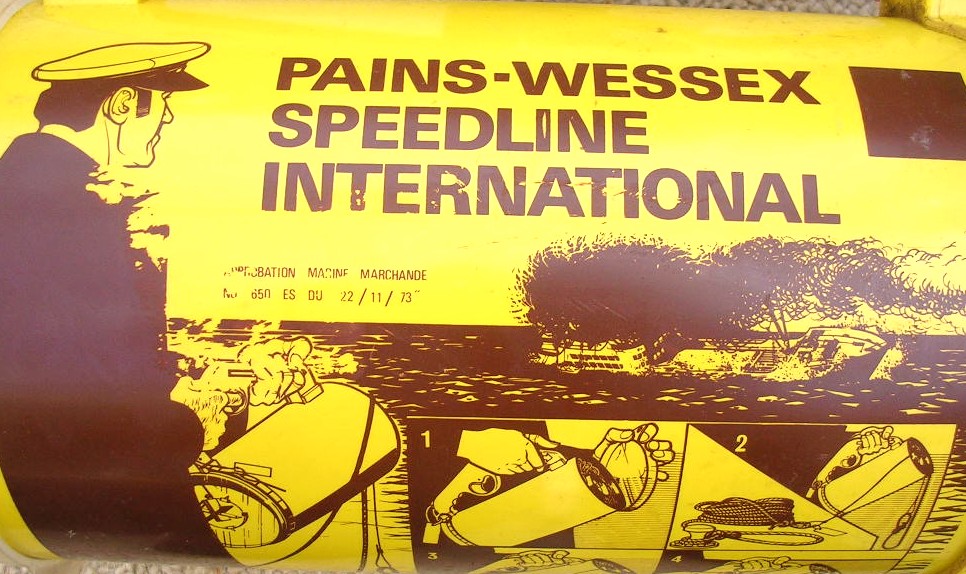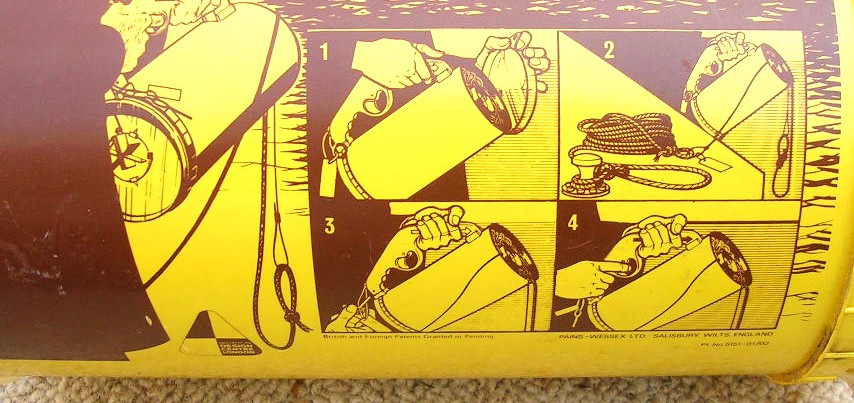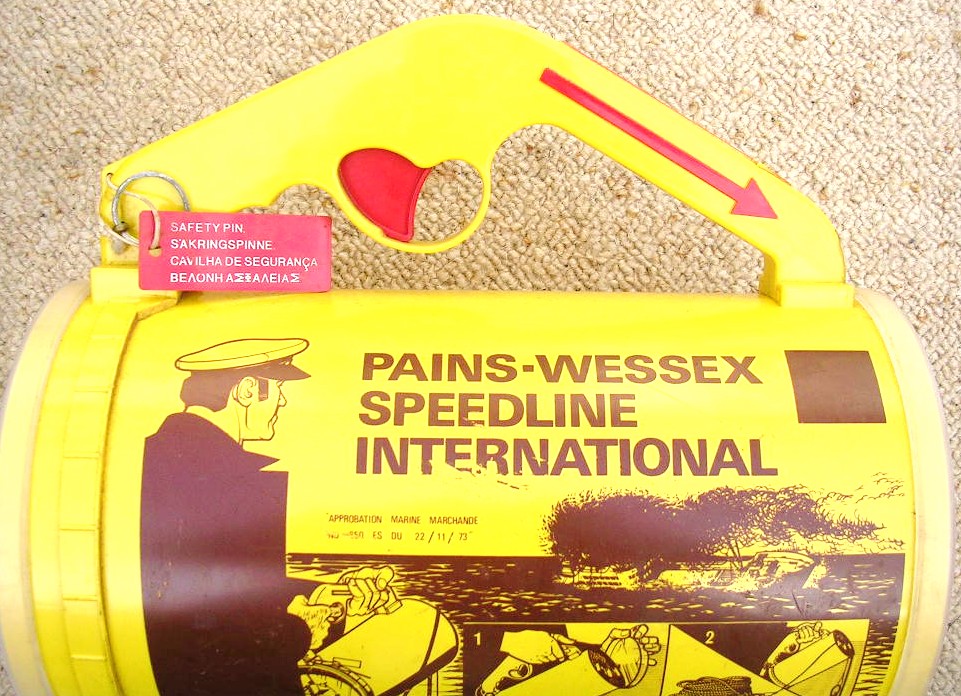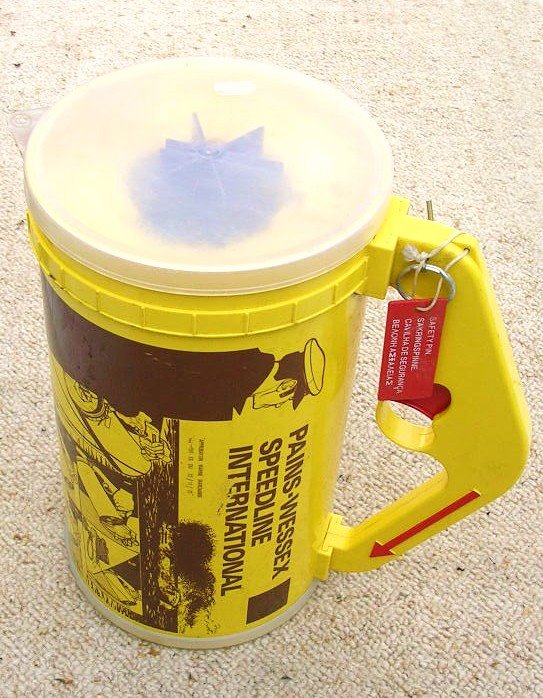 * Pains-Wessex Speedline International, single use line thrower, only £POA *
---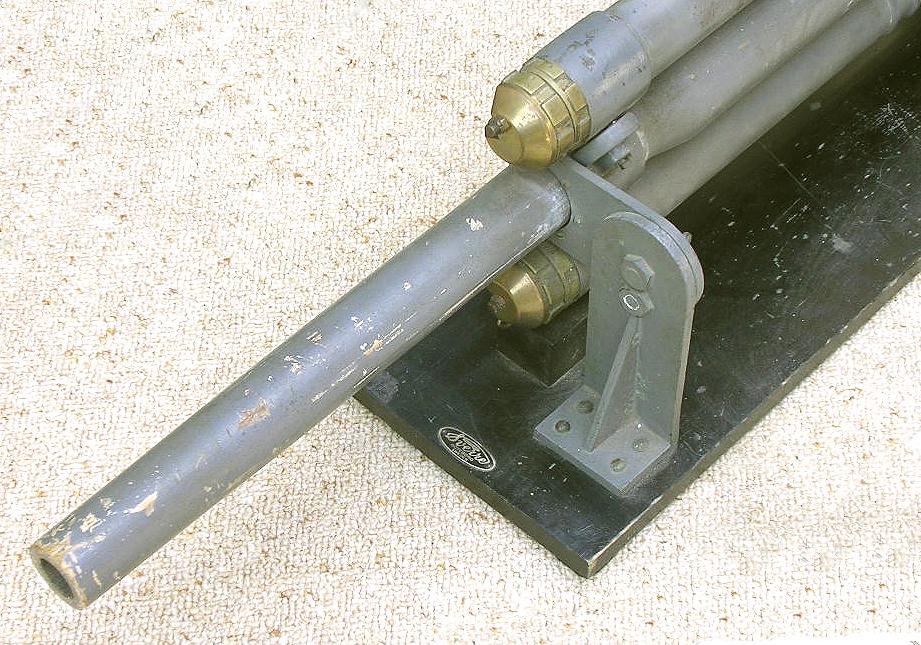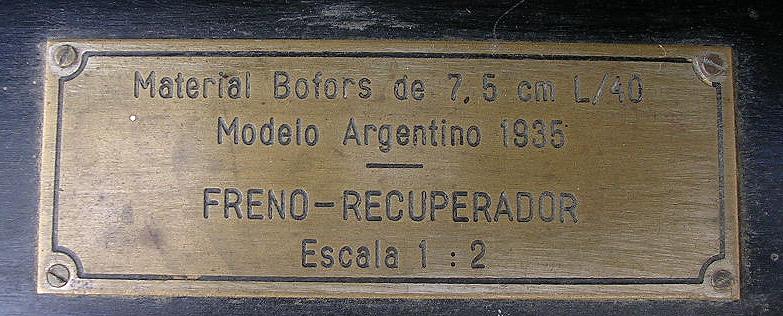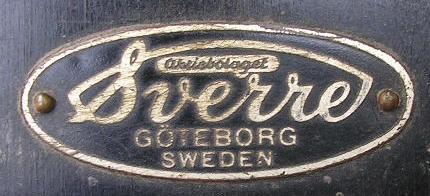 Bofors model scale 1:2, only £100-00
---
Nazi badges.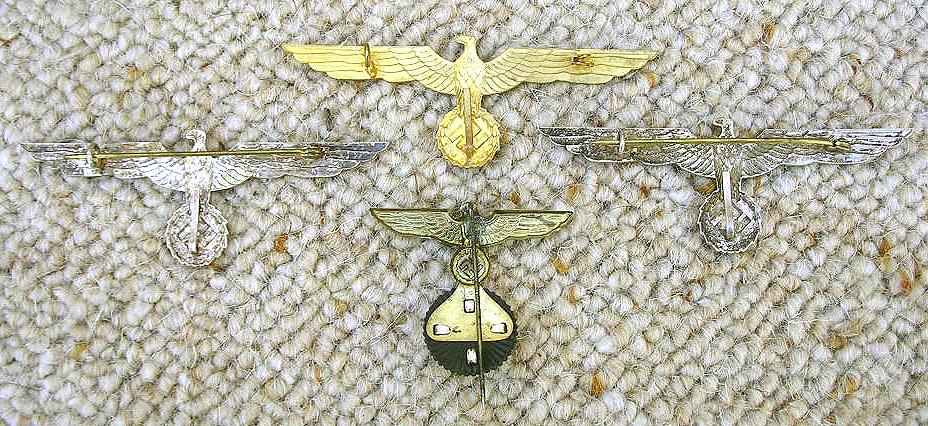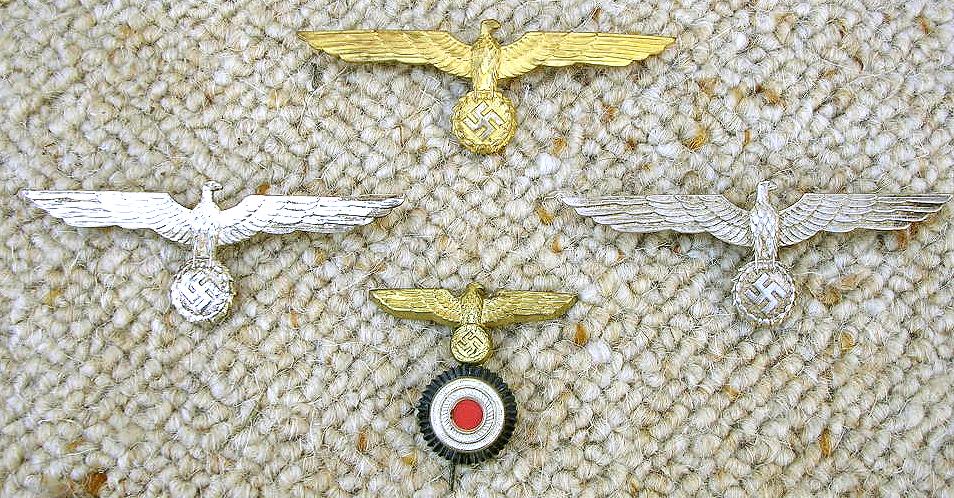 Selection of genuine Nazi badges, pictures show front and back, £50-00 each.
---
Helmet Plates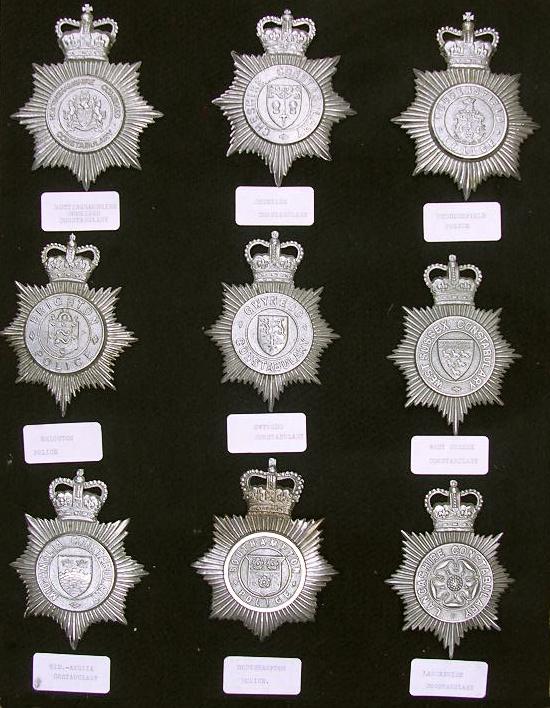 * A collection of nine iconic British Bobby's helmet plates, only £250-00 *
---
~ Click on any photo above to see the full size image ~
Mick's Guns brings you the Kudo, Cape Eland, Waterbuck, Jemsbok and Tiger. The mounted horns are each embellished with a leather representation in the animal itself. The Tiger was shot more than 100 years ago in India.
~ Mounted horns £125-00 each or £400 for all four, the Tiger is yours for £350 ~
---
Ostrich Quill Bag.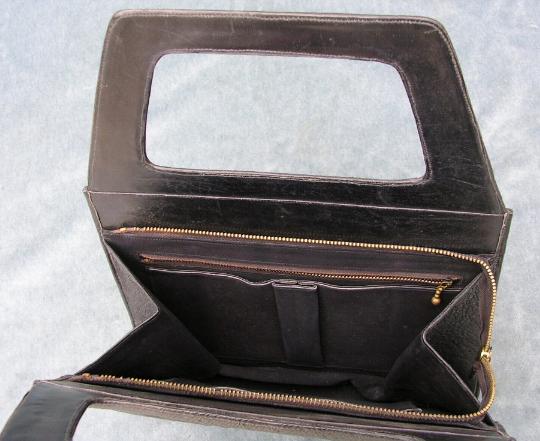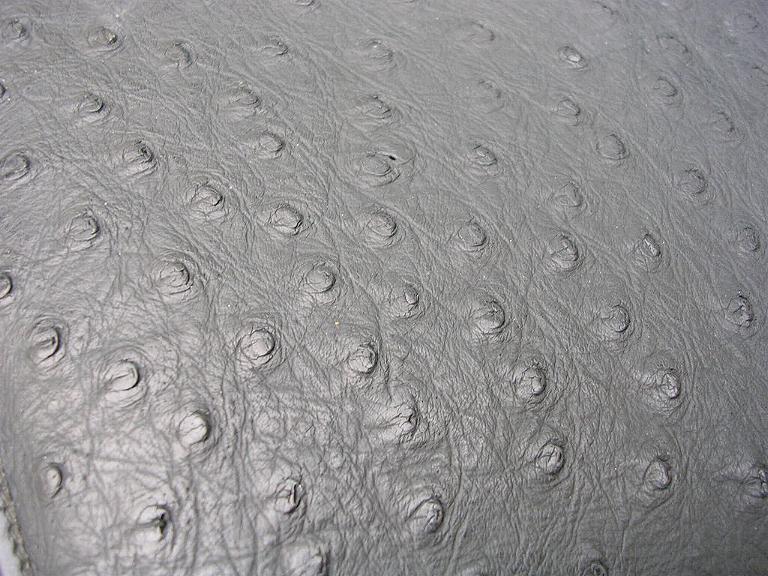 * Rare Ostrich handbag in a new & unused condition, bought in 1958 in Kenya, measures 12″ x 14 5/8″ overall inc handles, bag measures 12″ x 9 1/2″ £75-00 *
Please read and sign Mick's guest book…

~ Mick Shepherd's direct telephone number 0044 7738 670 107 ~
~ Mick Shepherd's direct e mail address
MickShepherdGuns@aol.com ~