News & Wanted
The laws have changed concerning Antique Arms.
We have a new disclaimer form for buyers to fill out when purchasing any antique obsolete calibre item.
Please print this form out, fill it in, sign it and included it with any mail order.
Customers collecting directly from Mick's Guns will be kindly asked to fill this form in and sign it.
If you have passed a recent CRB check, we will gladly accept this, please bring the documents with you.
Why must we go to these extremes ? because ……
The Metropolitan Police continue to persecute collectors instead of catching criminals.
Mick's Guns are very sorry to read some of the guest book entries and e mails sent to us from other innocent collectors telling their equally harrowing stories of their systematic persecution by the Metropolitan and other U.K. Police Forces. We know only too well what you are going through. We as collectors suffer this persecution because of the Metropolitan Police Force's inability to understand the difference between Sections 1,2,5,7 and 58 (2) of the Home Office Guidelines, and their increasing inability to stop criminals bringing banned weapons into the country and using them in crime. In a pathetic attempt to save face and fool the public into thinking they are an effective force against this crime, they put on these despicable shows for the media. The persons who suffer are always the innocent collectors who act totally inside the law.
They raid our houses, bringing along the TV cameras and press photographers and tell them despicable lies, which they initially believe and report on.
We then spend many months in prison and go to court and are proved 100% totally innocent, and the lies they told to the media, the public and the court are largely forgotten. They then look around for another innocent law abiding collector to persecute next, and the show goes on.
Innocent law abiding collectors do not argue, fight or shoot at the Police, but real criminals do. This is why we are raided and paraded as the despicable criminals they are too scared to actually go after and arrest.
To protect collectors, historians, museums, re-enactment societies etc, we have produced this form for you to print out, fill in and send with your order for any antique arm.
Mick's Guns: Obsolete Calibre & Antique Arms disclaimer form
We kindly ask that you fill out this form and sign it.
The laws concerning antique arms changed in 2014 and now caries a life imprisonment term for failure to comply with these new laws for both the seller (Mick's Guns) and you the purchaser.
This form has been designed for our protection and yours.
Name:
Address:
Tel No:
I declare that I am a collector of historical antiquities. The item (s) I purchased from Mick's Guns will be kept as a curio or ornament, as per Home Office Guidelines Section 58 (2) I also certify I am not a prohibited person and can legally purchase and own such items clearly defined by Provisions 108-111 of the Anti-Social Behaviour, Crime and Policing Act 2014.
Signed:
Date:
Next section to be completed by Mick's Guns.
Make:
Serial number:
Calibre:
Classification Details:
Signed:
Date:
Ivory CRAZYNESS !!!
Please read below and see what will be happening with all ivory weapons sales through auction houses. Julia is one of the first.
Description: Please see the James D. Julia website for our Position on Ivory. (10/1/14): James D. Julia Auctioneers complies with all federal laws and regulations: As per the President's Executive Order of February 2014, this item with its ivory is legal to sell and buy provided there is an ESA "Antique Certification" document proving the age. You must purchase an ESA in order to take possession of the ivory.If you wish to acquire the ivory after you purchase this gun, you must hire John Sexton, who is an independent consultant with the appropriate qualifications to prepare ESA certifications accepted by government agencies. John's address is: 1962 Portage Landing North, North Palm Beach, FL 33408.
ESA statements prepared by John Sexton can be acquired for a cost of $1,500 each. It is the buyer's responsibility to make payment to John for the ESA statements. The documents are prepared by John and not by James D. Julia Auctioneers. Once the ESA statement is prepared and provided to Julia's, you can have the ivory mounts. Be sure to keep a copy of your ESA certificate for your records also. THIS GUN IS BEING SOLD WITHOUT THE IVORY MOUNTS. YOU WILL NOT RECEIVE THE IVORY AT THE TIME OF YOUR PURCHASE. IF YOU WISH TO ACQUIRE THE IVORY ITEMS, YOU MUST PURCHASE AN ESA "ANTIQUE EXEMPTION" CERTIFICATE. NO EXCEPTIONS! SN 121581. Cal. 32 WCF (32-30). Extremely rare rifle with 24″ oct to rnd bbl, half magazine, takedown with ivory bead Beach's style combination front sight, semi-buckhorn rear sight & Lyman combination tang sight.
It seems we are not the only crazy country ! would you pay $1,500 for an ivory bead ?
---
Exporting Guns.
Due to new legislation, anyone exporting a gun out of the UK will have print out this form, fill it in and sign it, and return to me.
If you e mail me, I can e mail you the PDF version which is much clearer.
Mick Shepherd.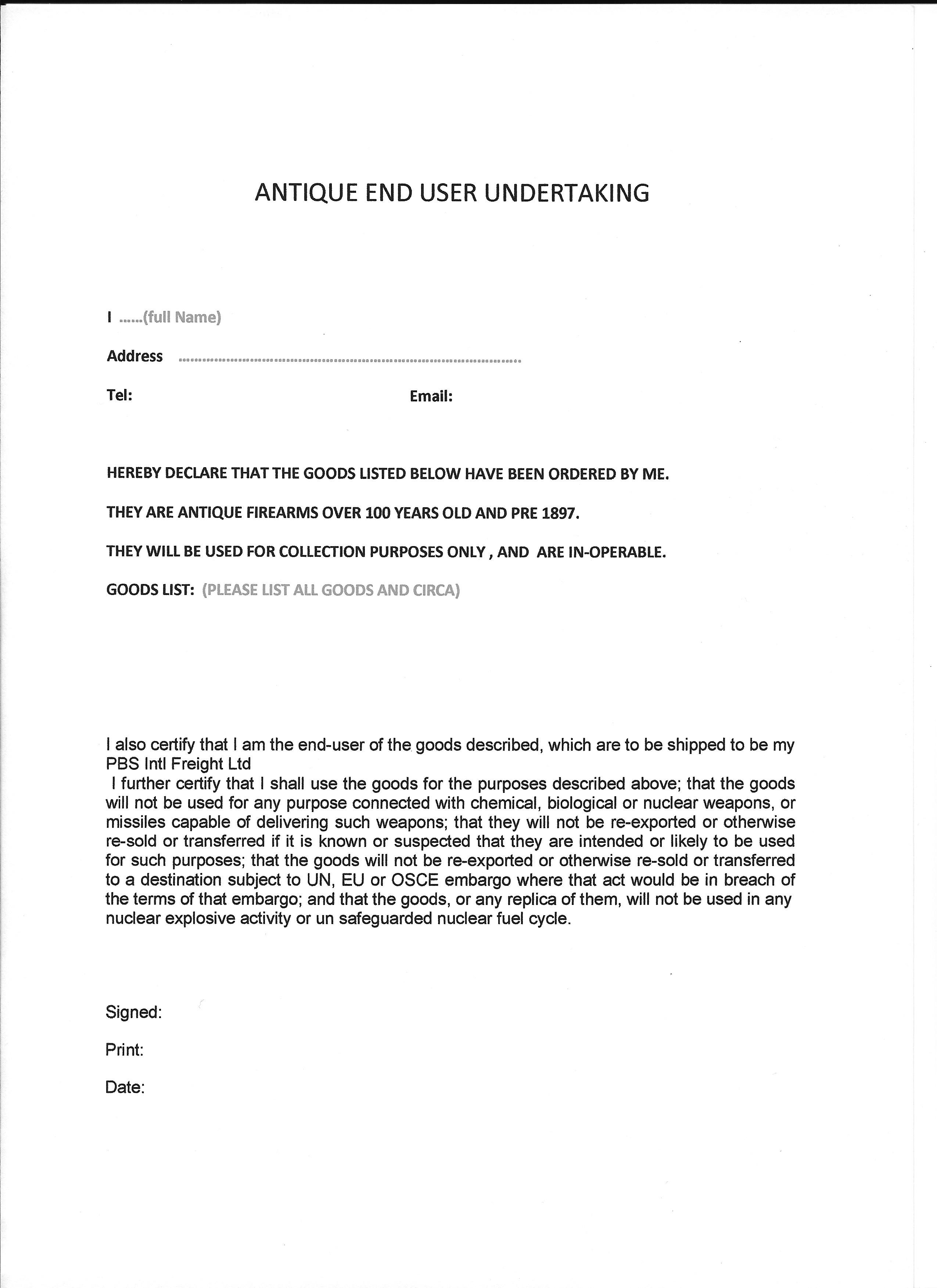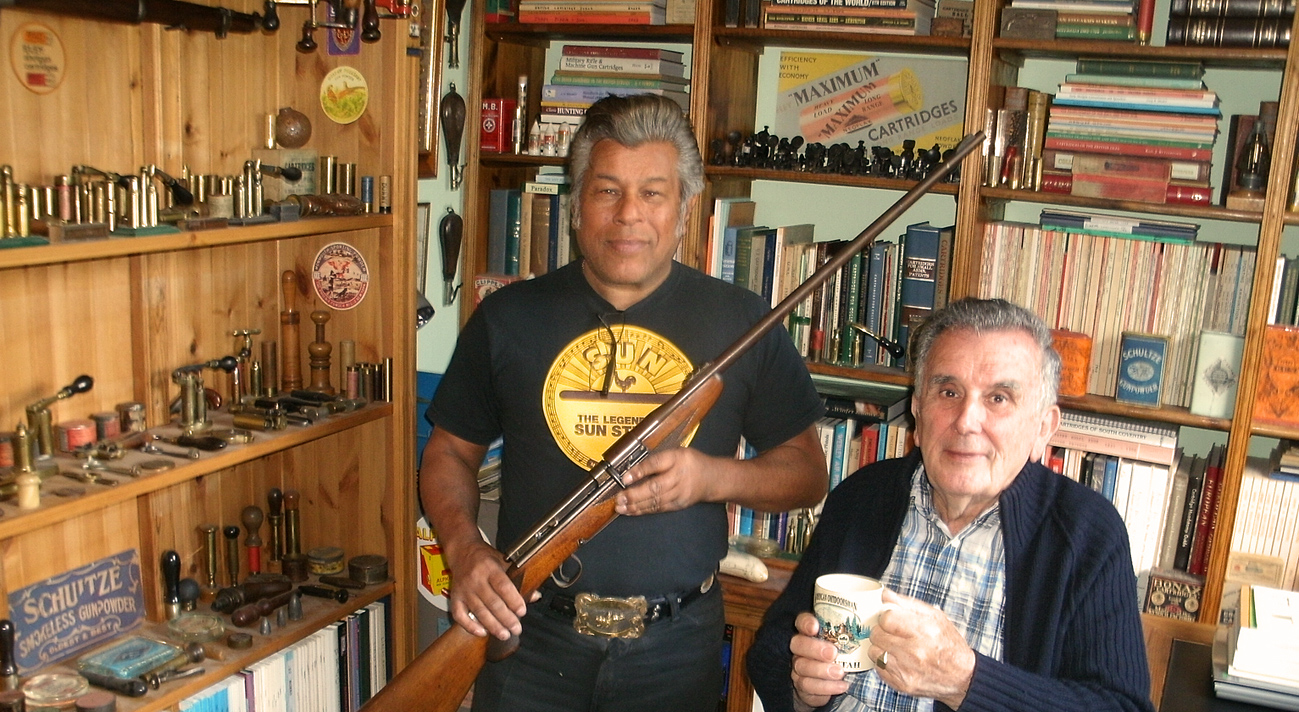 Mick with Tony Gibbs-Murray, The Lock Man !
---
The International Rock-A-Billy Hall of Fame museum.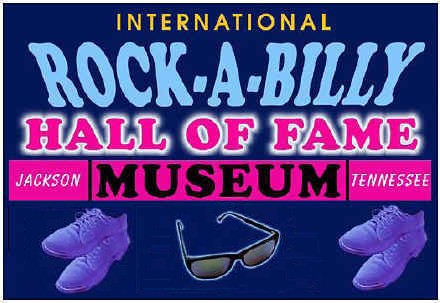 TThe International Rock-A-Billy hall of fame museum can be found in Jackson, Tennessee. It is run by a complete gentlemen and genius by the name of Mr Lee A. Gaugh. His tours of the museum are not to be missed, his knowledge is stunning, his style is friendly, interesting and accommodating.
The music from Nashville and Memphis blended together in the vibrant town of Jackson, to produce a new sound all of its own.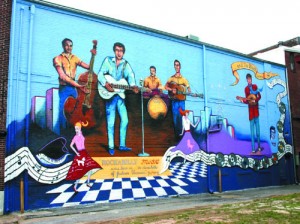 Rock-A-Billy was born ! A must visit Museum and Web site !
www.RockaBillyhall.org
---
Graceland 2012.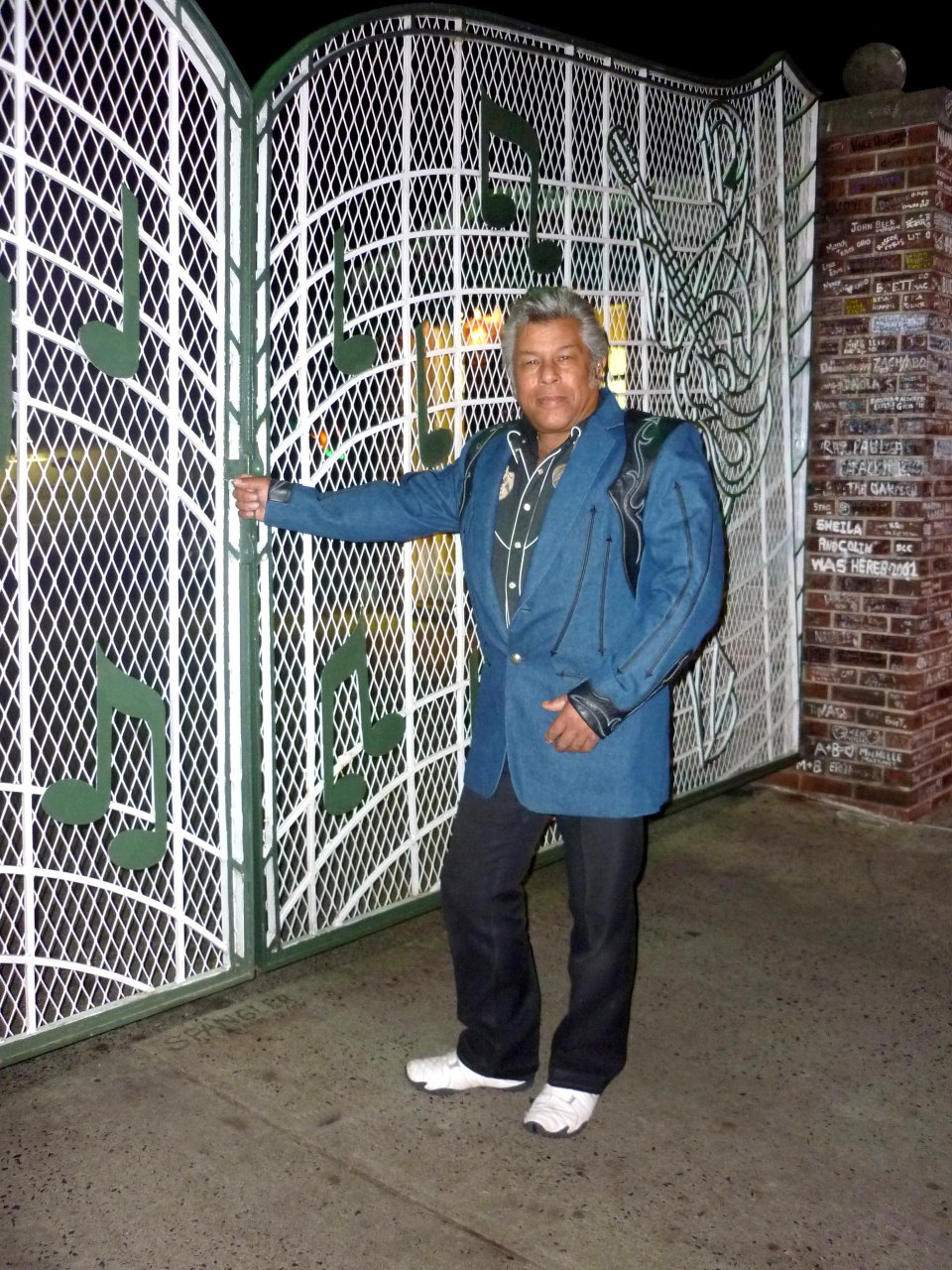 Mick standing outside the gates of Graceland in April 2012.
A Happy Customer.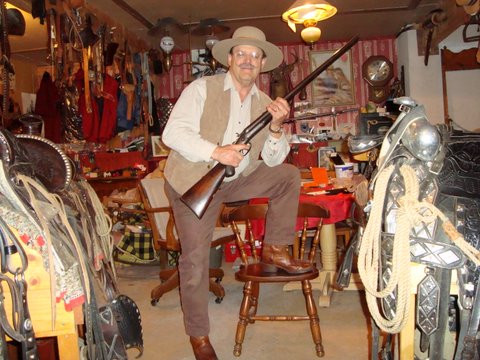 Pictured above is Quebec's esteemed and most famous collector Marcel, proudly holding his Isaac Hollis 0•577 x 3″ black powder express double rifle, purchased from Micks Guns.
It is good to see such a high quality, rare and classic gun gone to such a good home where it will be treasured and well looked after.
Mick Shepherd.
A letter to warm the heart.
It is very refreshing that every now and then, we come across someone who possesses extreme human kindness and understanding. If you take a moment to read this wonderful letter you will see how amazing this dear gentlemen is. The support, understanding, encouragement and decency shown to us by Gene, makes him stand out amongst us mere mortals.
---
Historic Revolvers.
Mick Shepherd has a collection of historic guns owned by very famous trick shooters, here are a couple, more to follow.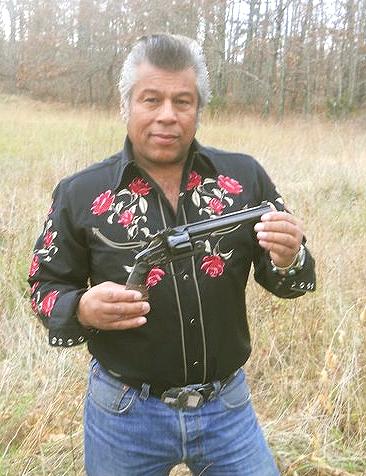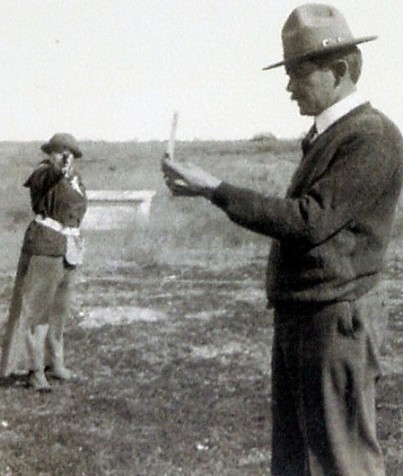 Mick Shepherd adds "Plinky Toepperwein's" historic pistol to his Toepperwein collection, more details and photos to follow.
Diamond Dick Tanner's 44 Russian.
Adding to the special collection of famous trick shooters guns, Micks Guns have purchased the greatest gun of all time. Originally purchased by Diamond Dick Tanner himself in the closing days of the wild west, this gun has been welcomed home into the collection. Not for immediate sale.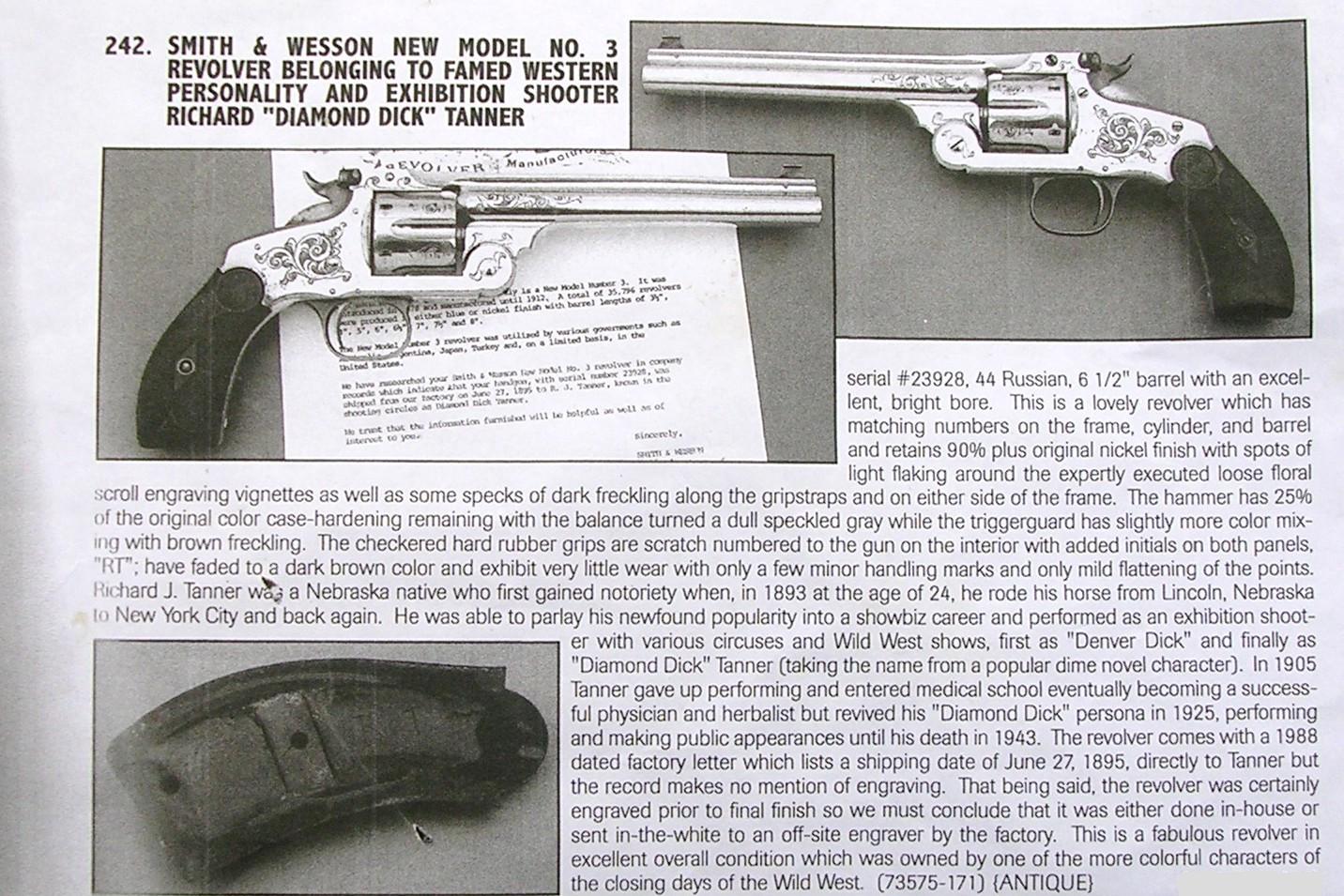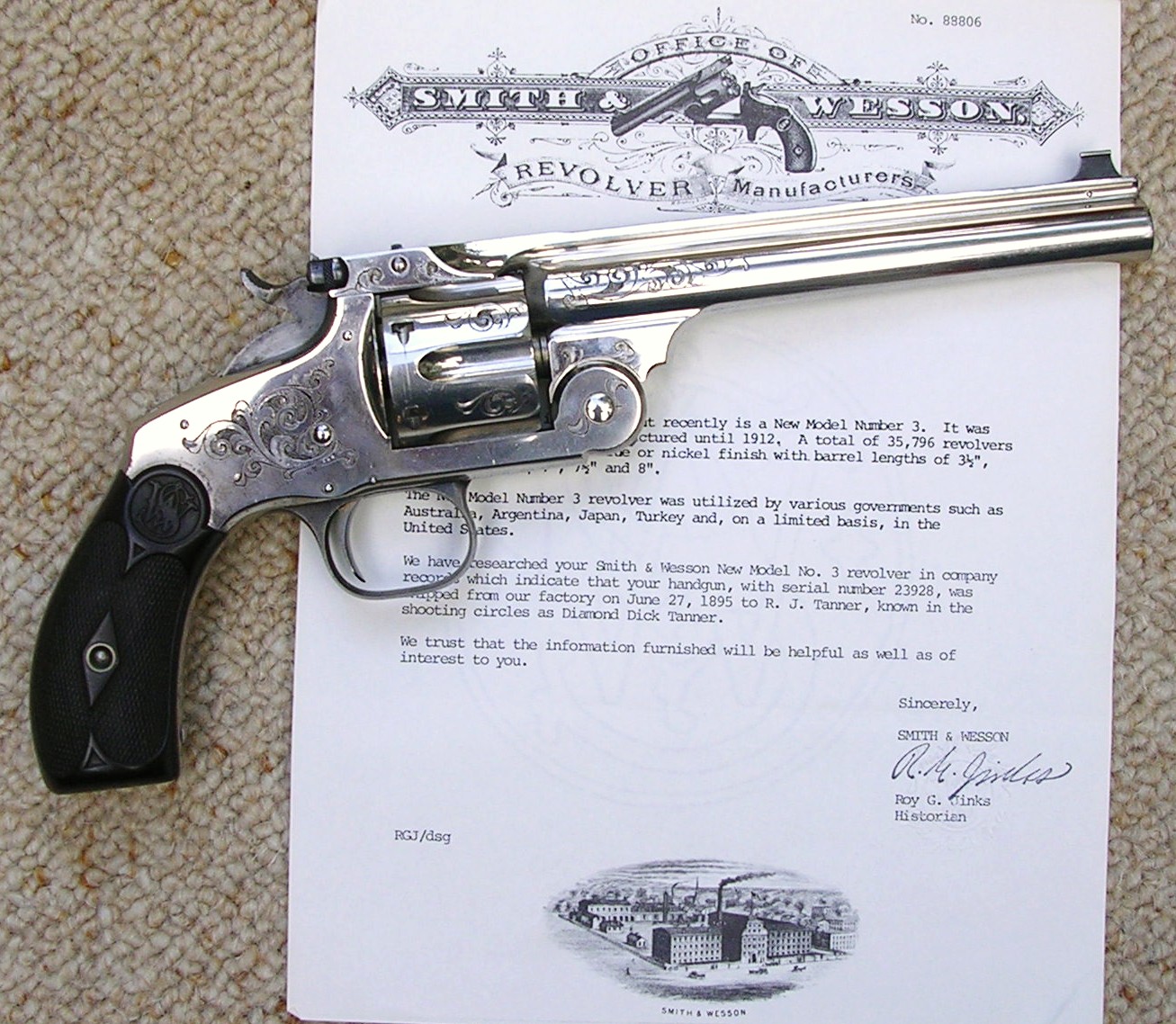 The life of Richard J. "Diamond Dick" Tanner (1869-1943) encompassed a noteworthy long-distance horseback ride, circus stardom as a crack shot, a medical career in Norfolk, and finally a reappearance as "the original Diamond Dick," when his claim to the title was challenged.
---
Gettysburg 2011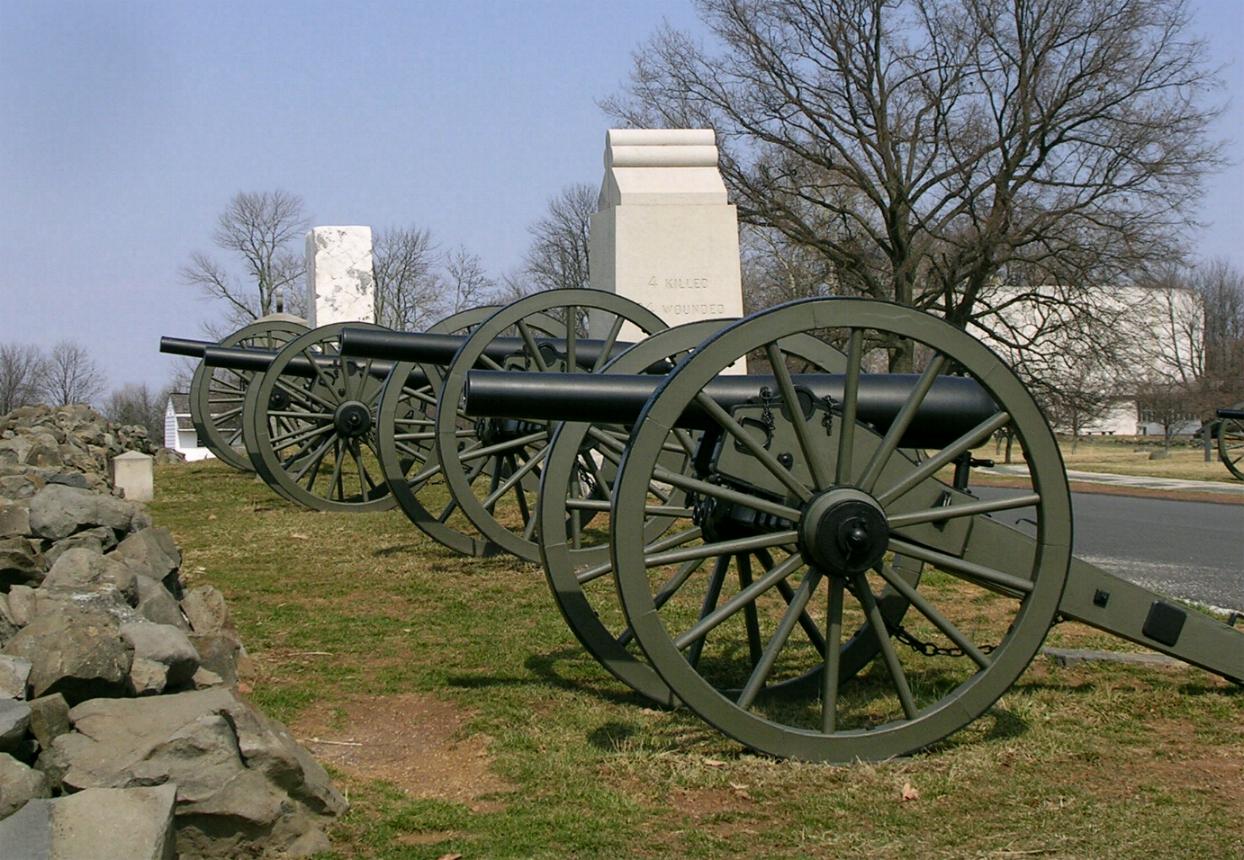 Continuing Mick's 60th Birthday celebrations in Gettysburg Pennsylvania.
---
A LITTLE GUN CONTROL HISTORY
In 1929, the Soviet Union established gun control. From 1929 to 1953, about 20 million dissidents, unable to defend themselves, were rounded up and exterminated.
In 1911, Turkey established gun control. From 1915 to 1917, 1.5 million Armenians, unable to defend themselves, were rounded up and exterminated.
Germany established gun control in 1938 and from 1939 to 1945, a total of 13 million Jews and others who were unable to defend themselves were rounded up and exterminated
China established gun control in 1935. From 1948 to 1952, 20 million political dissidents, unable to defend themselves, were rounded up and exterminated.
Guatemala established gun control in 1964. From 1964 to 1981, 100,000 Mayan Indians, unable to defend themselves, were rounded up and exterminated.
Uganda established gun control in 1970. From 1971 to 1979, 300,000 Christians, unable to defend themselves, were rounded up and exterminated.
Cambodia established gun control in 1956. From 1975 to 1977, one million educated people, unable to defend themselves, were rounded up and exterminated.
Defenseless people rounded up and exterminated in the 20th Century because of gun control: 56 million.
It has now been over a year since gun owners in Australia were forced by law to surrender 640,381 personal firearms to be destroyed by their own Government, a program costing Australian taxpayers more than $500 million dollars. The first year results are now in:
Australia-wide, homicides are up 3.2 percent
Australia-wide, assaults are up 8.6 percent
Australia-wide, armed robberies are up 44 percent (yes, 44 percent!)
In the state of Victoria alone, homicides with firearms are now up 300 percent. Note that while the law-abiding citizens turned them in, the criminals did not, and criminals still possess their guns!
There has also been a dramatic increase in break-ins and assaults of the ELDERLY.
While figures over the previous 25 years showed a steady decrease in armed robbery with firearms, this has changed drastically upward in the past 12 months, since criminals now are guaranteed that their prey is unarmed.
And one last thought for all the unarmed innocent law abiding persecuted citizens of the so called free world:
When seconds count, and you life is in immediate danger, remember that the Police are only minutes away !
---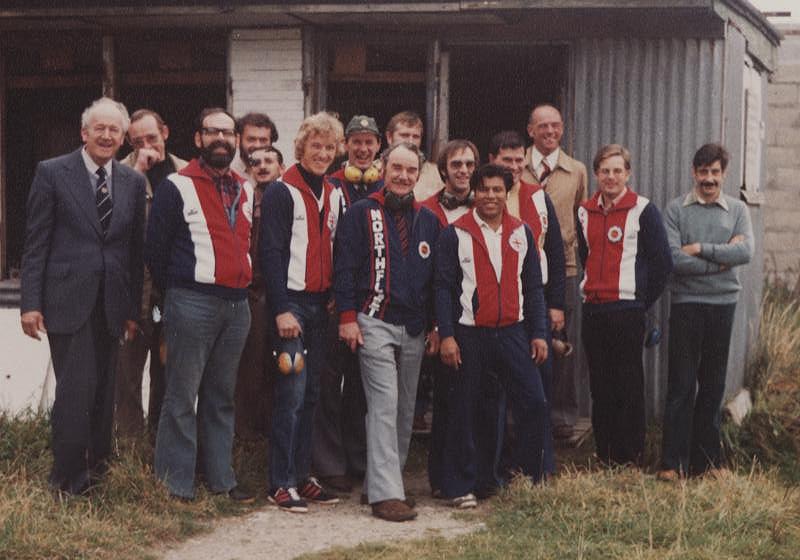 Northfleet Pistol Club Reunion 2006
I am very pleased to say that the reunion went very well. It was good to see so many friends turn up and enjoy the food, drink and each others company. Below is a photo gallery of the reunion, please click on any of the photos to see them full size
We will be having another reunion next year because this one was so successful, thank you all for turning up.
~ My direct mobile telephone number 0044 7970 239 211 ~
~ My e mail address MickShepherdGuns@aol.com< ~
Yours Sincerely
Michael Shepherd